How To Master The Squoval Nail Shape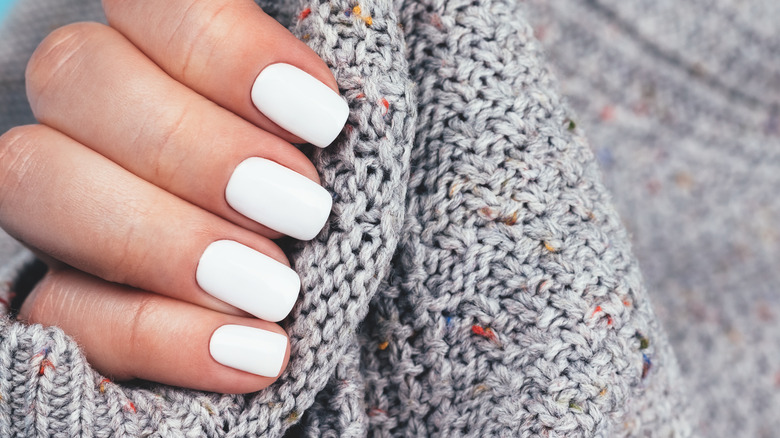 Bykfa/Shutterstock
How you file the edges of your nails can be one of the most expressive features of your manicure. Nail trends have shifted quickly over the last few decades, with everything from coffin to duck-shaped manicures having a moment. If you're the type to hover over nail color options for what feels like an eternity when you visit the salon, it can be tough to narrow down which nail shape to pick to top off the look.
Enter the squoval nail. This nail shape is the marriage of round and square tips, perfect for those who feel torn between the two. Square nails have the advantage of being durable and practical, while oval designs elongate the look of your fingers without sharp edges prone to snagging on things. The squoval takes the best of both forms and is easy to utilize on long and short nails. And despite their contemporary nickname, squoval nails have been favored by the beauty industry for quite some time. Twitter account American Vintage Ads shared a 1973 Dior advertisement for the brand's Twilight Bright Nail Gloss that featured squoval nails front and center.
Whether you're contemplating a subtle change from your usual shape or looking to try something new yet vintage-inspired, squoval nails are the perfect design suited to experimentation. Here's how you can obtain the squoval nail shape at home painlessly and affordably.
The basics of achieving squoval nails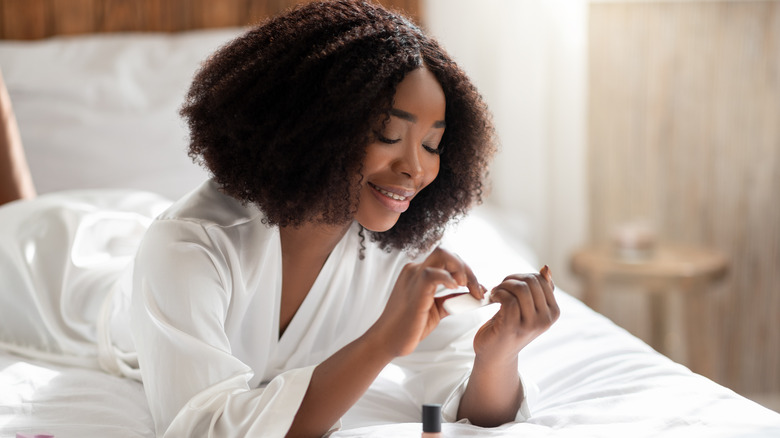 Prostock-studio/Shutterstock
While squoval nails are perfect for long or short nails, you'll want at least a few millimeters of free edge (the white portion at the tips of nails) to get a great shape. For artificial nail users, this means your tips should be near or equal in length to the end of your fingertips. If your nails are very short, you may want to let them grow out a bit to avoid discomfort during filing.
You won't need many materials to get started with shaping your squoval nails; a pair of nail clippers and a nail file will do the job. According to the YouTube channel Nailed It NZ, start by making one flat, straight cut across the tips of each nail to make the nails appear more square. Remember to be conservative when trimming, as you can clip the edges slightly shorter if necessary. If you experience splitting or fraying from filing, try using a tool for weak nails, like the 180 and 320 Grit Green Tea Nail File by Kiss, sold at Ulta.
After you've trimmed your nails, take a nail file and use long strokes against the corners of your nail tips, creating a rounded edge. "Only do this a couple of times -– as you don't want to turn the nail into a round shape," nail expert Sophie Louise Martin explained to Woman & Home. You can, however, modify your filing technique and create a slightly more square or round finish to your set, depending on your preference.
Making the most of your squoval manicure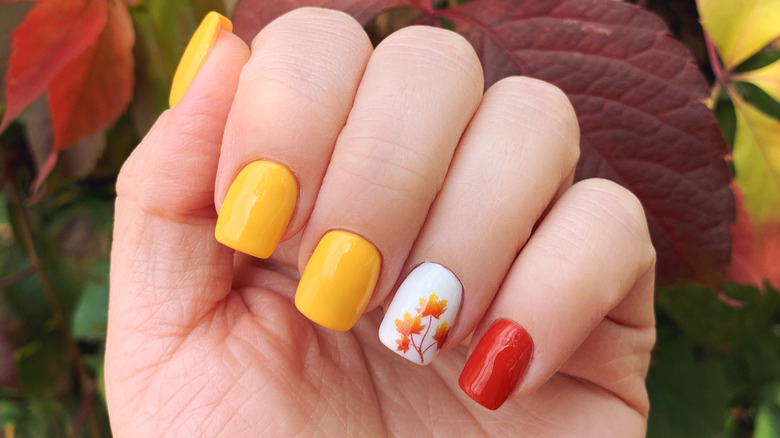 Andrii Yalanskyi/Shutterstock
One of the best features of squoval nails is that they provide a spacious base for artistic expression while still looking refined and elegant. You can embrace trending nail designs, from Y2K-inspired psychedelic swirls to checkerboard patterns, or stick with seasonal standards in neutral or jewel-toned solids. OPI's An Affair in Red Square lacquer is a timeless, rich red that's sure to pop on squoval nails. The shimmering shade is universally loved by nail polish enthusiasts and is available at Walgreens, where reviewers have granted it a glowing 4.9 out of five stars.
If you look closely, you'll spot squoval nails on celebrity hands –- and they're a favorite of stars from Hollywood to Windsor Castle. "The royal family tends to favor sheer, neutral shades on shorter, squoval-shaped nails. It's a super-classic, clean look that looks timeless and royal appropriate," nail brand Olive & June founder Sarah Gibson Tuttle told Harper's Bazaar. Squoval-shaped nails look especially beautiful when varnished with pink pastel, a favorite nail polish color of the late Queen Elizabeth.
Although squoval nails have risen in popularity recently, nail professionals think the shape is more than just a fad. "The squoval nail is a classic shape; it's delicate and well-suited to most people," Townhouse nail bar founder and creative director Juanita Huber-Millet told Glamour. Try wearing squoval nails in demure shades, or combine their smart silhouette with edgier palettes and designs. You never know –- squoval nails could become your new go-to shape.