Finding The Right Flat Iron For Your Hair Type Just Got Easier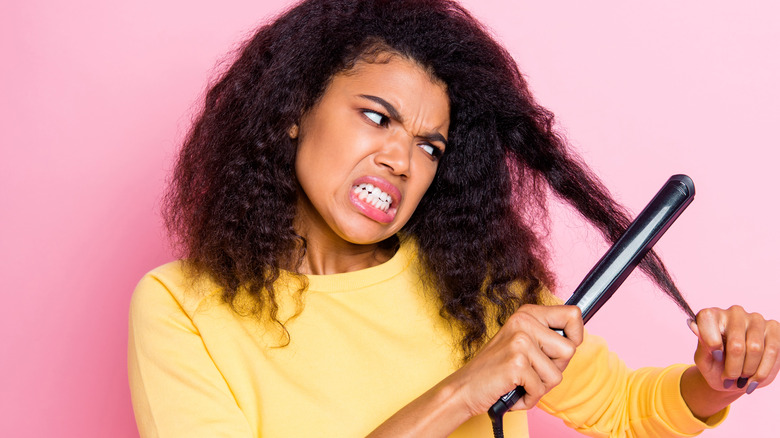 Roman Samborskyi/Shutterstock
Straight hairstyles will never go out of fashion. Whether it's Rachel Green's lively, straight layered lob or Ariana Grande's sassy half-up ponytail on flowy, ultra-sleek hair that hangs curtain-like, straight hair was a household staple for many U.S. women in the '90s and is still having a moment today. In order to achieve those sleek hair looks, you need a flat iron, a type of hair straightener. A flat iron, as defined by Sally Beauty, is a tool with flat ceramic or metal heated plates with multiple temperature settings designed to straighten hair. All you need to do is to lay 1 to 2-inch lengths of your tresses between the hot plates of the iron and then glide the iron down the hair to the ends. Basically, this is how most people use a flat iron to straighten their hair. But that does not imply that all flat irons work the same way on all hair types.
"All flat irons are not the same," celebrity hairstylist Min Kim simply tells Coveteur. The components of the plates and the design of the edges distinguish one flat iron from the others. If you want to achieve a super-sleek hairdo, you need to find a flat iron that fits your hair type. And here is how you go about it.
Know your hair types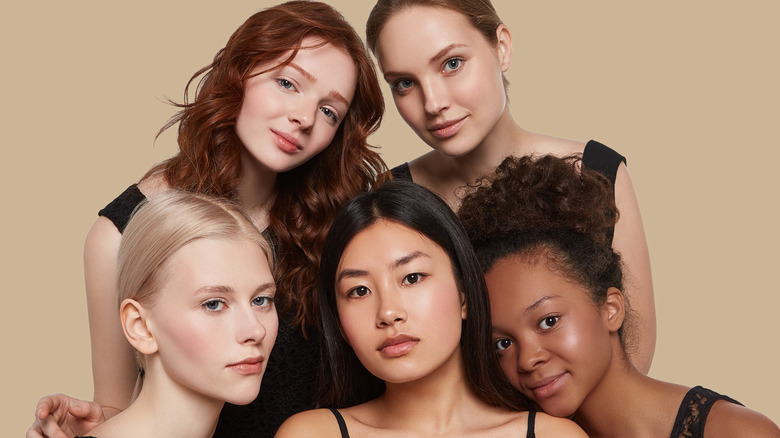 Red Umbrella and Donkey/Shutterstock
To know which flat iron fits your hair type, you must first know your hair type. According to Function of Beauty, there are primarily four types of natural hair: straight (type 1), wavy (type 2), curly (type 3), and kinky (type 4). Structure-wise, your hair can either be fine and thin (A), medium with some bends and frizz (B), or thick and coarse (C). Straight, wavy, or curly hair texture and thickness are mostly influenced by genetic factors. 
According to The Andre Walker Hair Typing System (via Jiopy Design), straight hair, or type 1, tends to have a natural, glossy look but can be greasy to the touch. Type 2 boasts more wavy qualities in the hair, while type 3 gives your mane a tighter, curlier look. Type 4 hair, commonly known as afro hair, boasts the tightest curls with springy ringlets. Having low porosity, this hair type doesn't let moisture or water into the hair shaft easily. For people with type 4C hair, ironing out the kinks can be more difficult than with other hair types, and you may need to apply a leave-in conditioner to untangle the knots. Now that you've got a general idea of which hair type you have, let's browse through the features you should look for in a flat iron that fits your mane. 
Tips on choosing the right flat irons for your hair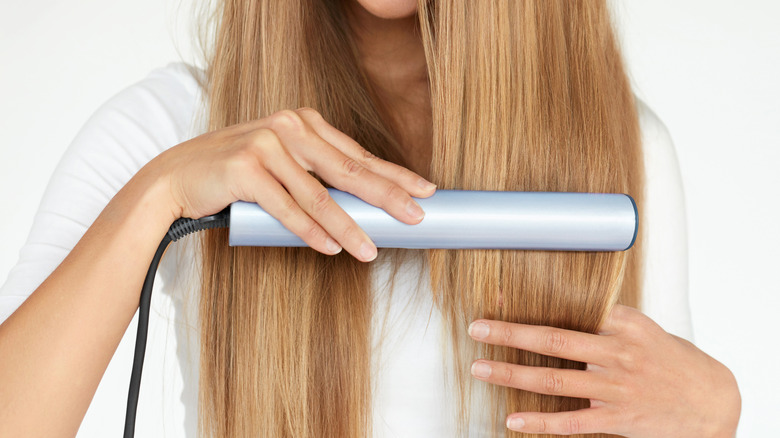 puhhha/Shutterstock
According to Indique Hair, those with thin or delicate hair should use ceramic flat irons, which are excellent for keeping frizz at bay and taming the main. Besides, ceramic flat irons can retain heat efficiently and transfer heat without harming your locks. Made from finely ground crystal silicate materials, tourmaline flat irons are fantastic choices for those with kinky, frizzy hair. They generate more negative ions than ceramic plates, keep your hair straighter longer, and minimize frizz.
Ceramic and tourmaline are effective on thin or damaged and wavy hair that is easier to straighten. But for type 4 hair that's coarse and curly, you need titanium plates. According to Chatters, titanium flat irons heat up rapidly and can maintain very high temperatures for long periods of time, making them more effective for hair that requires more heat and is difficult to straighten. Those with thin and damage-prone hair should steer clear of titanium and go for ceramic or tourmaline plates instead.
Also, pay attention to the temperature setting on your flat iron. Lower temps are recommended for fine, brittle, or damaged hair. Higher heat is needed for coarse, thick, or curly hair. For all hair types, between 250 degrees and 375 degrees Fahrenheit seems to be the ideal temperature range. To lessen the thermal damage of flat ironing on your hair, apply conditioner and heat protectant to your locks before straightening them.