Charlotte Russe Staged An Impressive Post-COVID Lockdown Comeback But Can It Keep It Up?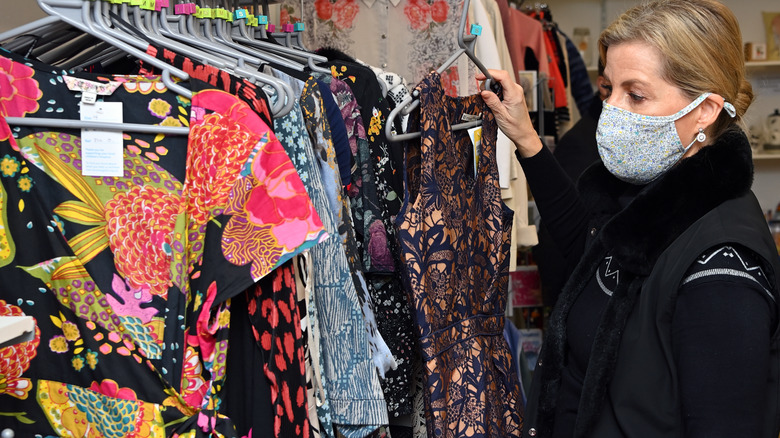 Pool/max Mumby/Getty Images
Many people believe that H&M and Forever 21 were the pioneers of American fast fashion. However, Charlotte Russe had been in the U.S. market for a longer period of time than these renowned brands. Founded in 1975, Charlotte Russe sells affordable and chic clothing, footwear, and accessories to those in their teens and 20s, per Company Histories. During its heyday, the retailer had about 400 stores in 49 states across the U.S.
In February 2019, Charlotte Russe filed for bankruptcy, citing a steep decline in sales and in-store foot traffic and amassing debt, per CNN. Following the closure of hundreds of Charlotte Russe locations, the fast-fashion retailer's website and social media accounts are touting a resurgence under its new owner, Toronto-based garment maker YM Inc. By November 22, 2019, the owner claimed to have opened about 135 stores, much to the chagrin of thousands of former employees who lost their jobs and were kept in the dark during the bankruptcy and rebranding process. Charlotte Russe's in-store traffic, like that of many other shops, dropped greatly during the COVID-19 pandemic, but it began to recover impressively when lockdown restrictions were lifted. However, it's hard to say if the store is on pace to sustain its current performance.
Charlotte Russe offers wildly good deals
According to SafeGraph data, Charlotte Russe's typical foot traffic averaged between 1,000 and 2,000 unique visits per month until the pandemic reached the United States in March 2020, dropping its numbers drastically. Charlotte Russe's foot traffic eventually hit 1,000 once more in December 2020 and January 2021, during the bustling holiday season. For most of 2021, the retailer's monthly in-store traffic averaged about 1,000 visits. During 2021's holiday season, however, Charlotte Russe's foot traffic skyrocketed to 8,000 visits, an increase of eight times more than the same period in 2021. However, in-store traffic fell to 3,000 visits in April, followed by a persistent, rapid decline to 1,000 again in the summer. But what gives?
Charlotte Russe targets those in their late teens and early 20s who aren't ready to spend a fortune on fashion. The pressure to reduce costs and speed up production time means the quantity is compromised. Charlotte Russe has a reputation for selling cheap, fashionable everyday clothes that aren't built to last. For example, you can get a chic pair of cargo pants at Charlotte Russe for $20. Over at its competitor H&M, the piece is priced from $24. While this isn't a big difference, H&M is loved by influencers and gets consistently promoted. Still, the best part of Charlotte Russe's in-store experience is its vast offerings of accessories sold at cheap prices. With $.6.50, you can get a set of 10 rings or a necklace and earrings set. Charlotte Russe is a go-to teen space for great deals, but not for items that last.
You'll find more Charlotte Russe gems online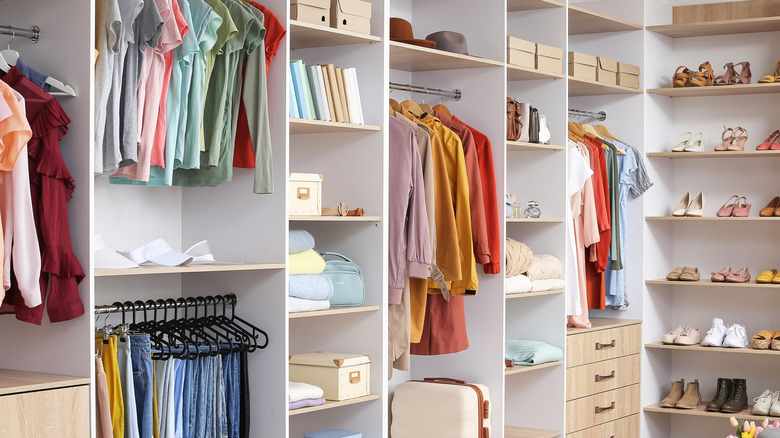 Pixel-Shot/Shutterstock
Trend-wise, sustainable fashion is having a moment with over 8,100 searches each month due to mounting concerns over the climate crisis, Curated Digital points out. The major reason for this is the rise of fast fashion, where businesses employ cheap and environmentally toxic materials to maximize profits. To keep pace with the growing environmental consciousness of consumers, Charlotte Russe may need to rebrand itself as a company that provides more than fast fashion, like what H&M and Zara are doing.
Another factor contributing to Charlotte Russe's decrease in in-store visitation is the company's major emphasis on its e-commerce platform. Charlotte Russe has a section called Online Exclusive where you can find a nice selection of on-trend fleece joggers, sherpa jackets, and onesies for unbelievably low prices that aren't accessible in physical locations. A Thematic analysis also shows that Charlotte Russe's online presence offers a better size variety than its offline stores (via Linkedin). For instance, three times as many customers awarded their online purchase a five-star rating as they did their in-store buy because of more comprehensive plus-size options. Charlotte Russe also beats H&M, Forever 21, and Lulus in terms of size selection. If Charlotte Russe promotes its size variety in its physical stores, it has a good possibility of attracting more customers and increasing sales.