Is It Better To Slug With Vaseline Or Aquaphor?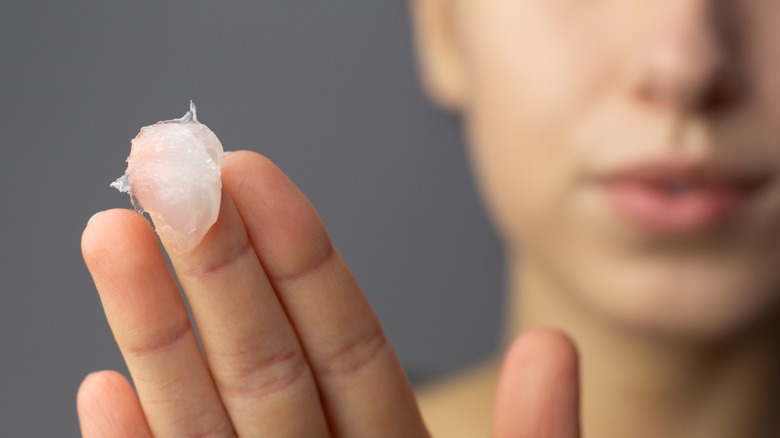 Anna Gawlik/Shutterstock
In most parts of the world, Vaseline is seen as the OG of moisturizers and is used to treat many minor injuries associated with dry skin. If you have chapped or flaky lips, one squirt of Vaseline will soften them up. Cracked feet and heels? Vaseline can provide the moisture they need. Petroleum jelly, the main ingredient in Vaseline, comprises microcrystalline wax and minerals that are said to cover your skin with a water-resistant barrier to moisturize it on a deep level. Invented in the 1860s by chemist Robert Augustus Chesebrough, Vaseline was officially branded as Vaseline Petroleum Jelly in 1870, per Unilever USA. 
Advertisement
Slick, affordable, and safe to use on most parts of the skin, Vaseline has been a staple in medicine cabinets across the world for centuries. A topical treatment that's no less effective and popular than Vaseline is Aquaphor, a product that's also used to prevent and treat skin irritation, diaper rash, and minor cuts, per WebMD. But while Vaseline and Aquaphor boast many shared benefits, they're different in both nature and functions. So, which one is the better moisturizing product to stick to? Before we jump to a conclusion, let's delve into the similarities and differences between these two.
The differences between Vaseline and Aquaphor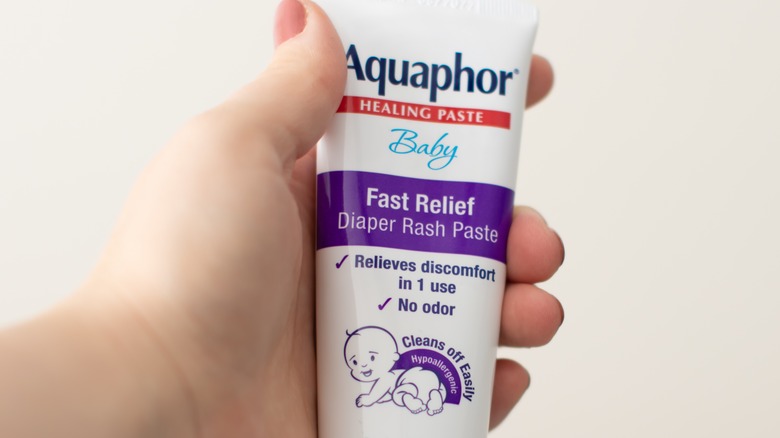 Happy Lens Images/Shutterstock
If you look at the label of any pure petroleum jelly Vaseline product, you'll find that 100% of its ingredients are petrolatum, another word for petroleum jelly. But if you turn to an Aquaphor label, you'll find that it contains numerous ingredients apart from petroleum jelly, such as mineral oil, ceresin, lanolin alcohol, panthenol, glycerine, and bisabolol (via INCIDecoder). Therefore, if you are allergic to lanolin, a moisturizing wax extracted from sheep's skin, don't use Aquaphor. 
Advertisement
Despite their differences in ingredients, both Vaseline and Aquaphor can seal in moisture, prevent water loss from the skin, and are great for treating the usually dry areas such as the heels and the lips. When it comes to using the topical ointment for surgery aftercare and burns, Vaseline might be a better choice. A study published in the Journal of Drugs in Dermatology finds that Aquaphor is more likely to cause redness and swelling in surgical wounds. On the other hand, Aquaphor, with its anti-inflammatory effect, is recommended for tattoos. Vaseline is not the most optimal follow-up treatment for box-fresh tattoos. This petroleum jelly-based ointment retains moisture and germs, which can cause infections and scarring if your tattoo isn't given enough air to heal.
Advertisement
Which is better for dry skin?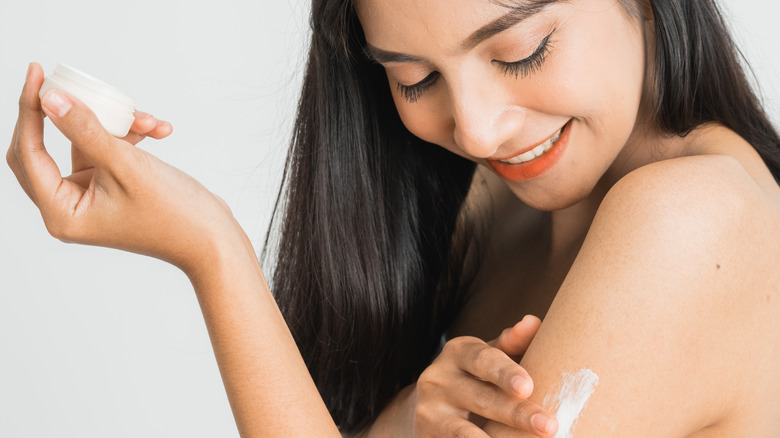 Odua Images/Shutterstock
Both Vaseline and Aquaphor have massive benefits for the treatment of dry skin and minor wounds. But if there's a final verdict to be made, which one will experts recommend? Speaking to Healthline, dermatologist Dr. Hadley King finds Aquaphor to be a "better moisturizer" due to the humectant properties of glycerin and the extremely hydrating effect of lanolin. Bisabolol in Aquaphor also contains anti-inflammatory, antimicrobial, and antibiotic properties, which make it effective against bacterial infection. Dr. King is not the only one that roots for Aquaphor as the next best moisturizer for dry skin. Dermatologist Dr. Loretta Ciraldo tells MarthaStewart.com that she has been recommending her patients to use Aquaphor for their surgical aftercare as well as those having problems with severely dry skin, which is often low in moisture.
Advertisement
It's hard to choose between Vaseline and Aquaphor when it comes to treating dry skin, but it seems that Aquaphor is the better moisturizer. Aquaphor is both humectant and occlusive, while Vaseline is mostly occlusive. Humectants draw water into the skin to stop dehydration, while occlusives repel aqua. Ultimately, both of these have a lot of benefits in common, but reach for Aquaphor if you want a little extra benefit.