The Top Summer 2022 Fashion Trends To Add To Your Wardrobe Now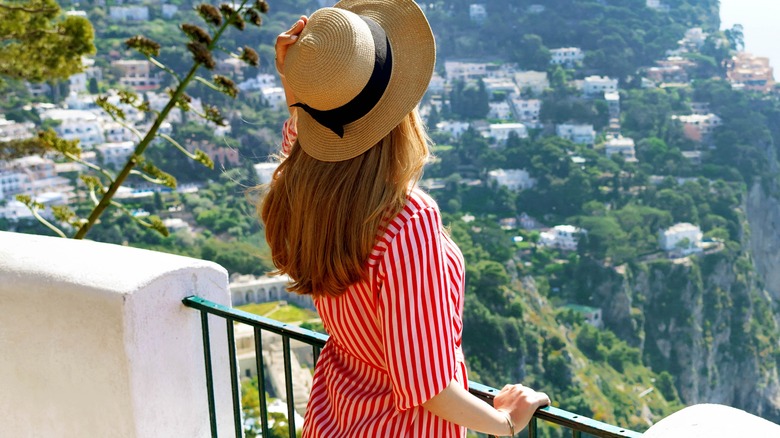 Zigres/Shutterstock
Summer trends are always ones to look forward to because they come alive in the season when people go out more and when there is more to do. Therefore, people see you and your clothing choices more. It's time to make a statement, and summer 2022 is no exception. Moreover, a few of these have all the signs of being here to stay, so they might be a good investment in the long run.
Advertisement
Summer 2022's fashion is big in contradictions and contrasts. For example, we're seeing sultry, cut-out micro-mini dresses in sheer fabrics or latex as well as long, flowy skirts and tailored suits; a revival of the 2000s' excesses on the one hand and the obsession for understated elegance on the other; and timeless staples such as biker jackets with shamelessly trendy pieces like Blumarine's Top in Jeans with Embroidery. With nothing forbidden, all that is left in summer 2022 is to dive in and enjoy a carefree vine. Fashion is officially fun again.
Party like it's 1999
If you grew up during the 1990s, you might have noticed some familiar items popping into your feeds: enter the Y2K trend. From over-the-top platforms to baguette bags, pleated skirts, skimpy dresses, mini t-shirts and crop tops, not forgetting cargo pants and velour tracksuits, here is a chic twist to the 90s and early 2000s guilty pleasures.  If we consider other nostalgic trends in the recent past, the comeback of this distinctive style, a blend of futuristic and retro, is no surprise: it is usual for styles of the past two decades to be in again. In the 90s, the 70s revival was a dominant trend; over 20 years later, the Gen-Z falls in love with the 90s and aughts aesthetic.
Advertisement
For inspiration, think of pop references like Clueless, Friends, Sex and the City, The Craft, The Matrix, Mean Girls, Paris Hilton, the Spice Girls, the Bratz dolls, and Britney Spears.
The most groundbreaking -and controversial- return, however, might be the low-slung waist, after over a decade of ladylike high-rise bottoms.
Miniskirts and micro skirts
With the 1990s/Y2K fashion comeback, a sub-trend is taking off in the form of the micro skirt, as seen in Miu Miu, Etro, Blumarine, and Dior (via the New York Post). Designed to be worn in pure 1990s supermodel style, exposing most of the thigh, this daring trend goes beyond your regular miniskirt and comes as a natural response to the stern, comfort-driven fashions of the past two years. After all the confinement and fear, women want to have mindless fun and feel sexy again.
Advertisement
Pleated or plain and belt-like, low or high rise, the micro-minis come in statement colors and bear striking details. To achieve the high-impact, leg-elongating effect in a chic way, it's key to go for impeccably tailored pieces: think Alissa Milano and Reese Witherspoon in "Fear" or vintage Chanel and Versace ads. Stylist Elizabeth Sulcer recommends focusing on the cut and smart styling. "Showing skin on the bottom and [being] more covered on top could be a chic and still youthful way to embrace the trend," she tells Harper's Bazaar.
Nostalgic chunky shoes are back in style
Y2K echoes also inspired footwear. In fact, tacked shoes, sandals, and boots appeared in most big-name collections, including Lanvin, Celine, Givenchy, Bottega Veneta, and Versace. The call for super-high platforms, however, is not just about nostalgia; the desire to wear sexy, sky-high shoes in the post-pandemic scenario contrasted with the comfortable, utilitarian styles that people got used to and weren't willing to give up. Now, platform heels, wedges, and other chunky shoes are only a natural answer to the needs of the time. 
Advertisement
Styling-wise, chunky footwear can be matched with an array of pieces, from flirty, dainty dresses to wide-bottoms and skirts of various lengths. Although this trend takes no prisoners and calls for shoes to be as high as possible, sensible but equally cool wedged options also exist, with one prime example being Givenchy's G Leather Clogs.
Preppy clothes are popular
With TikTok making the old money aesthetic viral, preppy clothes are officially popular. Visuals inspired by the aristocracy, Oxbridge or Ivy League, WASPS, or "coastal grandmothers" are going mainstream and calling for sophistication, manners, and quality. Everything is about looking subtly expensive, opposing flashy trends like the "California rich" trend made popular by the Kardashians. As TikTok creator @oldmoneyaddicted tells The Cut, it's "the refined and subdued aesthetic of old wealth instead of the extravagant and show-off attitude of new money." 
Advertisement
References include Ralph Lauren, Loro Piana, and Burberry; shows such as "Gossip Girl" and Netflix's "Elite"; and aristocrats-turned-influencers such as Lady Kitty Spencer, the young Greek royals, and Leonardo Maini Barbieri, son of the Marquess of Saluzzo.
Regencycore makes you look like royalty
Inspired by the worldwide success of Netflix's "Bridgerton," regencycore brings luxurious, formal details and silhouettes. Think empire waists, baby doll dresses, maxi lengths, puffy sleeves, opera gloves, dainty embellishments, floral prints, and corsets. With its diverse casting and clever anachronisms, the Netflix show made period fiction appeal to a whole new audience. This, along with a desire for opulence and festivities, set the tone for a historical dressing craze.
Advertisement
However, as other period dramas set in different eras like the 18th century or the Belle Epoque became popular by proxy, regencycore came to mean any styling based on pre-1910s dress codes. Although the different era silhouettes differ dramatically, there are common aspects that make regencycore work as a whole, such as varied styles of corsets, rich fabrics, and bustle skirts, which have been embraced by brands like Alexander McQueen and Louis Vuitton.
Minimalism inspires neutrals and low-key fashion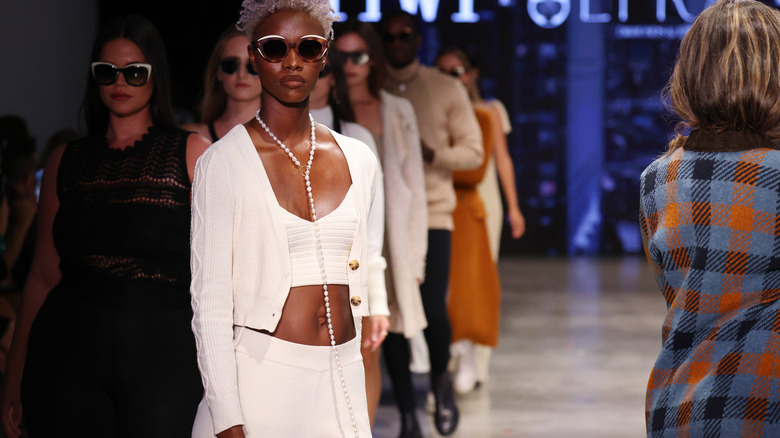 Thomas Concordia/Getty Images
Amongst such daring trends, brands like Jil Sander, Valentino, Alaïa, Hermès, and Altuzarra proposed a relaxing feast for the eyes and senses. Alongside vibrant colors and striking, sexy visuals, there was a rise in the consumer's demand for the very opposite: very luxurious while seemingly basic wardrobe staples in neutral and muted tones. Lavish yet low-key essentials such as timeless trench coats with interesting details, tailored trousers and sharp wide-pants suits, monochromatic sets, and all-white ensembles.
Advertisement
A streamlined take on the old money aesthetic and a reminder of the late 1990s minimalism, this summer's stealth luxury is all about lavish, versatile pieces and a fresh, clean aesthetic. Whether you seek lush staples to enrich your closet or need a chic break from the sartorial noise, this season is brimming with cool, soothing must-haves.
Dopamine dressing is for bright colors
After two years of dull, comfy clothes, the demand for fun, uplifting hues skyrocketed and the options are plenty. Fuchsia, bright green, regal yellow, tangerine, raspberry, neon yellow, and cerulean blue all make this summer feel quite bright and happy. Bubblegum pink might be the color of the year, but the dopamine dressing trend offers a rainbow of options. What's more, the term "dopamine dressing" was coined by fashion psychologist Dr. Dawnn Karen, and it means wearing clothes that boost your mood (via Today). TikTok and Instagram made it viral, with color therapy being a huge part of this trend. 
Advertisement
From Valentino to Saint Laurent, fashion houses quickly followed, parading color blends, patterns, or head-to-toe color blocking in suits, dresses, and accessories. As Libby Page, senior market editor at NET-A-PORTER, tells Who What Wear, "Bold, brave brights are here to stay (...) this year, NET-A-PORTER has seen phenomenal increases (...) on sales of brightly coloured goods, such as the Bottega Veneta's Kermit-green styles, like the crazy-popular Jodie bag." Now, you, too, can dress in tow. 
Maxi skirts are here to make a splash
Another contrasting comeback arrives in the form of maxi skirts and dresses. After years of mid-length dominance, you now have the option of going extra short or the exact opposite. With fashion houses like Louis Vuitton, Givenchy, Balenciaga, and Chanel proposing floor-sweeping lengths in a variety of shapes and textures, from body-hugging and sophisticated to flowy and breezy, the maxi is the trendiest it has been in years. Styled with a cropped tank or a basic white tee and platforms or block-heeled sandals, a black, narrow maxi makes a fool-proof minimalistic outfit, reminiscent of two 1990s muses: Caroline Bessette-Kennedy and Gwyneth Paltrow.
Advertisement
Bold textures and embellishments are bigger than ever
Sparkly textures and fabrics, beaded accessories, netted knits, crochet, fringes, or even feathers: the idea is to shamelessly bring extra glamour to your style. Whether the inspiration comes from bohemian beachwear or a futuristic fantasy, all excuses are good to explore interesting detailing and drama. This can be achieved by wearing embellished bags, jewelry, or other smaller pieces or by embracing dramatic effect with bejeweled capes, ruffled dresses, metallic corsets, brocade skirts, or gowns with an edgy twist.
Advertisement