Costco Is A TikTok Favorite, But It's Struggling To Translate That To In-Store Traffic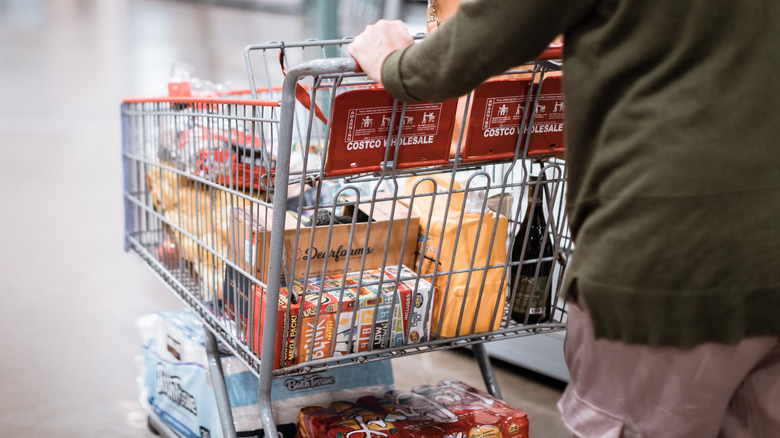 ARTYOORAN/Shutterstock
As the matriarch of the Kardashian-Jenner brood, Kris Jenner once said, "Costco is a passion. Costco is a massage." Every brand has its following, but Costco, a membership-based warehouse club wholesaler, is a different ball of wax. According to Investor, the 39-year-old retailer is estimated to have over 116.6 million card-holding members as of August 2022. With 834 warehouses worldwide, Costco has garnered a cult-like following that can't get enough of the stress-relieving pastime of strolling spacious aisles lined with bulk-size groceries, electronics, household goods, caskets, cars, and gas — basically everything for your needs and wants — at discounted prices. Without a shopping list, you'll likely lose track of time and overspend.
With such a vast product line, it's no surprise that Costco is seeing its seasonal products and recipes from its house brand Kirkland becoming viral on TikTok, modern-day shoppers' go-to place for shopping inspo. Needless to say, these viral moments are a big opportunity for the retailer to gain more traction and win more sales. However, it looks like Costco is struggling to translate its insanely popular hashtags and millions of likes into its in-store traffic. Here's the likely reason why. 
You have to pay to shop at Costco
Costco's pre-pandemic monthly in-store traffic averaged 1.8 million visits, per SafeGraph. The retailer's in-store visits soared to nearly 2.6 million over the 2019 holiday shopping season. When the U.S. was put under a national emergency in March 2020, Costco saw a surge in visits due to panic buying, The Washington Post reports. Costco's in-store traffic fell to below 1.2 million visits in April before rebounding in the months that followed. The big-box retailer's traffic averaged 1.7 million throughout the bulk of 2021 and only reached a peak of two million during the holiday season that year. After Easter 2022, Costco's in-store traffic fell to below 1.2 million, and it has since further decreased. Less than one million people visited the large shop in August, which is lower than it was during the height of the pandemic. Here are various explanations for Costco's puzzling traffic decline.
People need to pay to shop at Costco, and that's what keeps them coming back. Costco's annual membership fees, which cost $60 for the Gold Star membership and $120 for the Executive membership, are what keep the commodity prices low. The retailer once admitted to increasing its membership fees around every 5.5 years, which might increase the fees to $65 and $130 this year, The Street reports. Meanwhile, its biggest competitor, Sam's Club, offers membership tiers at $45 and $100. Also, Sam's Club sells more name-brand goods, whereas Costco mostly offers in-house products. Sam's Club, therefore, is the place to go if you like variety and lower membership costs. With the inflation rate high, one penny saved is one penny gained.
Costco's in-store shopping experience is not always pleasant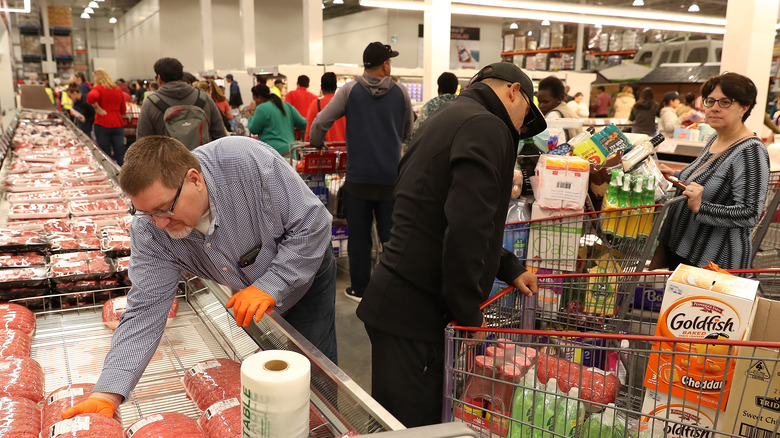 Paul Kane/Getty Images
People usually prefer shopping in-store at Costco, mainly because warehouse shopping is 8% to 20% cheaper than shopping online at Costco.com. The only problem that comes with in-store shopping is that the warehouse is always packed like a sardine. Finding a parking lot on any given day is no laughing matter, making a trip there tiring at best. For big purchases like dining room sets or a behemoth teddy bear, you'll have to sort out the delivery arrangement yourself because Costco won't. Plus, while Costco prefers you shop in-store so you'd be more likely to overspend, you'll find more items online than in the Costco warehouse. Its online platform holds 10,000 items compared to 4,000 items in the Costco warehouse, Bloomberg points out. During and after the pandemic lockdowns, more people adapted to digital purchasing, so it's not a bad idea to pay a few dollars more for delivery instead of spending some time fighting the crowds from the parking lot to the checkout line.
Due to growing inflation, buyers are now making every effort to use coupons to reduce their overall spending. Although Costco provides its own coupons, it does not accept manufacturer coupons. Consider going somewhere else if you love collecting coupons. Besides, bulk buying isn't always the key to long-term savings. For those who don't have an army to feed to utilize every bit of what they paid for upfront at Costco, local grocery stores make a better choice.