How To Get Rid Of Acne Scars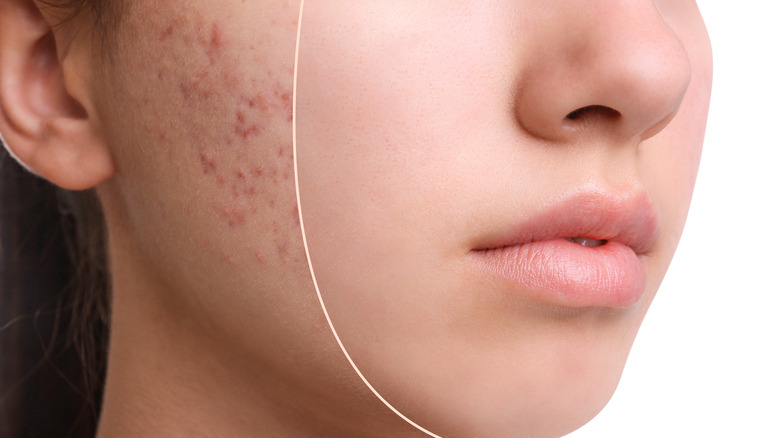 New Africa/Shutterstock
We may receive a commission on purchases made from links.
The only thing worse than having a pimple is the scar it leaves behind. Fighting acne and then covering up the residual marks can feel like an ongoing battle. It's possible for some scarring to last for months or even years after a pimple has been treated, making the damage it leaves behind incredibly frustrating. Luckily, dermatologists and the beauty industry have heard the cry for scarring cures and have many solutions. 
There are several different kinds of acne scars, all of which produce an oversupply of collagen as the body defends and protects the skin layer (via Dermnet NZ). The different types of woundings that can occur to the skin include ice-pick scars, which are deep and narrow; rolling scars, which are broad with sharp or sloping edges; or flat, atrophic scars. So, whether your scars are minimal and light or deep and textured, we have the perfect cure to banish these eyesores. 
Use vitamin C to heal and brighten hyperpigmentation
puhhha/Shutterstock
Vitamin C has really become the go-to girl for glowing skin. Is there anything she can't do? After a breakout, the skin needs time to heal itself by creating new skin cells. Vitamin C is a great ally in skin repair because it encourages collagen production and can expedite the healing of wounds (via Healthline). Furthermore, you can always rely on it to brighten any dark spots without changing your natural skin tone. It's an incredible two-in-one for acne-prone skin.
If you have sensitive skin that doesn't respond well to oil and serums, try incorporating vitamin C into the cleansing step of your routine. Scandinavian skincare brand Olehenriksen, known for its breakthrough vitamin C technology, has reviewers raving about its Truth Juice Daily Cleanser, a foamy wash with orange fruit water and blemish-erasing seabuckthorn extract. If your skin loves serums, the brand's bestselling Banana Bright Serum is made with a generous 15% pure vitamin C, the brand's highest dosage. If your scars are smaller and more surface level, vitamin C is your best bet, but there may be another option that you can employ at the same time.
Chemical peels can treat deeper scars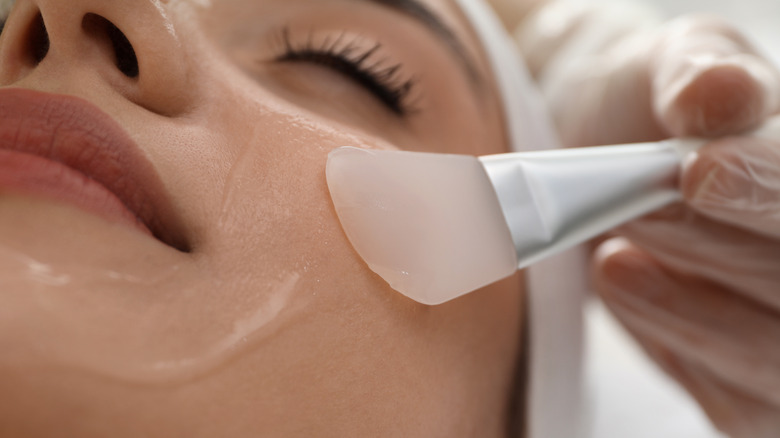 New Africa/Shutterstock
For those with more severe or aggressive acne, atrophic or ice-pick scars can appear, causing deep skin indentation. Because these scars go below the outer layers of the skin, they are more challenging to treat and take more time and patience. However, chemical peels have the power to treat acne wounds below the surface and can visibly reduce scars over time. What's more, in a 2015 study published in the Journal of Clinical and Aesthetic Dermatology, researchers found that participants experienced massive improvements in their skin after five or six treatments. The treatment uses the CROSS method, where the peel chemically reconstructs skin scars.
Though chemical peels are now available over-the-counter, consult with a dermatologist to see what treatment you should have. New York cosmetic dermatologist Dr. Michele Green says that these procedures range from quick "lunch break" peels that can heal within a week to much stronger peels that take several weeks to a month to remedy. Though you might experience redness, dryness, and peeling, this is a sign that brand-new baby skin is on its way.