Here's How Old Navy Has Remained A Wardrobe Staple In A Post-Lockdown World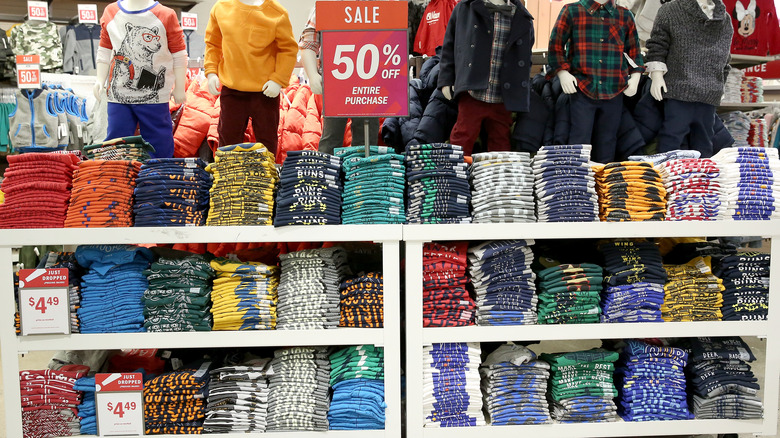 Monica Schipper/Getty Images
Since its opening in 1994, Old Navy, known for its budget-friendly clothing for kids and adults alike, has always been the jewel in the crown of its parent company, Gap Inc. (via Bloomberg). From snugly jingle jammies to timeless rockstar jeans to Fourth of July outfits, Old Navy has the most youthful and varied selection for all seasons and sizes that keep customers coming back. By 1997, the company had achieved $1 billion in annual sales in less than four years, making it the first retailer to achieve this milestone. In the late 1990s and early 2000s, this retail powerhouse soared in popularity with over 513 stores. For decades, Old Navy has been doing well in many areas in which its more expensive cousin, The Gap, hasn't kept up. 
Old Navy contributed significantly to Gap Inc.'s growth, accounting for more than half of the company's global net sales of $16.7 billion in fiscal 2021, Gap Inc. reports. In February 2019, Gap Inc. announced that it would be splitting the company in two and that Old Navy, which brought in $8 billion in annual sales by itself, would be standing on its own. However, the plan was canceled in 2020. Despite significant changes in leadership followed by the COVID-19 pandemic and recession fears, Old Navy is still living up to its reputation as one of America's most beloved brands. Here's a look at Old Navy's impressively stable performance in recent years. 
Old Navy sells affordable and quality clothing
As seen in data collected by SafeGraph, pre-pandemic foot traffic at Old Navy averaged 65,000 unique visits per month. When the U.S. was put under a national emergency in March 2020, Old Navy's foot traffic plummeted to below 10,000. In June of the same year, the retailer's foot traffic bounced back to 50,000, before peaking at 70,000 during the holiday season. Old Navy's in-store traffic decreased to 30,000 in February 2021, the sluggish month for retail due to the post-holiday lull. Due to the holiday shopping season, the retailer's traffic peaked in November and December 2021 at close to 100,000. Fast forward to 2022 and Old Navy has witnessed a monthly average of 50,500 visitors. Although these numbers are not particularly outstanding, it is remarkable that Old Navy has managed to retain in-store visitors despite the post-pandemic economic crisis.
Obviously, location is Old Navy's unsung hero when it comes to foot traffic performance. Most Old Navy stores are in strip malls rather than traditional malls, as is the case with its sister brand The Gap. According to Retail Dive, strip centers with open-air space and better visibility are outpacing traditional indoor malls in terms of traffic. Furthermore, we're living in the fast fashion era, where affordability and trendiness are a winning combo. Old Navy delivers, if not exceeds, expectations in this regard. Many customers swear by Old Navy's good-quality clothes, which are competitively priced when compared to The Gap or American Eagle Outfitters. For example, Old Navy charges $35 for a pair of flare jeans. The price is nearly $80 at The Gap.
Old Navy nails the branding strategy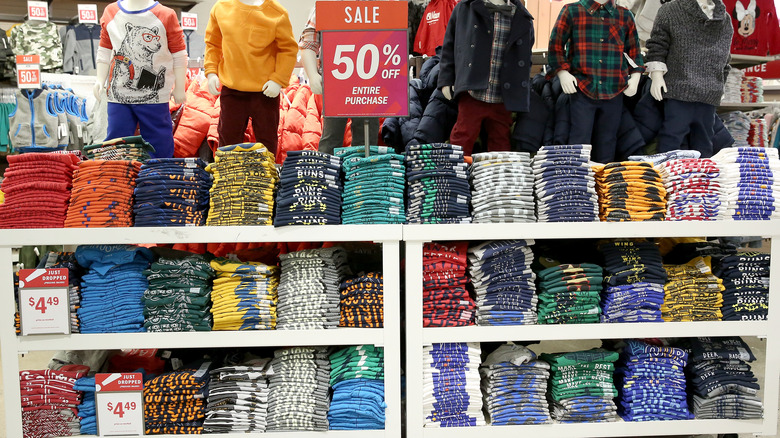 Monica Schipper/Getty Images
Quality and reasonably priced clothing aside, Old Navy has a consistent brand awareness strategy that ensures it won't be forgotten anytime soon. Per a 2022 survey published by Statistica, Old Navy is one of the most recognizable U.S. fashion brands, with 92% of respondents recognizing its name and logo. This branding achievement wasn't built overnight. Old Navy knows how to customize its marketing content to impress its core customers and improve brand recognition in the digital age. Its "#Unlimited" video, which has amassed 13 million views at the time of writing, is a prime example of how this retailer utilizes potentially viral content to appeal to its target market: families. It drove the message home loud and clear: Old Navy caters to multi-generational households and has something for everyone. Back-to-school wardrobe ideas? Old Navy has got you covered. Maternity clothing gifts? Old Navy has unbeatable discounts. When in doubt, go to Old Navy.   
As part of its marketing strategies, Old Navy has collaborated with popular faces, run offbeat TV advertisements, and sponsored high-end cultural events. Heavy investments in branding have made Old Navy a household name and an essential part of the U.S. retail industry.