Sephora Struggles As Its In-Store Foot Traffic Drops To Half That Of This Time Last Year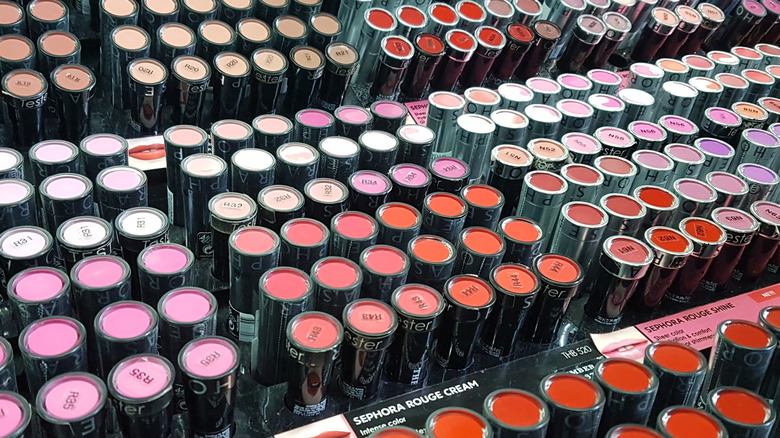 Omeletzz/Shutterstock
We may receive a commission on purchases made from links.
The dramatic worldwide impact of COVID-19 has left its mark in many ways, from our personal lives to the way we shop. For some retailers, consumers' shifting priorities and buying habits have been a boon. But for many others, the anticipated bounce-back from the pandemic's interruption never materialized. Even iconic brands like Bed Bath & Beyond are losing customers, unable to recapture their long-held popularity.
And when it comes to the beauty industry, we can see a stark divide forming as consumers flock away from previous favorites like Sephora. Despite ruling the beauty retail sector for years, Sephora has struggled to recover from COVID-19. Facing dwindling foot traffic, this beauty brand is left hawking new initiatives and partnerships to attract consumer attention — for instance, its burgeoning partnership with fashion retailer Kohl's (via Pymnts). Or take Sephora's recent announcement of subscription-based same-day delivery services, which are surely meant to help it compete with giants like Amazon and counteract its growing loss of in-store visitors.
But none of this reveals why Sephora's in-store traffic is falling in the first place. Back in 2020, when we were at the height of the pandemic, McKinsey predicted that retail trade would recover by mid-2022 at the latest. So, what is holding certain retailers like Sephora back from renewed storefront success?
Sephora's in-store traffic faces threefold challenges
Recent traffic metrics from SafeGraph seem to foretell the toppling of a beauty giant as mall landscapes lose their hold on consumers and Sephora's storefronts fail to draw in crowds. In the first week of September 2021, Sephora managed to report 93,785 daily visitors. But one year later, the numbers for 2022 show a sobering decline. On August 22, Sephora only had 46,165 in-store visitors, marking a nearly 51% decrease in slightly less than 12 months. In essence, its traffic has been slashed in half. But why?
Evaluating the current economy, inflation seems to be a key factor. June 2022 experienced the largest year-over-year rise in prices in four decades, with a 9.1% overall increase from prices in June 2021 (via the U.S. Bureau of Labor Statistics). And as prices rise across the board, consumers are being more careful with spending and making compromises to save cash. This likely impacts Sephora in three ways. For one, customers may be cutting back on just-for-fun beauty shopping, limiting their purchases to the products that make up the core of their routines. This means fewer opportunities for Sephora to lure in shoppers.
High gas prices also have some visitors skipping in-store errands and unnecessary trips (via CNN), which may push them to shop online and effectively tank in-store traffic. Finally, budget-savvy shoppers are likely to balk at Sephora's prices, which are known to come at a premium compared to competitors like Sally Beauty Supply. Worth noting is that Sally Beauty Supply is pulling in twice as much foot traffic as other beauty stores like Sephora and Ulta, indicating that price may be a central selling point in the current economy.