Which Soap Should You Use To Create Soap Brows?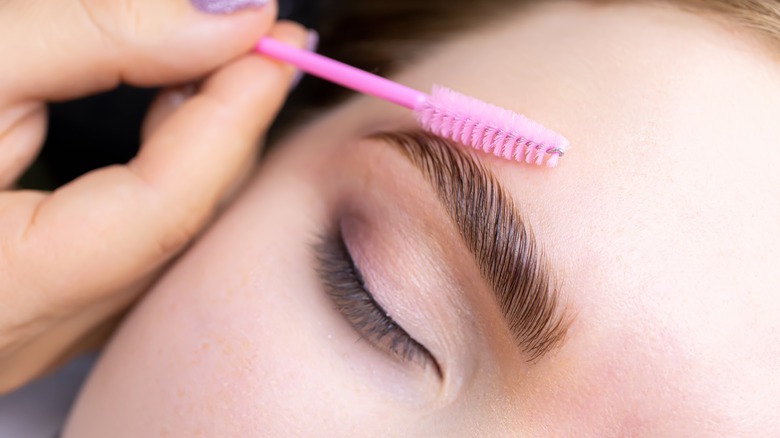 Roman Choknadii/Shutterstock
Eyebrows take up minimal real estate on our faces, but they can say a lot about our mood, personality, and even current trends. Over the last 10 years, eyebrows have gone through many styles, ranging from straight and pencil thin to bushy and youthful. But the reigning style today favors fluffy and feathered eyebrows. And for brows that aren't naturally full, there are a lot of ways to achieve the look, such as tinting, microblading, and lamination. Some people are even turning to eyebrow hair transplants to fight sparseness.
These methods all typically require making an appointment — or several — with a professional to get brows in tip-top shape. But there's another, DIY option that may tame and thicken unruly or thinning hairs from the comfort of your own bathroom: soap brows. Makeup artist Steve Kassajikian explained the beauty hack to Reader's Digest, saying that "[s]oap brows give you the look of laminated brows" — in other words, shiny, lifted, and full — but without perming your hairs. And as the name suggests, soap brows use actual soap. But before you start sudsing away, it's important to know how this technique works and what soap to use.
How soap brows work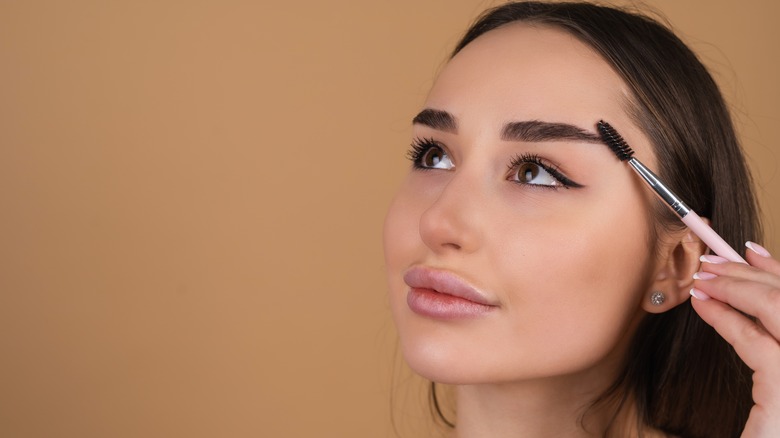 KK_face/Shutterstock
Part of what makes soap brows so appealing is just how easy they are to create at home. Makeup artist Mikayla Nogueira demonstrated how to achieve soap brows in a viral TikTok video. In the clip, she starts by spraying a prep spray on brow soap, then rubs a wide spoolie in the wet soap. Then, Nogueira brushes the eyebrows upward using the soapy, waxy spoolie, creating a lifting effect. She finishes by drawing a line across the top of the brows with the spoolie to create a full brow with a clean edge.
Dermatologist Dr. Joshua Zeichner broke down the appeal behind this quick and easy brow hack to Cosmopolitan, saying that the glycerin in soap works to coat eyebrow hairs, keeping them in place all day. This makes it easy to shape the brows exactly as you wish, covering sparse spots as needed. And soap brows aren't just a method to try when in a pinch; makeup brand Ipsy notes that soap brows have been around for ages, first embraced by professional makeup artists and later in drag culture.
Soaps to try – and which to avoid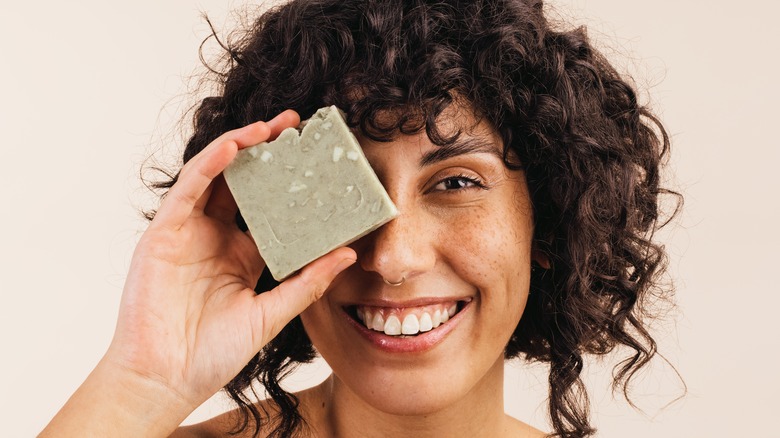 JLco Julia Amaral/Shutterstock
Now that the soap brow trend has hit the mainstream, there are more options than ever when it comes to choosing the right product. Of course, one of the biggest benefits of creating soap brows is that you need little more than a humble bar of glycerin soap. But, as Dr. Dhaval G. Bhanusali told Allure, some soaps are better than others. Dr. Bhanusali recommends a syndet (synthetic detergent) bar, saying, "These tend to be less irritating — although that's still possible, and better able to leave on the skin."
Makeup artist Emily Brafford also told Reader's Digest that it's best to look for a soap that is made for sensitive skin and free of fragrances. That way, there's less risk of suffering irritation or a skin reaction. Better yet, skip the bar soap lying around in your shower, and instead try a soap made specifically for the brows. These products are meant to be applied to the brows and are safe for the surrounding skin.