Here's How You Can Make Mismatched Earrings Look Purposeful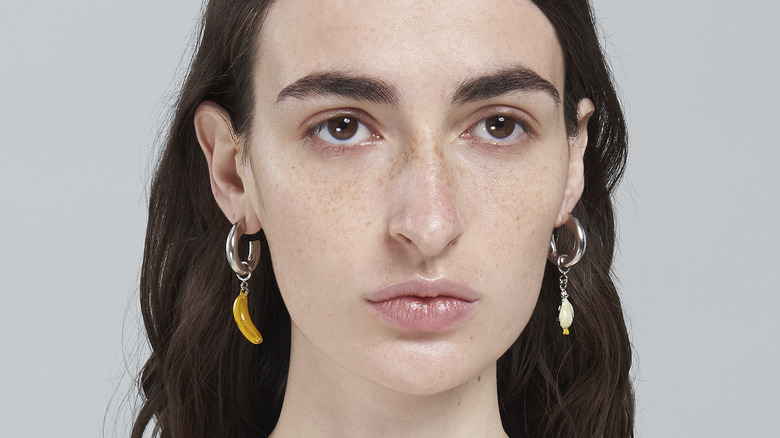 Marni
Accentuating your outfit and complementing your face shape, earrings make you look more noticeable and take your look up a notch. For instance, long earrings can visually lend some extra inches to the neck, while angular earrings are the most flattering accompaniment to those with flat features. When it comes to wearing earrings, the only challenge is to find those that suit your face shape, highlight your outfit of choice, and fit the occasion. But the real and no less intriguing problem is to wear earrings that do not match in size, shape, or material.
As Flume put it, "Imperfection is perfection." Wearings matched by conventional standards are how earrings are supposed to be worn. Swiping right on mismatched earrings is nothing less than a deliberate act of subversion, challenging the conservative approach to fashion. At the end of the day, the purpose of fashion as a "visual medium" is, per Vogue, to be on the frontline of communication to tell stories untold. Therefore, don't be afraid to buck the trend with asymmetrical earrings of different colors. In fact, numerous celebrities, including Megan Markle, have been captured sporting this look in major events, People reports. To go from mismatched earrings to an avant-garde fashion statement, all you need are some mixing and matching techniques. Keen to know how? Here's how to make a good match of mismatched earrings, either by accident or on purpose.
Buy an earring set that contains multiple pieces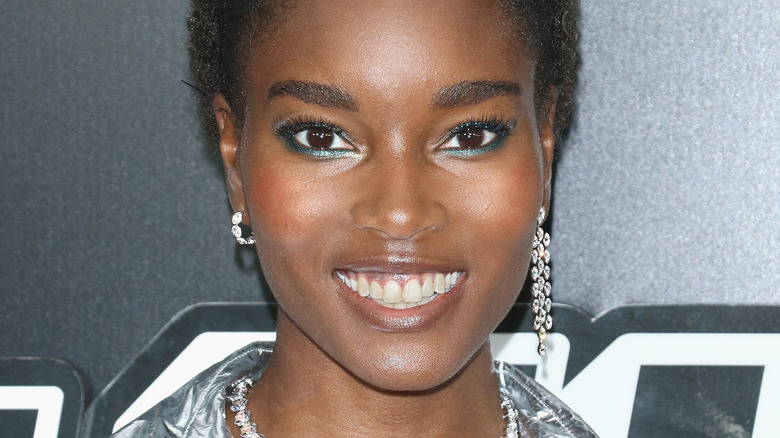 Jim Spellman/Getty Images
Before you start, ask yourself what look you're aiming for in a pair of mismatched earrings. It can be an addition of a onesie to a set of studs, wire hooks, or hoops that are already in your collection, or a box-fresh pair of asymmetrical earrings sold altogether. For a start, you can try out earring sets that contain multiple pieces to choose from. Having a variety of pieces in an earring set makes it more convenient to develop your asymmetric aesthetic sense and get used to combining separate earrings for original yet relevant looks, stylist Molly Cohen tells Today. 
If you have multiple piercings or want to have a dalliance with the mismatched style for a while, you can check out stores that sell single earrings. Vast in designs, textures, and price points, single earrings provide an easy, minimalistic way to diversify your ear's matching separates and create a color-blocking, one-of-a-kind ear getup. From ultra-modern-looking drops that extend to your shoulder to giant Cubist studs that look straight out of Pablo Picasso's collection, single earrings will leave you spoiled for choice and stoke your imaginative fire. One way to make the right match out of mismatched earrings is to "make one long and one short" and "clip your hair up on the side with the shorter earring," fashion blogger Jen Schmidt advises (via Gardens of the Sun). Contrasting lengths add a dramatic touch to your overall look and draw attention to your ears, which kind of makes your necklace redundant. If a single earring is striking enough to stand out on its own, you can wear it on one side and leave the other bare.
Find a pair that's mismatched but subtly similar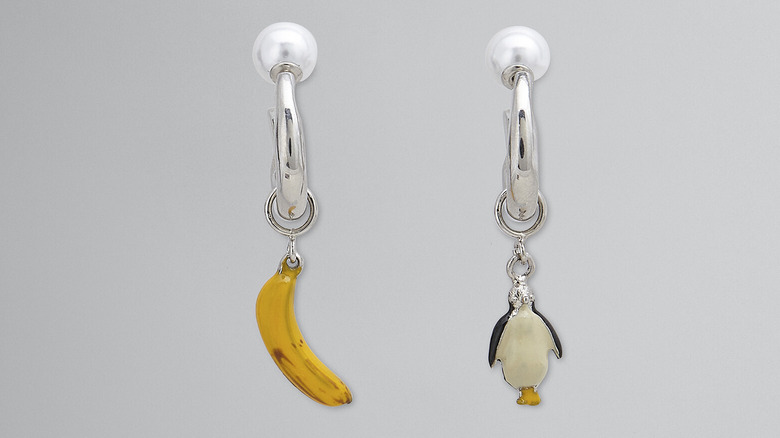 Marni
The easiest way to rock the mismatched trend is to combine pieces that have similar look, colors, and texture, Sterling King advises. In other words, if matched earrings are twins, mismatched earrings should be sisters. An associating factor, a matching color or a matching material, is what connects the two asymmetrical pieces together, Jewelry Shopping Guide points out. For instance, an electric blue plastic dangle wouldn't go wrong when paired with a stud that has the same hue and material. Or, you can try pieces that boast a similar theme, like alphabetical earrings. The contrast should be subtle enough to add a touch of thoughtful variety to the overall unity. Albeit asymmetrical, subtly similar earrings make your ear game look purposeful as if they were two disconnected pods in a pea. Once you've mastered this trend, consider going big and bold with freewheeling earrings that are contrasting in lengths, shapes, and colors yet are oddly cohesive enough that make people wonder how you pull it off.
Similar to the layering of clothes or necklaces, the key to nailing mismatched earrings without looking like you have no choice because you lost one piece in a set is to find a correlation between the pieces. Start with smaller studs with subtly dissimilar shapes and sizes of similar materials and colors, and work your way up to dangly, statement earrings that require more know-how to match and confidence to wear. Who knows? You might land yourself bucketfuls of compliments and wind up on some list featuring the most trendy looks around the world. No matter which looks you sport, don't forget to embrace your individuality and let your sense of style shine through.