Why You Should Add Peppermint To Your Next Bath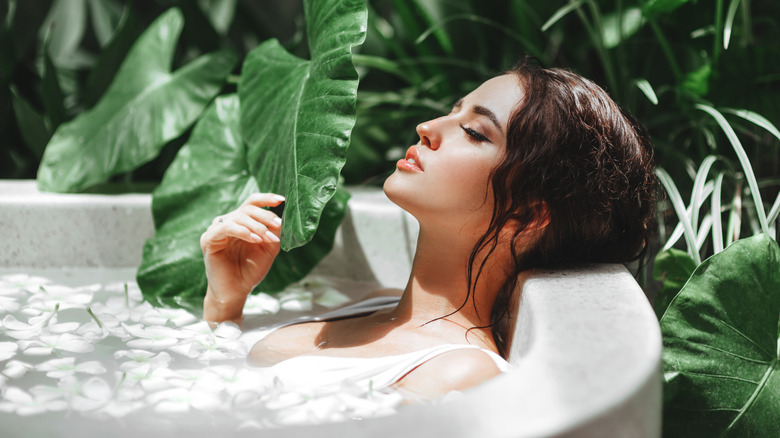 Margo Basarab/Shutterstock
We may receive a commission on purchases made from links.
Few things have the power to destress you like an herbal bath. While Epsom salt relaxes the muscles, calms inflammation, and reduces stress, adding herbs, oils, and teas to the water can elevate your deep soak even further. Often brewed as a drink, used in tubes of toothpaste, and even cough medicine, peppermint has been used for thousands of years in holistic healing and was once considered a very precious botanical. Archaeologists once discovered 3,000-year-old dried peppermint leaves within Egyptian chambers believed to have been used as a representation of accumulated wealth to take into the afterlife (via Cheryls). Doctors in the Middle Ages also used peppermint oil to treat parasites, infections, and gastrointestinal issues (via PubMed Central). Though it's widely accessible and easy to find, its healing benefits should not be taken for granted.
Adding peppermint to your bath can do more than boost your relaxation. It's been known to boost energy, improve circulation, disinfect skin, and even soothe inflammation (via New Directions Aromatics). Here's how to add it to your deep soak to reap the benefits.
Peppermint is full of antioxidants and vitamins that can restore damaged skin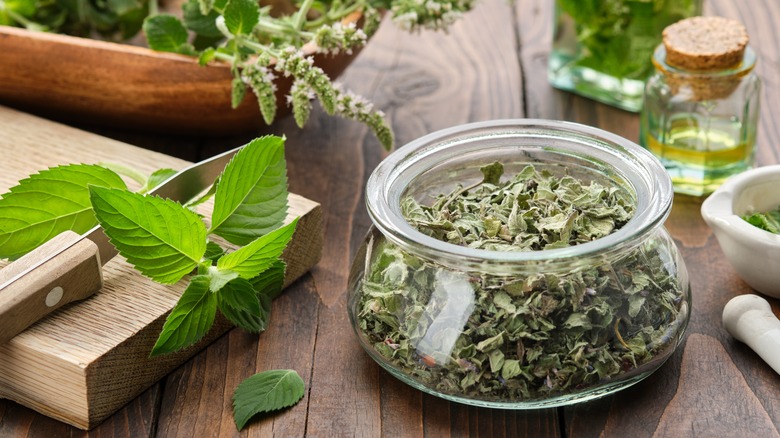 Chamille White/Shutterstock
Baths are essential to any self-routine as they can feel like they are detoxing the worries and anxieties of the day away. Research is proving, however, that they can actually assist in purging impurities. Peppermint tea, in particular, has very high antimicrobial and antiviral activities while also potent in antioxidants (via Pub Med). These antioxidants can help in skin repair, regrowth, and reversing signs of aging (via Halmari Tea). Its antibacterial and antiviral properties can also help with acne-prone skin, inflammation, or bacterial infections. It's also incredibly rich in vitamin D and E, which can slow down signs of aging in the skin from sun damage, dryness, and eczema.
To make your own peppermint tea bath, mix two cups of Epsom salt with one cup of dried peppermint. Mix together and store in a glass jar in a dimly lit space. You only need about one cup of the mixture for your bath. We suggest buying organic loose-leaf tea in bulk that you can save later to refill your bath soak or for tea brewing.
Peppermint essential oil is both relaxing and healing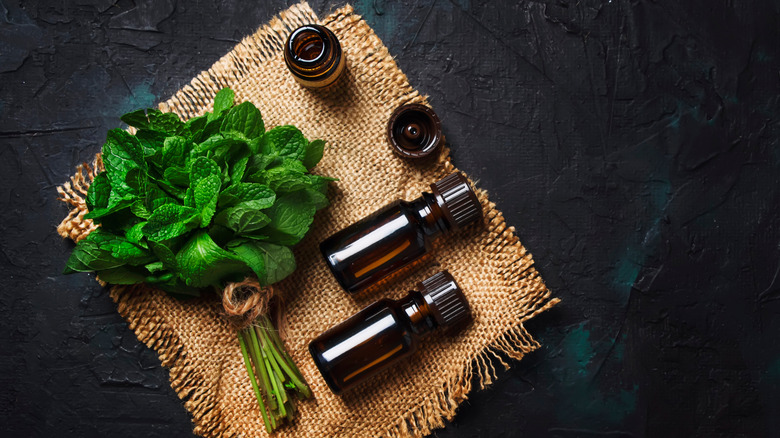 5PH/Shutterstock
Peppermint oil is one of the most versatile and curative essential oils available. When used in a bath, it can relax muscles, boost blood circulation, and soothe itchy skin (via New Directions Aromatics). It can also help relieve tension headaches when placed around the forehead and temples. In aromatherapy, it is the holy grail of mental clarity, boosting focus, alertness, and concentration (via WebMD). It's an incredible ally if battling brain fog and depression as it's been proven to improve mood and stimulate mental energy. It also clears and opens the respiratory tract and is a great ailment for colds or coughs.
To reap the benefits of peppermint oil in a bath, begin by placing Epsom salt on the bathtub floor before adding any water. With the stopper closed, add 3 to 12 drops onto the salts so they can be better absorbed into the bath water. If you have sensitive skin, you may want first to try a patch test of the oil on the back side of your hand. Peppermint essential oil is not a "hot oil," so it should not damage your skin. However, it can be toxic when used in very large amounts (via Healthline). You only need a few drops of the potent essence to feel the payoff.