How To Master The Fluffy Brow Trend
David M. Benett/Getty Images
Miss the age of skinny brows? We don't either. Luckily, with the resurgence of other Y2K trends, skinny brows have yet to make a comeback. Instead, fluffy, full brows are trendier than ever. Though these brows are seemingly bushy, they are not out of control. They still require effort on your part to get the correct clean style and shape.
From soap brows to eyebrow lamination, 'tis the year of bold brows. The fluffy brow trend focuses on a brow that is fluffy at the start with a full arch, tapering down to a neat point at the end. We have seen other brow trends that have taken a similar approach, yet still don't give the same effect. The fluffy brow trend amplifies a clean lift and structure while still focusing on hairs feathering out. Hence, this look is also known as feathered brows. We have seen celebrities like Billie Eilish and Gigi Hadid trying the look and don't think it is going anywhere soon (via Instagram). So, embrace your bushy brows and try out the trend for yourself.
Prep your brows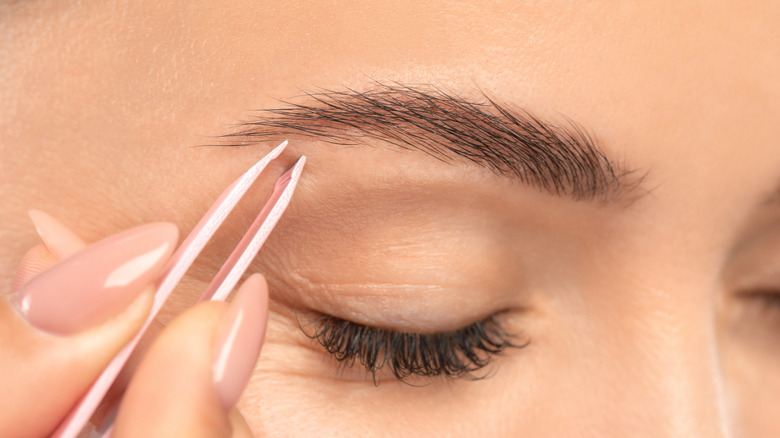 dimid_86/Shutterstock
The first step in creating your fluffy, feathered brows is to prep by doing a clean-up. When cleaning up your bows, less is more with the fluffy brow trend. The more eyebrow hairs you have, the easier it will be to master the look. Try to focus on only tweezing stray hairs that don't align with where your eyebrows should start, arch, and end according to the eyebrow mapping method. New York City brow expert Azi Sacks says that the eyebrow mapping method conforms to an individual's eye shape, leaving little room for big errors (via Real Simple). Tweeze strays lightly in the areas that are symmetrical with your nose, with your nose and iris, and with your nose and the corner of your eye. A brow-expert esthetician can also help you with this.
Brow length will also affect the fluffy brow look. If the brow length is too short, your brows will not have the necessary feathered look. On the contrary, if your brows are too long, they can almost appear too feathered. A brow trim may be necessary to get the perfect brow length. To trim your brows, brush them upwards and those that reach above your brow line are the ones that should be trimmed (via Beauty Insider). A trim will give your brows a sleeker overall look before you get into the nitty gritty of mastering fluffy brows.
Get the look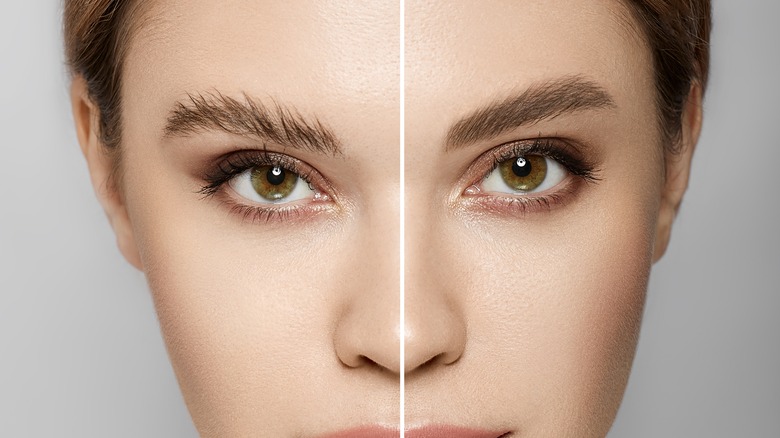 Peakstock/Shutterstock
Lift, fill, and set. These are the three big steps to remember when getting the fluffy, feathered brow look. Before beginning to fill your brows, you first must give them a lift. Lift your brow hair upwards with a spoolie covered in brow gel or eye primer. Ensure the hairs are completely covered and combed up enough so you can see the skin underneath, this will create the feathered look (via Meraki Lane).
After your brows are lifted, use a pomade, pencil, or powder to fill in your brows. To keep with the natural theme, the fill should be light, only apply to areas truly lacking hair. When you do apply, be sure to keep a light steady hand to avoid harsh streaks. Once you are done filling, use the spoolie again to ensure the brows are still lifted. Finally, The last step to get the feathered brow look is to lock it in. Apply a small amount of hairspray or brow wax to a spoolie and run it through your brows lightly, as you did to lift them. This will keep your hair in place all day.
To amplify the fluffy brow look, you can clean up the brows and highlight below them. You can use concealer above and around the brows to really clean up and sculpt your masterpiece. To lift the entire brow even more, apply highlighter underneath. Highlighter will draw attention to the shape of your brow and give your skin a natural glow (via Ipsy). You now have beautiful, trendy, and natural-looking brows at the snap of a finger.