How To Create The Perfect Daytime Smoky Eye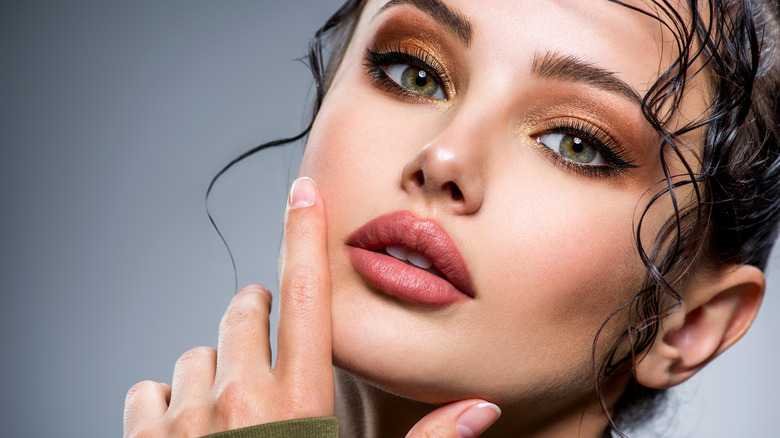 Valua Vitaly/Shutterstock
The eyes are said to be the window to the soul, so nailing your eye look is arguably one of the most critical components of your makeup application. It doesn't matter if you've drawn the perfect eyebrows or applied your lipstick flawlessly; you won't want to leave the house if your eyes don't live up to the potential of your costly eyeshadow palette (and your blending skill). A style that has lasted the test of time and a technique that both amateurs and professionals strive to master is the smoldering, timeless smoky eye.
Advertisement
According to Lipstick and Curls, the smokey eye gained popularity in the 1920s. Women found inspiration from Hollywood movies' heavy and dramatic makeup featuring dark shadows around the eye. And the allure of the mysterious look remains. A 2012 survey carried out by Escentual.com (via Daily Mail) revealed that 73% of men would prefer their partner to wear makeup at all times — with smoky eyes being their favorite look. Glamorous and edgy, a smoldering smoky eye is a go-to look for a night out, but it can also be worn while the sun is out if done correctly. Here are a few trade tricks to help you unabashedly rock a smoky eye during the day.
Opt for light and soft shades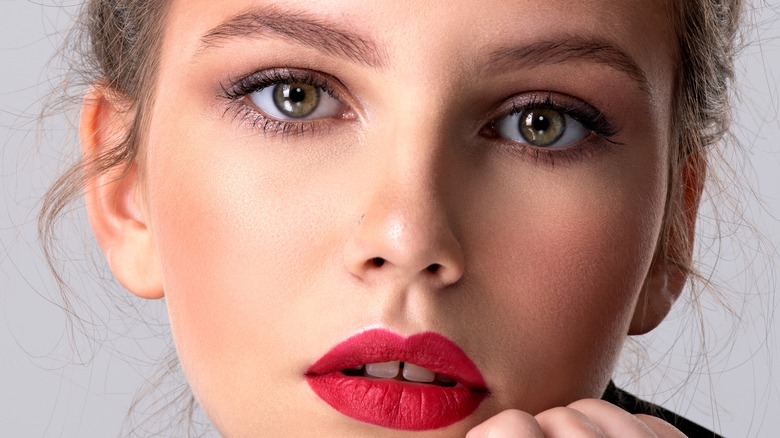 Valua Vitaly/Shutterstock
Sunshine and daytime heat can give you sweaty eyelids and melt your eyeshadow faster. To help the colors stick, it's essential that you have a base underneath the shadows, says makeup artist Tobi Henney (via HuffPost Australia). To start, tap your eyelids with cotton pads doused in micellar water to absorb impurities. Then, prep your lids with an eyeshadow primer, a product designed to amplify the colors of the shadows and help them stay in place longer. Once ready, you can dab on something delicate like light brown or heather with copper flecks for an ideal daytime look.
Advertisement
The rule for eyeshadow application is to start with the lightest shadow on your palette and work your way in with deeper shades later. Therefore, dust on a matte, pale color about two shades lighter than your skin all over your eyelid from the lash line to just under the brow bone. Then, layer a darker tone, a medium brown shade, on the outer corner of your eye. Now, blend your line with a blender blush by moving it back and forward along the crease to smooth out the harsh edges, and use your brush in a circular motion to soften the line to create a smoky haze. Blend to ensure that the darker shades don't overshadow the lighter ones. Keep blending until you're satisfied with the saturation of the shadows.
Advertisement
Blending is the cardio for eye makeup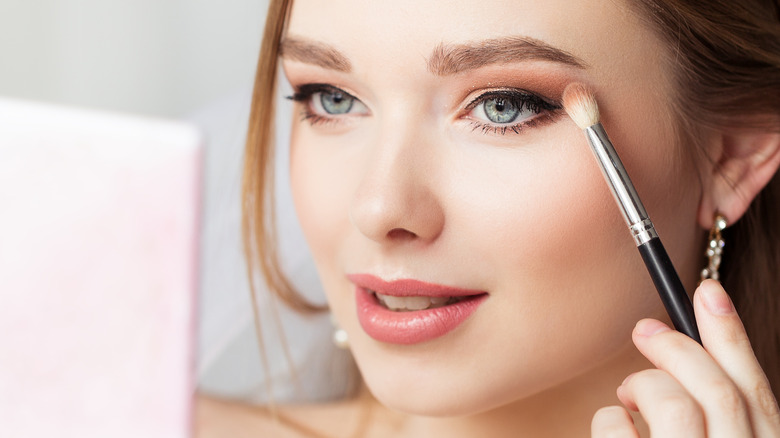 Inara Prusakova/Shutterstock
Use no more than three shadows and eyeliner to give your eyes an intense look, makeup artist Amy Conway (via Glamour Magazine) advises. If you want to go extra, apply a shadow two shades deeper than the previous one to your outer "V" with a flat brush in a slightly upturned direction. Blend it inward using a buffing motion and keep repeating the process until your eye exudes the level of depth that you desire. Then, use a pencil brush or a smudge brush to smudge that same dark shade along your lower lash line until you create a cat-eye shape with the shadow.
Advertisement
Want to take your look up a notch? Add some shimmer! Sparingly apply a lightly-colored shimmer shadow to the center of your lid with your finger or a flat eyeshadow brush, per L'Oréal Paris. Then, soften the shimmery edges with a clean finger. Last but not least, apply the liner to your upper lash line. To lend an extra smokey effect to the shadows, use a black or dark brown eyeliner pencil or angled brush with a softer line instead of gel eyeliner, per Glamour Magazine.
The key to achieving a sultry smoky eye look is to sort out the two to three shades you'd like to see together on your eyes, from light to dark. Then, apply the hues in the order listed and blend thoroughly. Once you've mastered the basic mixing and blending skills with light, easy-to-use colors, you can go on to rock trickier ones on the palette.
Advertisement