What Are The Benefits Of A Micellar Shampoo?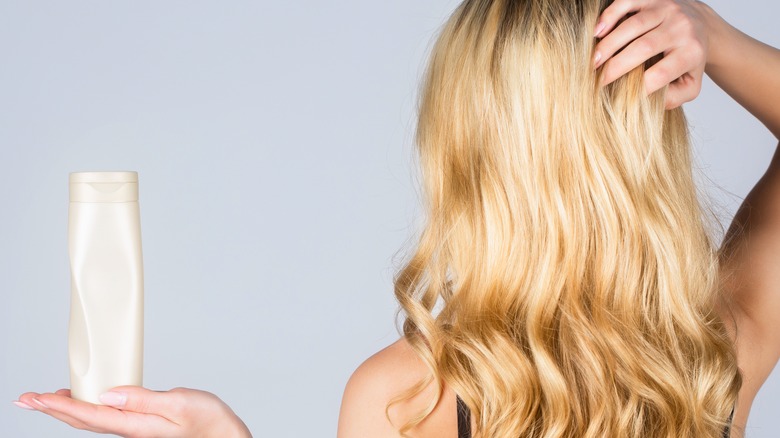 Body Stock/Shutterstock
According to Carol's Daughter, micellar water first became popular in France as an alternate treatment to harsh Parisian water that badly damaged the complexion. Today, micellar water has become a widely used ingredient in skincare products, such as micellar face cleansers and toners. The efficacy of micellar water is attributed to the presence of micelles, chemical compounds that are highly effective in rinsing dirt and oil from the skin's surface and clearing pores. Apart from being a powerhouse ingredient in skincare, micellar water is also widely hailed for its deep cleansing and balance-restoring qualities on all hair types.
Advertisement
Of course, unlike micellar water for the face, which does not require rinsing after application, you must rinse your hair after lathering micellar water shampoo on it. Formulated without sulfates or silicones, micellar water in shampoo is great for oily hair without drying out the strands and being aggressive on your scalp like regular shampoo, per Redken. So, does micellar shampoo really work, or is it just a buzzword? Here are some insights from experts.  
Benefits of a micellar shampoo
Micellar water molecules boast a water-soluble exterior with an oil-soluble center dermatologist Jenny Liu shares with Real Simple. This allows the molecules to attach to oil-based gunks on the scalp and get them out of the hair. Having all the dirt and bacteria removed from your scalp also allows your hair to grow faster. For this reason, you can say that micellar shampoo offers a deeper cleanse than regular shampoo.
Advertisement
Micellar water can restore balance in the hair, giving your strands more volume, hydration, and luster, says hair and scalp expert Philip B. (via Sunday Riley). Mild as it is, it can break down and eliminate unwanted oil-based impurities like pollutants, nicotine, and scent embedded into the hair without stripping away the natural oils needed to protect the scalp, he says. In addition, because micellar shampoo is much more gentle than regular shampoo, it can be used across all hair types, even for damaged and color-treated hair. For this reason, micellar shampoo is an excellent alternative for clarifying shampoos, a type of shampoo specifically designed for removing excess build-up that can't be used on color-treated hair.
Advertisement
You can use micellar shampoo everyday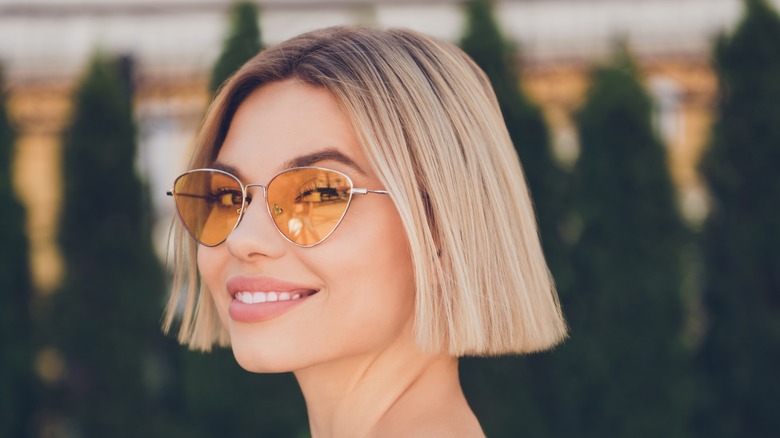 Roman Samborskyi/Shutterstock
Unlike traditional clarifying shampoos, which shouldn't be used more than once a week, micellar shampoo can be used more frequently for lustrous strands and fresh, clean scalp, per Healthline. "If you don't necessarily have a dirt or oil problem, but if you want to wash every day, this is ideal because it's not over-cleaning," says P&G chemist Rachel Zipperian to Women's Health. It's also a safe option for those with color-treated hair to get a gentle cleanse devoid of harsher ingredients, she adds. If you use powder-based sprays or dry shampoo regularly, micellar shampoo is an excellent option to help you get rid of hair product residue. Micellar shampoo can be used on thin and fine to medium hair textures. If you have a rather curly and coily hair texture or super gritty or oily hair, you might want to use a stronger shampoo formula for a more thorough cleanse.
Advertisement
Micellar shampoos are gentle enough to be applied to your hair daily to remove oils, pollutants, and remnants of hair products without stripping your strands of the natural oils. However, like clarifying shampoos, most micellar shampoos don't lend any extra nourishing ingredients to your hair. If you want to add nutrients to your damaged tresses to keep them always luscious, use hair conditioner or hair masks every now and then.