What To Wear When Getting Your Passport Photo Taken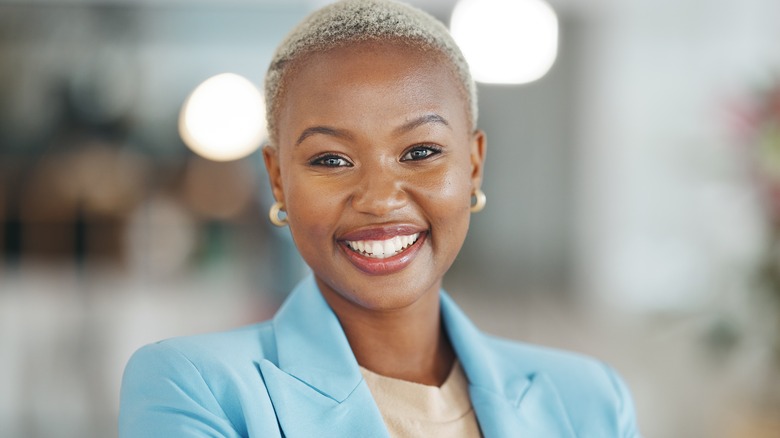 PeopleImages.com - Yuri A/Shutterstock
With travel bans lifted in many parts of the world and borders reopened, many can't wait to blow the cobwebs off their suitcases and get back to traveling. Earlier this year in Singapore, authorities struggled to meet the demand for post-pandemic travel as an unprecedented number of people — peaking at 14,000 per day — applied for passports (via Immigration & Checkpoints Authority). With the holiday season around the corner, year-end travels are expected to surge. If you haven't applied for or renewed your passport, now is a good time to submit an application so you can collect your travel document in time.
If you're a U.S. citizen, you'll need to fill out some forms, submit citizenship evidence, schedule an appointment, and submit a nice color photo of yourself taken in less than six months, according to the U.S. Department of State. Getting paperwork in line is a lot of work itself, but submitting a photo that accurately reproduces your facial traits with a neutral expression is no joke. Since you can't filter your face or pose to look good, what you wear in your photo plays a big part in determining your look.
Your submitted photo will either make you feel proud to carry your international ID across the seven seas for the next decade or will make you wonder why you didn't read this article sooner. With that in mind, we've put together a few pointers to help you look your best in your passport photo.
Wear this, not that, for your passport photo
Since your passport photo background is typically white or off-white, you should wear a black or dark-colored outfit, according to Smartphone iD. Bright-colored outfits are also acceptable, as long as they're not distracting. Your ears, your entire jawline, and a large part of your neck should be visible, and no shadow or detail from your clothing should obscure your face. Accessories like glasses or hats are not allowed unless you are wearing them for a religious reason, such as is the case with head scarves, or a medical reason. No matter how cool your work uniform or camouflage attire looks, they are also not acceptable (via Passport Photos Online).
Your application won't be rejected as long as what you wear is not overly casual or revealing to the point of being disrespectful. If you want to project a smart image in your travel document, stick with plain, print-free semi-formal wear. For example, a dark blouse is an elegant and modest option for a passport photo look, while a dark blazer over a white tee gives you a dressed-up, professional vibe. Off-the-shoulder tops and low-neck tops, which make you look as if you're unclothed from the shoulders up, are absolutely deal breakers. To amp up your appearance without overdoing it, you can accessorize with non-distracting small studs and non-glare necklaces. To make sure your hair doesn't cover your face, consider wearing it in a ponytail or just keep it tucked behind your ears.
How to take a passport photo at home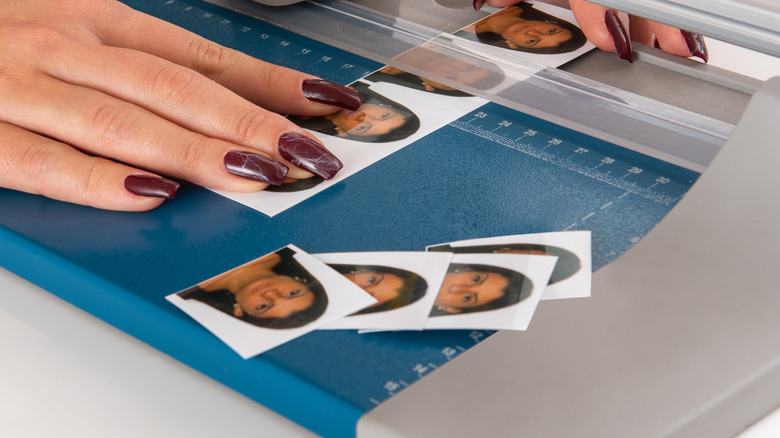 Photology1971/Shutterstock
You can take a passport photo in a photo booth, at a local immigration office, or in your own home. If you don't have a fully white backdrop, find a white or off-white wall or a large poster, PetaPixels advises. To prevent any shadows from being seen in your picture, take your photo in a well-lit room with balanced lighting. Once you're ready, face the camera with both eyes open and a neutral expression. In a U.S. passport photo, you can give an unexaggerated smile. After finding the photo you're most satisfied with out of a few trial-and-error shots, proceed to do some editing and size your passport photo to comply with local regulations. A U.S. passport photo should be 51x51 mm in size (via U.S. Department of State), whereas the required size for a Chinese passport photo is 48x33 mm (via Chinese Visa Application Service Center).
If you don't have the right equipment at home and aren't sure how to size your photo, you can use a passport photo app or website for assistance. iVisa, PersoFoto, and Visafoto.com can help you produce an appropriate passport photo in line with your country's requirements. You can download your photo yourself or have it printed into as many copies as you need and mailed to your home. When taking this easy route, all you have to do is to dress smartly and then wait for your passport to arrive.