How To Write The Perfect Maid Of Honor Speech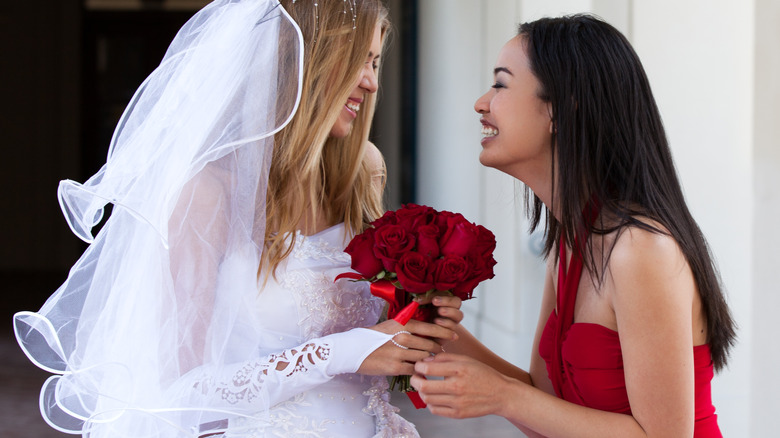 Deborah Kolb/Shutterstock
Who doesn't love being a maid of honor? You get to go dress shopping with the bride, captain the bridesmaids, get seated at the top table along with the newlywed couple, and wield major decision-making power throughout the planning process. Historically, maids of honor and other bridesmaids also got to help protect the bride, as ancient Roman law required their well-dressed presence to confuse any evil spirits at the ceremony (per Details Nashville). As the chief bridesmaid, a position reserved for the bride's closest ally, you also get to deliver a speech at the reception.
For those who have stage fright or are super introverted, the idea of outsmarting forces of evil to save the bride might actually sound like a safer job than speech-making. But there are no hard and fast rules for writing and delivering a maid of honor speech. As Wedsites points out, it's just about telling the guests about your special bond with the bride and describing the couple's love story through personal anecdotes. Sound easier said than done? If you're not sure how to nail a killer toast on your bestie's big day, here are some tips to help you write the perfect maid of honor speech to entertain everyone, including yourself.
Start writing at least three weeks in advance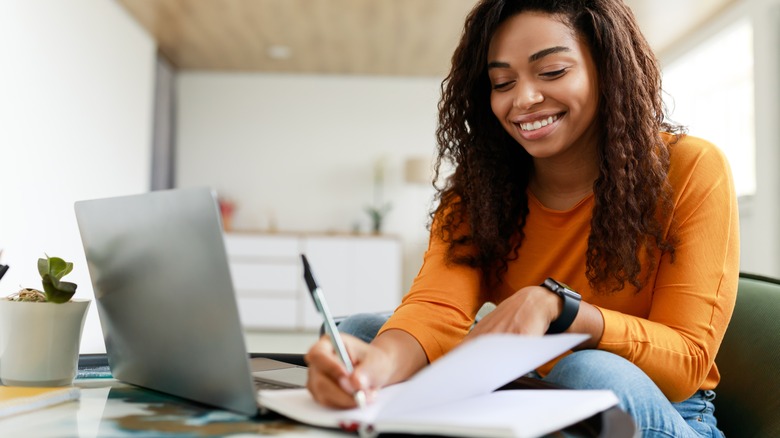 Prostock-studio/Shutterstock
To give yourself enough time to write and go through the draft, start writing at least three weeks to a month before the wedding, WeddingWire advises. For a start, introduce yourself and talk about your connection with the bride, such as whether you're her twin sister or her best friend of 20 years. During your opening remarks, don't forget to give credit to anyone instrumental in the success of the wedding reception. If you're nervous, go ahead and tell the audience. Honesty helps you get people's sympathy and lessen your anxiety. 
Then, describe the bride's personality and your most memorable experience as platonic soulmates. Talk about her positive traits, such as how she loves to give back to her community or how she's always there for her friends. Also, don't forget to mention in passing how the bride met her S.O., and how you've watched her become a happier person since meeting her new spouse, per Bridal Guide.
Don't try too hard to make people laugh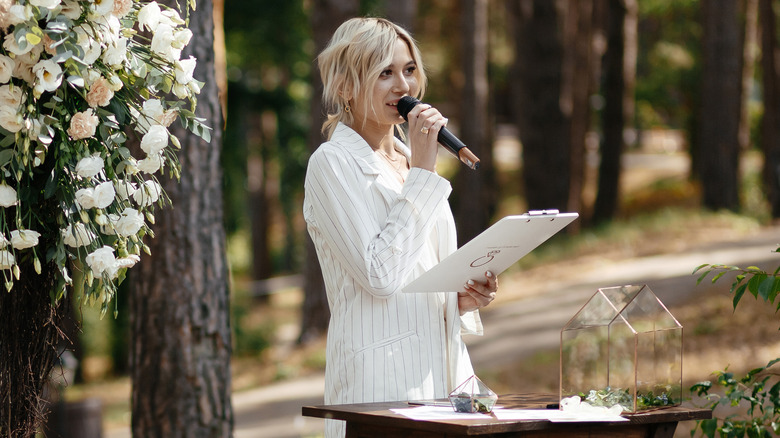 MAKSYM CHUB/Shutterstock
To make your speech memorable, incorporate one or two anecdotes instead of giving generic comments, speechwriter Katelyn Peterson tells Brides. "Each anecdote you share should have an underlying theme that ties all the short stories together," she says. For example, if what you're trying to say is that the couple is meant to be because they're both charitable people, talk about how they had a love-at-first-sight moment while volunteering together at a nursing home. If you'll be telling some jokes, make sure they are relevant and the timing is on point. But you should never mention embarrassing or humiliating stories just for the sake of making people laugh, wedding speechwriter Anita Stevens tells Modern Wedding. Profane jokes, swear words, or adult humor should be reserved for a private roast at the bachelorette party.
To conclude your speech on a positive note, remark how you believe the pair were made for each other and offer your best wishes. Keep in mind that the reception is about celebrating the happy couple's union, so keep your salutations focused and try not to draw attention to yourself. A lengthy speech might lose the guests' interest, so make an effort to stay on topic and keep your presentation within three to five minutes. Write everything down and rehearse in front of a group of close friends to get feedback. Their input can help you review your speech with more clarity and strengthen your ideas.