Who Really Needs To Hire A Financial Advisor?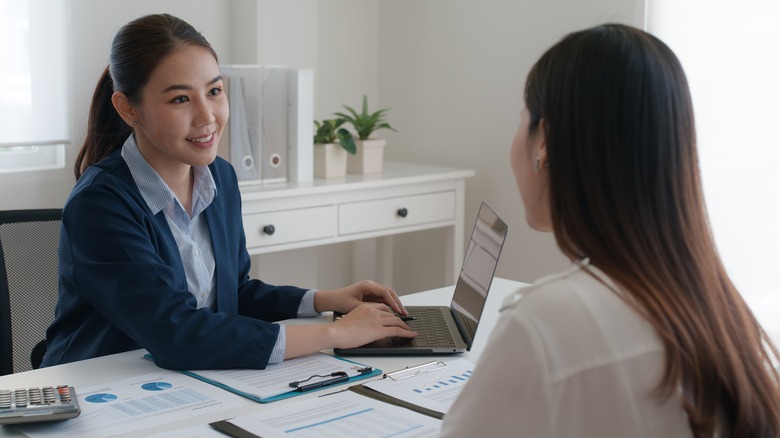 Chaay_Tee/Shutterstock
Throughout your life, there will be multiple moments where you feel like you need assistance sorting out your finances before making major, pricey decisions. Those moments may come up when you want to invest, buy a house, send your child to college, or come into an inheritance. It doesn't matter whether you're financially loaded or not, not everyone knows the best solutions when it comes to handling their household and personal finances. For instance, not all of us know how to save for retirement, keep track of bills to pay off debts, or make and stick to a budget. This is when a financial advisor, whose area of expertise is tied with wealth management, comes into play.
Financial advisors, per Prospects, are trained experts who conduct an in-depth analysis of their clients' financial circumstances and help clients straighten out money-related matters to help them achieve their financial goals. It can be as simple as discussing insurance options or devising a well-built retirement plan with specific timelines. Contrary to a popular misconception that financial planning is only for the rich, certified financial planner Justin Nichols tells CNBC that you can pay by the hour for financial planning, meaning you don't have to shell out a lump sum to get advice. A financial advisor's job is to assist you in accomplishing your financial goals, regardless of how much money you have at the starting point. So, is having a financial advisor in your corner a good investment?
Benefits of having a financial advisor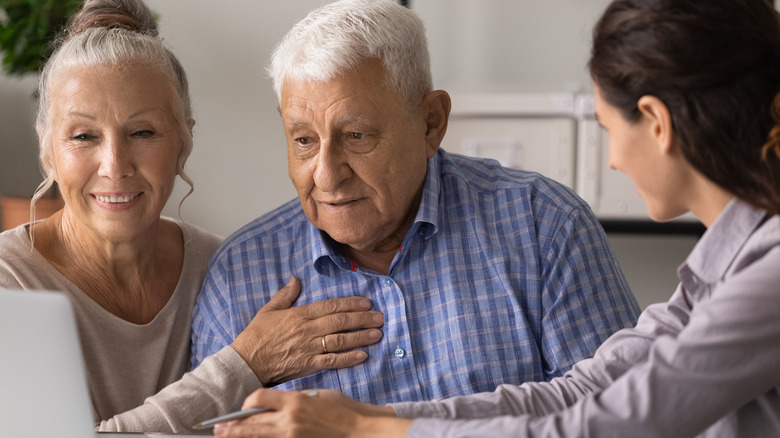 fizkes/Shutterstock
In this day and age, you can go to "Dr. Google" for almost any information as well as free expert advice. However, your financial situation may be too complex for Google, or you may need more information beyond the ABCs of textbook financial planning. "There's a reason why people come to advisors to help them with their taxes," says Adam Lampe, CEO and co-founder at Mint Wealth Management (via U.S. News & World Report). The reason being is the tax system in the U.S. gets more complicated every year and it's hard for some people to keep up and go at it alone.
Portfolio diversification, planning for retirement, and budget rebalancing are some important benefits of having a financial advisor at your service, Bill Keen, CEO of Keen Wealth Advisors, tells Forbes. But there are added benefits as well, he says. For instance, your cool-headed advisor can advise you against making impulsive decisions when your emotions run high and update you on new legal rules and market shifts that you haven't yet caught up on, all while caring about your monetary success as much as you do. Simply put, having a financial advisor on your team will make you feel less alone on your way to getting more wealth. But beware: Advice is only as good as the person assigned to you. Here are some ways to find a financial advisor who has the expertise where you need it.
How to find a financial advisor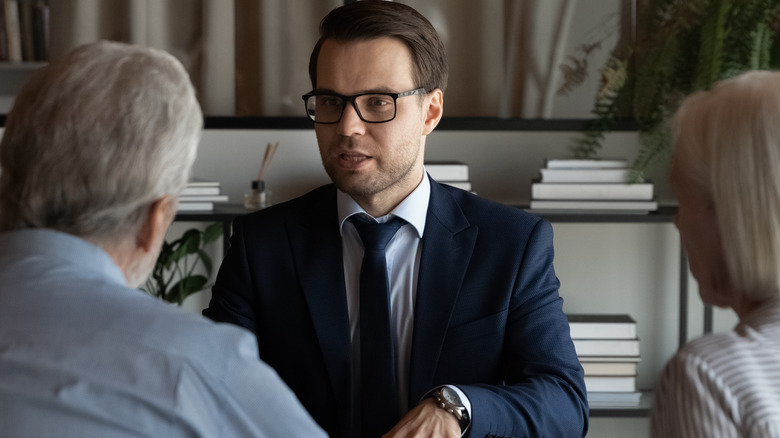 fizkes/Shutterstock
Your choice of which financial planner or advisor to go to should be based on your financial goals, says Jay Zigmont, financial planner and founder of Childfree Wealth (via Business Insider). "You will find planners who specialize in just about every group, job, and life stage, so find one that fits you," he explains. Whether you're looking to build your retirement funds, maximize return on investments, or plan for end-of-life matters, you need financial experts whose specialties align with your needs. Before hiring a financial advisor, do a background check and verify their credentials by looking up their records with the Financial Industry Regulatory Authority (FINRA), the Securities and Exchange Commission (SEC), or other organizations with which they are affiliated, The Balance advises. Plus, engaging with a financial advisor who serves under fiduciary duty and has pledged to make recommendations in your best interests can make a difference. To know if an advisor operates under the fiduciary standard or simply on a fee-based basis, ask them upfront during the initial interview.
There are several methods to locate a financial advisor in your area. You can go to the websites of the Financial Planning Association, National Association of Personal Financial Advisors, Let's Make a Plan, or XY Planning Network to look for prospective candidates in your neighborhood. You may filter your searches using their search options based on region, specialty, qualification, and compensation type.