The Skincare Ingredient That Will Give You Your Most Hydrated Skin Ever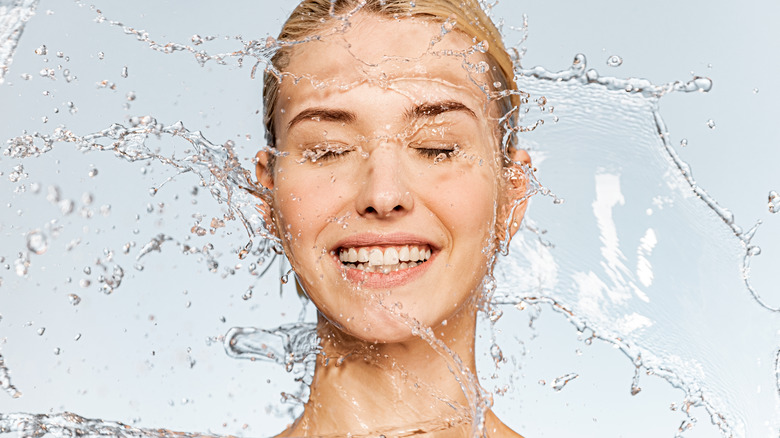 VALUA VITALY/Shutterstock
We may receive a commission on purchases made from links.
Over the course of human civilization, people have sought and tested many ways to keep skin supple and hydrated. Cleopatra is rumored to have loved milk baths drawn from a herd of about 700 donkeys (per Naturane Cosmetics). Meanwhile, the Chinese turned to using gua sha facial tools for youthful results (via NBC News). It's clear we have always taken our looks seriously. And as science continues to debunk the theories behind some of these practices, it also manages to shed light on why they work, and how to improve them.
One such practice is bathing or soaking in hot springs, which, according to the United Nations University's Geothermal Training Programme (UNU-GTP), has been an age-old tradition in places like Iceland, China, and Ecuador. Now, this tradition of soaking in hot springs has formed the basis for a trending skincare ingredient that is excellent for moisturizing and caring for sensitive complexions, and science has tweaked it into a product that just might become a favorite on your vanity.
Thermal water for hydrated skin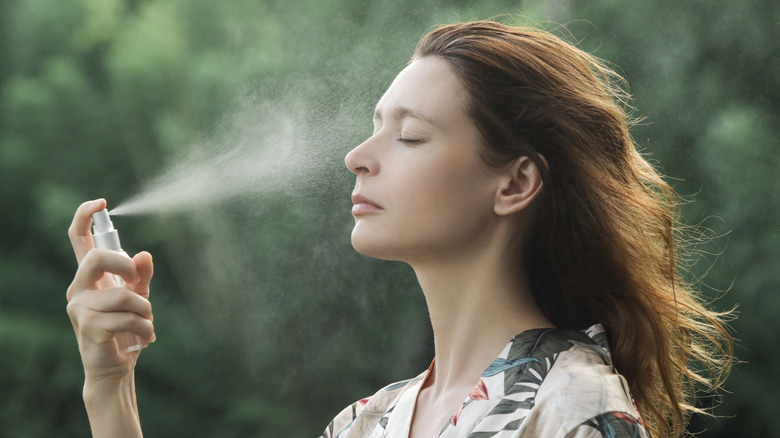 triocean/Shutterstock
Drawn from natural hot springs, thermal water contains minerals and salts like bicarbonates and sulfates, making it beneficial to the skin (via Healthline). Now, we know this might sound like something out of a sci-fi movie, or sparkling water's long-lost cousin, but there is science behind thermal water. As Honet Dermatology explains, water deep in the ground passes through soil and rocks when rising to the springs. During this process, minerals, trace elements, and salts from the rocks dissolve into the water. This is what makes thermal water different from regular water and explains why it's so good for skin health. One of its amazing properties is it can hydrate skin deeply. While regular water can hydrate skin, thermal water has the added advantage of minerals that support your skin's natural moisturizing factor (NMF). The NMF is a mix of compounds that keep your skin hydrated, including various amino acids and salts such as phosphates and chlorides (per Practical Dermatology). 
Of course, thermal water is still mostly water, so it works best when partnered with other skincare staples to form a cohesive routine. Used after cleansing skin or before applying moisturizer, thermal water can soothe and hydrate the skin even more (per Skincare.com). For dehydrated skin, thermal water makes a great hydrating mist. And if mists aren't your favorite thing, go for moisturizers that contain thermal water already. A great one to try is the Vichy Laboratoires Aqualia Thermal Water Gel.
Other skin benefits of thermal water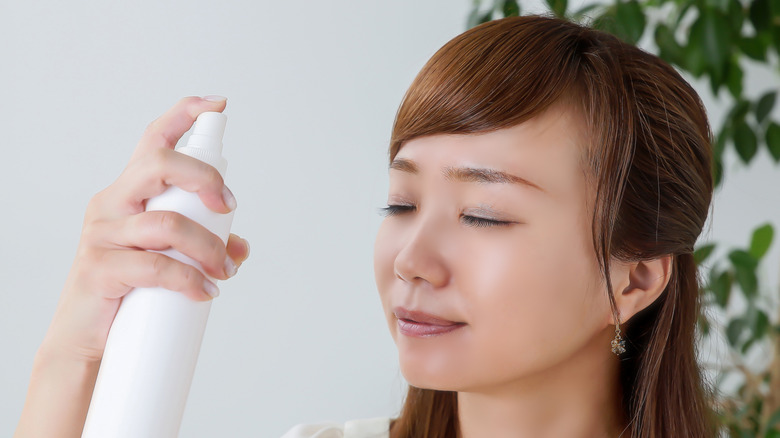 buritora/Shutterstock
Another benefit of thermal water — and perhaps its most popular one — is its calming action on irritated, sensitized skin. Struggling with inflammatory skin conditions like eczema, atopic dermatitis, burns, or psoriasis? Some experts encourage the use of thermal water for irritation as it is soothing and suitable for all skin types. "It offers a variety of benefits on the skin, such as calming and anti-inflammatory effects," dermatologist Joshua Zeichner, MD, tells Healthline.
Thermal water is also great for cosmetic use and can serve as a setting spray to lock in your makeup. Uriage even suggests that thermal water may help protect against free radical damage on the skin, which can cause premature aging. Minerals in thermal water such as selenium and zinc counter this through their antioxidant effect. Of course, this doesn't mean it's time to ditch your sunscreen, but thermal water may provide an extra boost against free radicals from UV rays, smoking, pollution, and more.
An important caveat is that few peer-reviewed studies have been carried out on thermal water. The bulk of the research currently available was carried out by skincare formulation companies that make products with thermal water in their ingredient lists, and The Derm Review points out that those might be grounds for some bias in research. But on its face, thermal water seems to have great benefits and a long history of use in several cultures. Want to try it yourself? On your next skincare shopping spree, consider adding the Avène Thermal Spring Water or Uriage Thermal Water sprays to your cart.