Abercrombie's Reign As TikTok's Favorite Store May Be Ending With A Recent Dip In Shoppers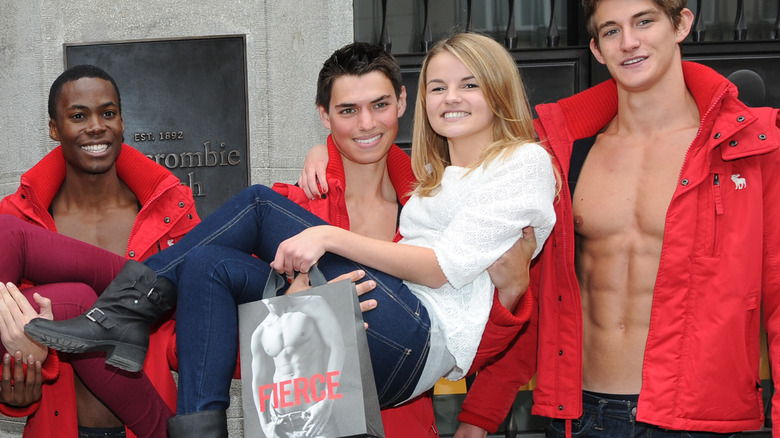 Hannes Magerstaedt/Getty Images
The lyrics from LFO's "Summer Girls" ultimately capture the cult-like appeal of Abercrombie in the early 2000s: "I like girls that wear Abercrombie & Fitch, I'd take her if I had one wish." Founded in 1892 in New York, Abercrombie & Fitch, commonly known as Abercrombie or A&F, is one of the world's oldest lifestyle fashion brands. Abercrombie formerly enjoyed widespread popularity among the U.S.' most influential bigwigs and sportsmen, including U.S. President Theodore Roosevelt and novelist Ernest Hemingway. By the end of the 20th century, Abercrombie began to shift its focus to teenagers, operating under three other offshoot brands, including Abercrombie Kids, Hollister Co., and Gilly Hicks. Throughout the early aughts, Abercrombie was known as the clothing brand for cool kids.
Advertisement
Positioning itself as an upscale retailer supplying quality everyday clothes that embody casual glamor, Abercrombie has found itself struggling to compete with less costly brands like H&M and Forever 21. The company also faced plenty of controversies, from featuring scantily dressed models in its ads to making discriminatory statements. In its search for a new identity, Abercrombie gradually went from being a go-to casual fashion brand to a retail pariah. In 2022, Abercrombie bounced back on shoppers' radars with the #abercrombiehaul hashtag, which has garnered over 140 million views on TikTok. However, it looks like the retailer is struggling to convert its impressive online traction into actual foot traffic, which has consistently been on a steep decline. Here's Abercrombie's polarizing journey to popularity.
Advertisement
Abercrombie is a fast fashion brand that sells more costly clothing
Over 30,000 visits were made to Abercrombie between November and December of 2021, according to SafeGraph, mostly owing to a surge in holiday shopping activity. However, foot traffic plummeted to roughly 20,000 visits in December. During January 2022, the slowest retail period of the year due to the post-holiday lull, the retailer received less than 10,000 visitors. Of course, things always look up around Easter, with foot traffic jumping to nearly 18,000. However, from August to September, the retailer's in-store visits fell to around 3,000 — three times lower than that of the slowest retail month of January. Here's why the disproportion between Abercrombie's online and offline traction is abysmal. 
Advertisement
The term "fast fashion" might carry a negative connotation, but it's undeniably the dominant force in today's retail trends. No matter how near-luxury Abercrombie projects itself, it's a far cry from its initial heritage and is widely considered fast fashion. Its clothing is manufactured in the Philippines for lower production costs and sold at mark-up prices per People's World. In this regard, Abercrombie is no different than H&M, which uses suppliers in Bangladesh and China. Abercrombie might charge a premium price to maintain its exclusivity. However, its target market — whose wardrobes are ever-morphing — is very likely finding the grass greener in other alternatives with sufficiently "cool" designs at lower prices. For instance, a midi skirt costs $29.90 at Zara while starting at $60 at Abercrombie.
Advertisement
Abercrombie crossed the line more than once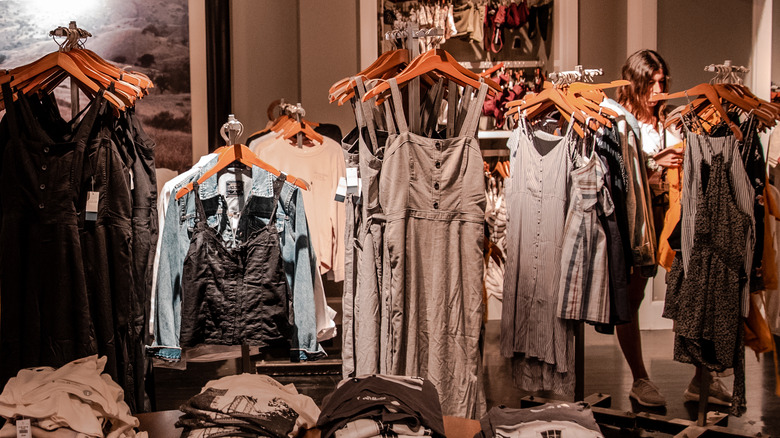 2p2play/Shutterstock
While Abercrombie might be having a turnaround with inclusive marketing campaigns, it will always be remembered as a brand that upheld cool-kid elitism and wrote off kids who didn't look cool enough. "In every school there are the cool and popular kids, and then there are the not-so-cool kids," said former Abercrombie CEO Mike Jeffries to Salon in a 2006 interview. "Candidly, we go after the cool kids. We go after the attractive all-American kid with a great attitude and a lot of friends." Unsurprisingly, the CEO's statement made national headlines and was received with a heated response. Interestingly, that wasn't the only time Abercrombie found itself in hot water.  
Advertisement
In 2003, a class action lawsuit was brought against Abercrombie on the grounds that the business had employed discriminatory practices against candidates who were African American, Latino, and Asian American. In particular, Abercrombie shop managers were instructed to only hire good-looking people and deny that they were hiring if potential employees didn't fit the brand's aesthetics. If you think this is scandalous, you'd be surprised to learn that Abercrombie launched a line of anti-Asian T-shirts with racist depictions back in 2002 and had to recall these shirts after much criticism. Cool and trendiness aside, social impact also plays into young shoppers' shopping behaviors. Speaking to The Guardian, Molly Henderson shared she decided not to shop at Abercrombie after reading about the retailer's discriminatory practices, adding that she didn't "want to shop at a place that treats other people badly."
Advertisement