How To Not Let Your Wedding Ruin Your Friendships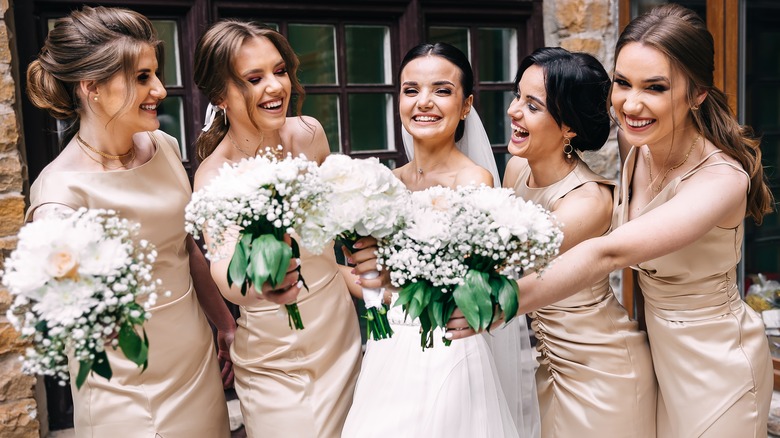 Kyryk Ivan/Shutterstock
A wedding is a multi-dimensional event for everyone involved. There will be beauty, love, and celebration but there will also be mental, emotional, and financial stress. In fact, The Couples Center names getting married as one of the top three stressful events in a person's life. Since you're the one getting married, you might be under the assumption that these stressors only apply to you and your fiancé. However, that is simply not the case. Unless you're planning to elope, there is a good chance you plan to ask your friends to become involved in your wedding by serving as bridesmaids or other vital members of your wedding party.
Coming together with your friends to organize, plan, finance, and execute a series of pre-wedding events can provide an opportunity for delegation and for bonding. It can also lead to arguments, expose jealousy or financial inequalities, and exacerbate stress. As your wedding approaches, it is essential that you take measures to stay grounded and grateful and don't let friendship perfection, a term coined by Dr. Marisa G. Franco, drive a rift between you and your friends. Here's how to keep yourself centered.
Express your expectations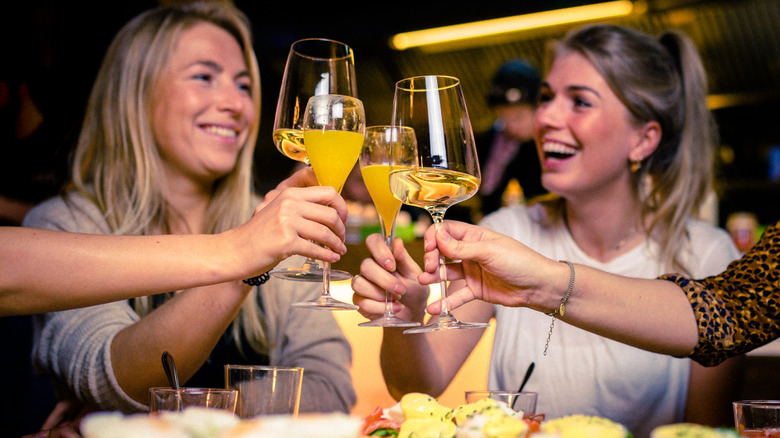 MichielTon/Shutterstock
For most friends, being chosen for a wedding party role is an honor. It's easy to get wrapped up in celebratory emotions and forget that these titles come with real obligations. For instance, a bridesmaid is typically expected to pay for her own dress, according to Brides. The bridesmaids' dresses are usually selected by the people or person getting married and not by the bridesmaids who will be paying for them, which can cause a financial burden. It's also standard practice for these selected friends to help plan pre-wedding events like a bridal shower and a bachelorette party. They'll also be expected to attend those events and give gifts at them.
Some brides expect the friends they've chosen for their wedding party to provide emotional support throughout the planning and pre-wedding process and the event itself. Some expect full administrative support. Others are looking for companionship during meaningful moments like selecting a wedding dress. Be very clear with your friends about what the job you're offering entails in your mind. Encourage them to pass if they don't have the capacity to dedicate the amount of time, energy, and money it would require to meet your expectations. It is far less damaging to the friendship for a friend to respectfully decline your offer than it is for them to accept it but fail to meet expectations the way one anonymous Reddit user's bridesmaids did. Encourage honesty from your friends, and be sure to also give it freely.
Practice empathy and gratitude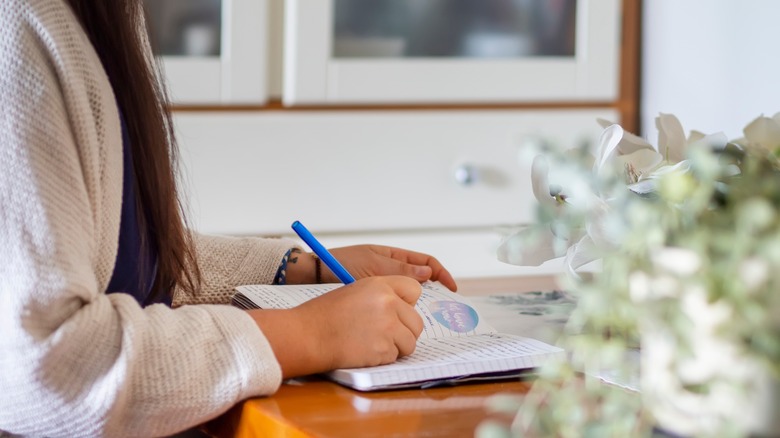 OlgaPS/Shutterstock
Your wedding is your big day and the attention should be focused on you and your future spouse. However, this doesn't mean that other people and their feelings will cease to exist at and leading up to the event. Try to keep in mind that anyone who is a part of the planning, the pre-wedding events, or the day itself are people you care about enough to involve in the origin story of your future marriage. These people matter to you, no matter how much stress you end up dealing with, and deserve to be treated accordingly. Self-centered behavior, according to Psychology Today, is the top reason friendships end.
One way to keep yourself in the right headspace is to work on making gratitude your default response. Practicing gratitude daily can actually change the structure of your brain by creating new neuropathways, as reported by PositivePsychology.com. Buy yourself a cute new journal and take five minutes each night to write down what you're most grateful for that day. Before you know it, you'll be looking for something to be grateful for, even when things don't go as planned. This can make a huge difference in the way you handle the stress around wedding planning and how you treat the people around you during the process. After your wedding, be sure to express your gratitude to each of your friends through a gift, an experience, or a heartfelt thank you card.