The Preppy Staple You'll Want To Integrate Into Your Fall Outfits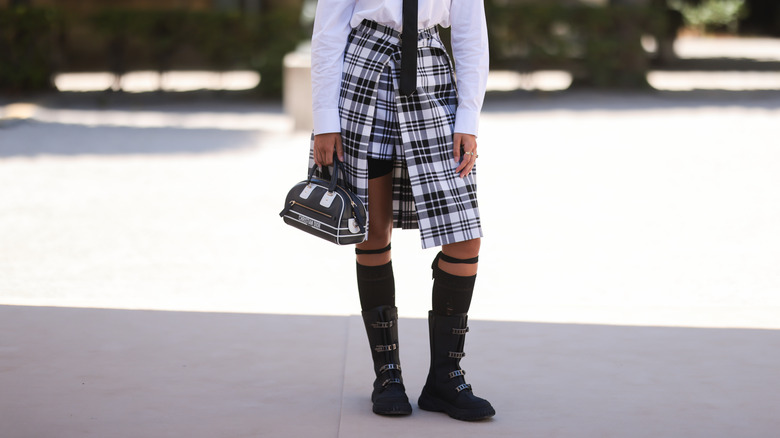 Jeremy Moeller/Getty Images
Once again, a comfort and style combination is making its way into the trending spotlight. It appears in the midst of an era where many different fashion trends are taking off, some of which are tied back to some past fashion must-haves. Spotted on the runways, on celebrities, and very likely on your social media feeds, socks are taking the limelight. But it's not just any socks, and in fact, some with a preppy twist.
Advertisement
The knee-high tube socks are the new accessory as seen on "it" girls like Bella Hadid or Emma Chamberlain. This style of socks can be dated back to the 1920s at a time when dresses became shorter and more leg was shown. However, it may be a more popularly recognized vintage trend tied into the '60s when the mod style emerged. These socks were often paired with A-Line dresses, miniskirts, gym wear, or just about anything. Much like the models today, Twiggy was a fashion icon known for this style, often sporting knee-high socks herself. Later, the style evolved to be associated with a more preppy look in academia or sports, particularly in the colder months (via Chrissy's Knee Socks).
A style resurgence
These socks carry a history of many different uses and styles and, over time, became well associated with a preppy look. Think school or sporty uniforms. However, socks are one fashion accessory that is never really restricted to just one look or style. Today, the trend of knee-high tube socks has come back with the flexibility of styling it with any look you desire, especially as colder weather approaches for the fall and winter. As the knee-high trend resurges, you'll begin to see more unique ways of sporting the look. Fashion and style influencers today can be seen wearing the socks with some Y2K looks, an elegant feel, or in a street style manner.
Advertisement
In fact, the knee-high sock has also made its appearance on the runways for Fall and Winter 2022. Miuccia Prada presented her designs for Miu Miu in which knee-high socks were seen in several of the collection's looks. Belted miniskirts, shorts, and pants were part of the staple look paired with the knit socks. Keeping on with the preppy style, this collection featured polos, sweater vests, ballet flats, loafers, long coats, and bomber jackets (via Russh). Maria Grazia Chiuri also featured knee-high tube socks for the Dior Fall 2022 collection, but with an elevated look. The socks were paired with lace, sheer gowns, corsets, and other formal wear and paired with a loafer-style heel, flats, or combat boots.
Advertisement
Try it for yourself
Knee-high tube socks offer playability for just about any outfit. If you want to try the trend for yourself, don't be afraid to mix and match the socks with things you may already have in your closet. It's definitely possible to make knee-high socks work with your personal preferences and style. You can find the socks made in a variety of materials and textures such as wool, cotton, nylon, sheer, or mesh to fit just about any look (via BeautyAnswered).
Advertisement
Influencer Emma Chamberlain can be spotted wearing black mismatched knee-high socks with a black miniskirt, corset top, and platform heels for a more dressed-up look. Model Iris Law combines a sporty look with a casual one as she wears white knee-high Nike socks paired with black sneakers, a belted knicker-style pair of shorts, and a sleeveless crop top. And, of course, model Bella Hadid has been seen sporting the look more than once. At one time, she paired the socks with a Y2K-inspired look consisting of a low-waist denim miniskirt, a denim corset top, and white knee-high socks with white ballet flats. Another time, she can be seen wearing a fitted t-shirt over a low-waist pencil skirt and black knee-high socks with a low-block heel.
Advertisement
You can always find inspiration in some of your favorite fashion influencers. As fall approaches, you'll have endless opportunities to pair knee-high socks with all your fall or winter staples. You will find that there are so many ways that you can pull off the knee-high sock look in any way you want.