Your Guide To Plazacore, The Aesthetic That's Going To Be Everywhere This Fall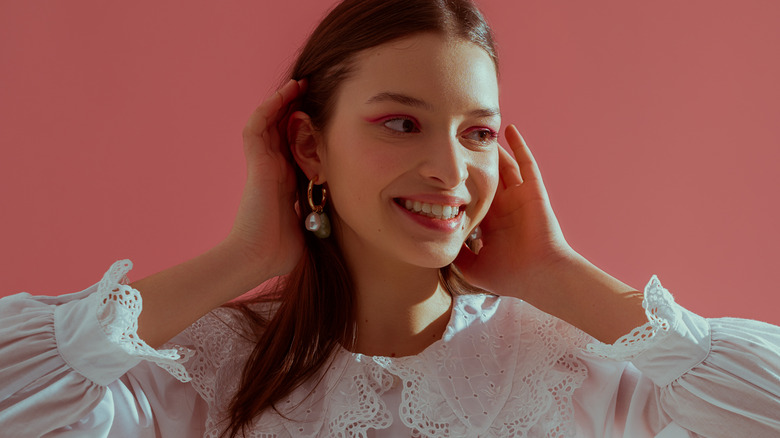 Victoria Chudinova/Shutterstock
If you are a lover of glam, classic style, and the old-money lifestyle, plazacore is the fall trend for you. Plazacore is dedicated to the lifestyle of the rich and luxe. With aesthetics like balletcore, dark academia, and regencycore trending in the past year, it is no surprise that plazacore was next. Plazacore combines classic preppy style with feminine details. When envisioning plazacore, think about the style of the rich who regularly stay at The Plaza Hotel in New York City.
Advertisement
We are slowly seeing the Plazacore trend trickle into celebrity fashion, too. In fact, Kim Kardashian even released a range of Hotel Essentials for her brand, Skims, in late June (via Instagram). The collection features luxurious-looking robes, pajamas, and slippers — all perfect for a stay at the Plaza. Lucky for us, you do not have to step foot in a luxury hotel to get the plazacore look. Simply, fill your heart and wardrobe with desire for the finer things in life, keeping in mind both preppiness and innate femininity.
Inspiration behind the plazacore aesthetic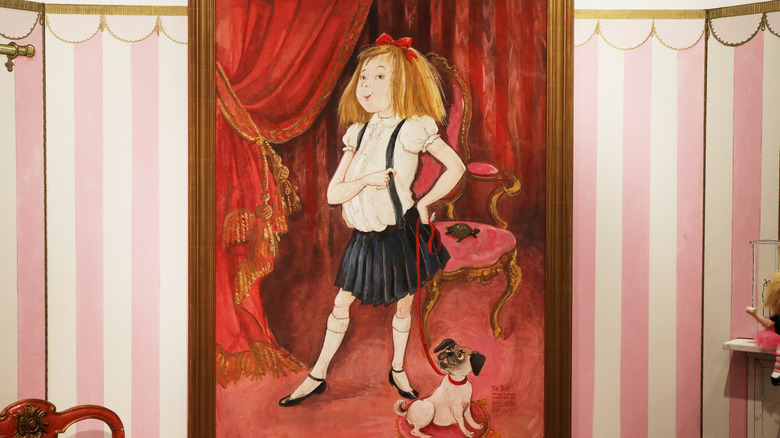 Spencer Platt/Getty Images
TikTok has deemed that plazacore is the embodiment of a modern-day New York City socialite living a life similar to that in Kay Thompson's "Eloise." Plazacore was even named after Eloise's home, The Plaza Hotel. Eloise is a sassy 6-year-old girl who lives a life of wealth at the hotel in 1955 NYC. Adorned in a white puff-sleeve blouse, knee-high socks, shiny loafers, and a pink bow, the character is the epitome of prep with a mix of glamour thrown into the mix. If Eloise was living today, there is no doubt she would be the social queen of NYC.
Advertisement
Plazacore stems from Eloise's lifestyle and how she would dress today, based on the style of other New Yorkers born into wealth. Those who come from "old money" are often not interested in flaunting their wealth but instead focus on quality and the finer things (via The Old Money Book). The aesthetic is all about having the finer things and looking like you belong surrounded by wealth, much like Eloise was at The Plaza Hotel.
How to dress in plazacore fashion
If you want to get the plazacore look, it is important to note how Eloise would dress in modern times as a grown woman. On TikTok, #plazaprincess shows us a glimpse at what others are buying to fill their plazacore wardrobes. TikToker @bela.x.o.x.o shows us their picks for a plazacore wardrobe in a TikTok featuring a plaid skirt, beautiful collars, and sprinkles of pink.
Advertisement
Drawing context clues, Eloise would still wear signature neutrals, but in her ultra-feminine style. Rather than an adult Eloise adding a pink bow, maybe she would add a puffy pearl headband or light pink ballet flats. With her wealth, the preppy style would be a given as well. Lisa Birnback, author of "The Official Preppy Handbook," is a firm believer that "preppy clothes are built to last since they certainly will not go out of style." Preppy style often involves many textures as well, which is perfect for Eloise, as frills, pearls, puff, and lace are all always on the table.
Where plazacore strays from preppy and old-money style is the over-the-top fashion of it all. Eloise was never one to avoid a bit of fun, so feel free to throw in a fluffy handbag, a tweed pink blazer, or even hot pink pumps. Ultimately, plazacore is about being classy, while also never being afraid to stray from making a statement. Eloise was headstrong and never afraid to say what was on her mind, which should be embodied in your plazacore look.
Advertisement