13 Glycolic Acid Toners That Will Change Your Skin For The Better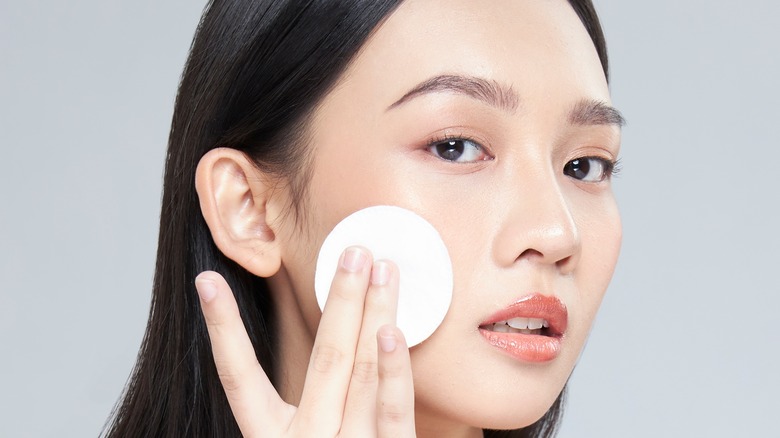 Minh Mi Goi/Shutterstock
We may receive a commission on purchases made from links.
Once you're deep into the skincare world it's hard to stick to the basics of simply washing your face and moisturizing. There's just so much to try, from sheet masks and serums to micro-current devices. One of the very first intermediate-level skincare steps is incorporating actives, such as vitamin C, hyaluronic acid, and niacinamide. Once you start, you can never go back. These actives can be a little harsher on the skin, but the benefits you reap far outweigh the extra care you have to take to make sure your skin stays in check while using them. With so many options, there are a few star ingredients that always deliver, and glycolic acid definitely tops that list. 
Glycolic acid does a lot for your skin. It can help brighten it, especially when it comes to any scarring or dark spots, but it's also an exfoliating acid that helps even out any skin texture and breakouts, per Verywell Health. That's not all, it can help improve signs of aging and can work to reverse any sun damage you may have. Sound like a miracle worker? Well, in a way it is. Glycolic acid's benefits are so effective that people even tend to use it all over their body, including on their scalp. However, the best way to get your most potent dose is by using it in a toner. We've rounded up the 13 best glycolic acid toners for your every skincare need.
How we selected the best glycolic acid toners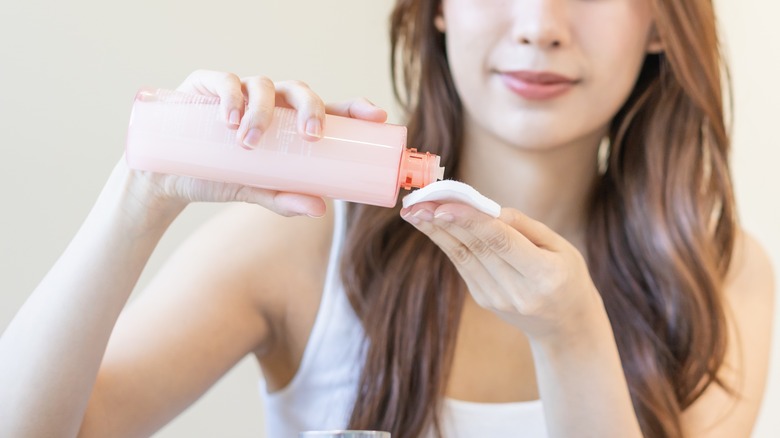 Kmpzzz/Shutterstock
Glycolic acid is one of those skincare ingredients that you see listed in almost every product. It can get a little overwhelming to know which products are actually going to work for you and which are a waste of time. Well, we've saved you time by sorting through endless reviews and viral products to weed out the top stars. 
The best way to know if a product actually works isn't to listen to your favorite influencer, but rather listen to how real people feel about it. This is especially true in the case of something like glycolic acid toners, where the wrong formulation could end up not working for your skin type and leave your face bright red.
Each of the glycolic acid toners listed below serves a specific purpose, and we made sure to identify those with reviews that confirm that it's perfect for that exact need, so you won't have to do any guesswork.
Best overall glycolic acid toner
If you're trying a glycolic acid toner for the first time then Versed's Weekend Glow Daily Brightening Solution is the perfect entry point. Packed with skincare goodies such as lactic acid, azelaic acid, and kojic acid, your skin is guaranteed to be glowing. 
This toner is gentle enough to be used on a daily basis, both in the morning and at night. And its combination of brightening acids alongside bearberry extract amps up its ability to even out skin discoloration. It is paraben-, silicone-, and sulfate-free, and is not tested on animals. One Versed reviewer raved about the results it gave her, writing, "My skin used to be so dull but this works wonders and it doesn't leave my face feeling tight and dry."
Purchase the Weekend Glow Daily Brightening Solution on the Versed website for $17.99.
Best fan favorite glycolic acid toner
If you've been an avid skincare fan for years now, you're definitely familiar with this iconic orange bottle. The Pixi Glow Tonic is a staple that everyone's tried at least once. With a 5% concentration of glycolic acid, the alcohol-free Glow Tonic evens out your skintone and leaves it smoother. Formulated with ginseng — which aids in circulation — and aloe vera — which soothes and tones down redness — it is available in varying formulations that include retinol, rose essence, and vitamin C.
It simply has a way of winning people over for life. One Pixi Beauty reviewer wrote: "Glow Tonic was the first product that I used from PIXI and around about a month after daily use, my skin looked significantly more bright. Fell in love and haven't looked back since!"
Purchase the Glow Tonic at Pixi Beauty for $29.
Best all-over glycolic acid toner
Glycolic acid is actually safe and effective to use in various places on your body, including your scalp, arms, inner thighs, and feet. The Ordinary's Glycolic Acid 7% Exfoliating Toning Solution comes in a generous 8 oz size bottle, so you're set for a while. 
And while 7% is a pretty highly concentrated dose, users have found that this is actually surprisingly gentle. A popular use for this toner is on the armpits. One Sephora.com reviewer wrote: "You can use it ... to stop odor, pair it with a carrier oil and your fave essential oil and you've made your own deodorant!"
Purchase the Glycolic Acid 7% Exfoliating Toning Solution at Sephora for $10.
Best viral glycolic acid toner
If you've spent any time at all on TikTok, then you've likely already caved and ordered something from Glow Recipe's watermelon line. Whether it's the delicious smell or the unreal glow that the products give, something about the PHA+BHA skincare collection manages to win everyone over. 
The Watermelon Glow PHA+BHA Pore-Tight Toner is formulated with hyaluronic acid and watermelon extract, which hydrates your skin and provides it with vitamins and amino acids. Vegan- and cruelty-free, the toner works to gently exfoliate your skin to reveal a glow, and deeply cleanses your pores. Averaging 4.4 stars on Sephora.com, one reviewer shared her own obsession with it, writing, "After using this product for the last few weeks, it's safe to say that it has completely resurfaced my skin! My texture and pores have minimized so much by incorporating this toner into my skincare!"
Purchase the Watermelon Glow PHA+BHA Pore-Tight Toner at Sephora for $34.
Best trendy glycolic acid toner
Sephora and Ulta stores are filled to the brim with endless options to fulfill your every beauty need, so you know a product is special when people go out of their way to seek it out and wait out that dreaded re-stock period. KraveBeauty's Kale-Lalu-yAHA Gentle AHA Exfoliator just keeps fans coming back.
With a unique blend of 5.25% glycolic acid and a combo of kale, spinach, and parsley, this toner nourishes your skin with vitamins A, B, C, E, and K, while also exfoliating it. The glow-revealing green toner also contains hyaluronic acid, making it super hydrating. The 4.7-star rating speaks for itself, but one KraveBeauty reviewer shared, "I'm amazed at how this is not irritating my skin or made it itchy flaky I can use it even 3-4 times a week (at night) and it just leaves my skin radiant supple exfoliated."
Purchase the Kale-Lalu-yAHA Gentle AHA Exfoliator at Krave Beauty for $25.
Best affordable glycolic acid toner
When testing out a new skincare ingredient, you're likely not looking to make a big investment, just in case it doesn't work out. Safely dip your toes into the glycolic acid toner pool with VitaminSea.beauty's Seaweed + Glycolic Acid Facial Toner.
This glycolic acid toner has a gentle concentration of the acid which is balanced out by the other star ingredient: seaweed. The seaweed extract works to soften and renew your skin, and users with sensitive skin found it to be very gentle. One Ulta reviewer explained, "I absolutely love this toner! It doesn't irritate my extremely sensitive skin, but definitely gives a nice amount of exfoliation. My skin feels so smooth after using this & my face absolutely GLOWS! An absolute must-have toner!"
Purchase the Seaweed + Glycolic Acid Facial Toner at Ulta for $8.99.
Best glycolic acid toner mist
Toners are a layering step that is prep for all of the work that's to come, which is why sometimes a quick spritz of a mist is the most efficient option.
The CosRX AHA/BHA Clarifying Treatment Toner is a very popular glycolic acid option. Formulated with soothing willow bark water, this mist will give you a little gentle exfoliation while also hydrating your skin. It's especially great pre-makeup for an extra dewy glow. The mist also contains betaine salicylate which helps clear out congested pores and smooth out your skin's texture over time. One Ulta reviewer confirmed that it's worth the hype, writing, "This is the first product I've tried that makes my skin soft while clearing my breakouts 100/10."
Purchase the AHA/BHA Clarifying Treatment Toner at Ulta for $20.   
Best glycolic acid toner for discoloration
The benefits of glycolic acid are countless, but if you're especially drawn to its ability to correct discoloration then this pick is perfect for you. French pharmacy favorite Caudalie has produced a fair number of viral products, including the Vinoperfect Brightening Glycolic Essence.
Actually a lighter version of a toner, the essence can be layered with any other toners you're currently using, and it's packed with goodness. Its white peony extract is what really amps up its brightening powers and it also contains Caudalie's trademark grape water that keeps skin soft, supple, and deeply hydrated. The vegan formula is deemed clean and although it is a little on the pricier side, it is definitely worth its 4.3-star rating. 
Purchase the Vinoperfect Brightening Glycolic Essence at Sephora for $54.
Best luxury glycolic acid toner
If you're looking to treat yourself to a luxury product then look no further than Summer Fridays' Soft Reset AHA Exfoliating Solution.
The three-in-one toner is formulated with glycolic acid, lactic acid, and niacinamide, which all work together to smooth out your skintone and visibly improve your skin's texture overnight. Yes, that's a bold promise, but fans confirm that the 4.6-star-rated toner is amazingly effective. One Sephora reviewer shared her own bold take, writing, "This review may seem dramatic but I kid you not this is the best toner I've ever tried and I've tried lots. The name of this product fits it perfectly because it really does smooth out the skin, it makes my skin look like a soft filter in real life."
Purchase the Soft Reset AHA Exfoliating Solution at Sephora for $56.   
Best glycolic acid toner for minimizing pores
A lot is said about glycolic acid's brightening properties, but if the size of your pores is your main concern then try the Saturday Skin Pore Clarifying Toner. 
The K-beauty brand favorite features adorable pink packaging and contains a high concentration (10%!) of glycolic acid. But that is what makes it so powerful and effective at unclogging your pores and evening out your skin's texture. The toner also contains a unique "pore control complex" that consists of a blend of tea tree oil, witch hazel, and red clover. All of these work to minimize the visibility of your pores. And while it is potent, it does also contain sodium PCA, which works to avoid compromising your skin's protective barrier. 
Purchase the Pore Clarifying Toner at Saturday Skin for $30.
Best glycolic acid toner pads
Rubbing your toner in with a slightly textured pre-soaked pad is a pretty ideal way to get some extra exfoliation action, and the best glycolic acid toner pads in the game are from Nip + Fab.
The Glycolic Fix Night Cleansing Pads have quite the fanbase due to how effective they are. This 'extreme' version is especially well-loved. Featuring a 5% concentration of glycolic acid as well as salicylic acid and niacinamide, these pads chemically exfoliate your skin nightly to refine your skin texture and minimize pore visibility.
One Nip + Fab reviewer explains why they have earned their 4.8-star rating, writing, "I can't stress enough just how much these pads have saved my skin, I have very very oily and congested skin and these pads have not only resurfaced the texture of my skin but have given me such a confidence boost!"
Purchase the Glycolic Fix Night Cleansing Pads at Nip+Fab for $16.95.
Best glycolic acid toner for sensitive skin
If you have sensitive skin you've probably already written off any likelihood of dabbling into acids. But La Roche-Posay have you covered with Effaclar Clarifying Solution. 
With a lower concentration of 2% glycolic acid and 0.5% salicylic acid, this toner still gives your skin some deep exfoliation without drying it out or irritating it. The active ingredients work to heal and minimize acne while also clearing out blackheads, whiteheads, and discoloration, but it's the trademark La Roche-Posay Thermal Spring Water it contains that really helps soothe your skin and avoid any harsh reactions. 
The toner is also formulated without fragrance, oil, and parabens, which makes it even gentler. One Ulta reviewer wrote: "It's perfect for my sensitive skin, it absorbs so quickly and it is great to help keep breakouts away. I have gone through so many bottles and I will continue to buy this toner!"
Purchase the Effaclar Clarifying Solution at Ulta for $16.99.
Best K-beauty glycolic acid toner
With so many K-beauty brands to choose from, only a fair few stand out as especially impressive and easily accessible in the U.S., and Peach & Lily is one of them. The Good Acids Pore Toner uses a combination of the best BHAs and AHAs to gently exfoliate the skin, but it also contains a unique ingredient that gives it extra brightening power and can be a miracle worker for dark spots: turmeric root extract.
The toner also contains aloe vera to calm and soothe your skin and keep the acid from harming its protective barrier. One Ulta reviewer was wowed by just how well it worked, writing, "This toner is the best for helping remove those dark acne scars and really help balance the ph of your skin. You can see a difference with less breakouts and less blackheads as well."
Purchase The Good Acids Pore Toner at Ulta for $39.