What Is Cloud Skin And How Can You Get In On The Hot Beauty Trend?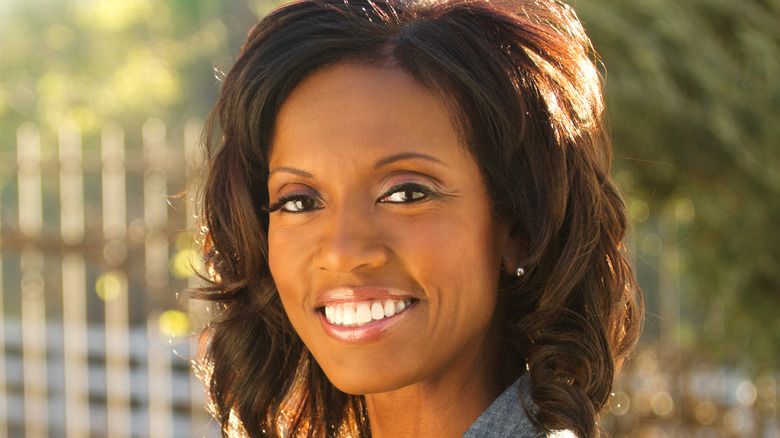 digitalskillet/Shutterstock
If you look at Instagram as the barometer of what's new and trending, you'll discover that a makeup trend known as "cloud skin" is making waves among both influencers and makeup newbies. Boasting a glowing-from-within look, cloud skin is when you have a "soft, light touch skin texture," shares M.A.C. Cosmetics senior makeup artist Dominic Skinner, who coined the term (via Vogue). Cloud skin emanates an ethereal, dewy finish, rather than a full-on burst of glitter or shine. Dominic adds that cloud skin is "delicately blurry" and a good fit for everyone.
Advertisement
As its name suggests, the quality of cloud skin should mimic the look and feel of the clouds — misty, matte, and soft-focus. Cloud skin is essentially the opposite of glass skin, which emphasizes an all-over luminous and shiny skin surface that's as reflective as its namesake. The key to pulling off cloud skin, as makeup artist Jamie Greenberg tells Glamour, is to strike the ideal equilibrium between the products on your skin. Want to try it out yourself? Here are some tips for nailing that glowy and cherubic look everyone's talking about.
Cloud skin is all about texture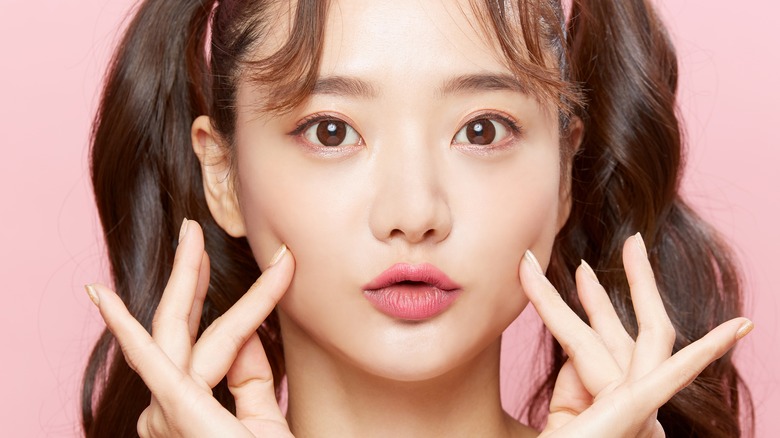 K-Angle/Shutterstock
All lasting makeup looks begin with preparation. First, apply hydrating serum to your face and your neck, followed by a luminescent moisturizer, Sugar Cosmetics advises. Moisturizing your skin before makeup helps soften its surface and prime it for a more even application of foundation and concealer, as keeping your skin hydrated makes your makeup look more natural and less piled on (via St. Ives). After applying moisturizer and serum, give the products time to be absorbed into your skin before moving on to the base.
Advertisement
To set the base right, use a blurring primer. "Blurring primer creates a soft-focus layer on the skin — literally blurring pores and imperfections and creating a smooth base for makeup," makeup artist Kirin Bhatty tells Byrdie. It obscures pores and fades imperfections to create a smooth and seamless base for makeup. For foundation, use a lightweight, liquid foundation with a matte finish to help absorb oil and create a uniform skin tone. To pull off the diffused look, apply the foundation sparingly across the face and gently blend.
Set your cloud skin for all-day wear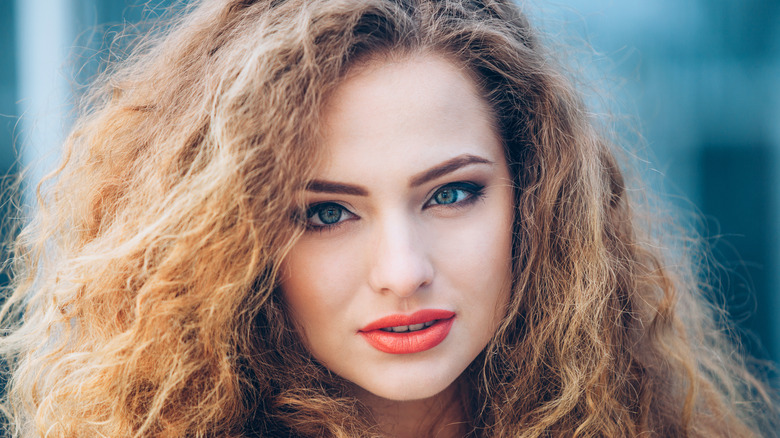 Satyrenko/Shutterstock
After applying foundation, give your makeup a glowing, shine-free finish using translucent setting powder, per Fashion Journal. Use a large brush to apply the powder lightly across your jawline, your nose, your forehead, and near the inner corner of your eyes to mask imperfections and soften your makeup look. After powdering, give your face a dewy radiance by dabbing a glitter-free highlighter gently across your high points, Russh advises. The areas of your face that are considered high points generally include your cheekbones, the tip of your nose, brow bones, and the Cupid's bow at the top of your lips (via Ipsy). After that, you can inject some glowy, sheer flush to your makeup by applying a cream blush to the upper areas of your cheeks with your fingertips. Then, gently diffuse any hard lines with a brush to give your finish a natural look.
Advertisement
Striking the happy balance between dewy and matte, cloud skin makeup look leaves your skin looking lit from within and gives your makeup a healthily dreamy finish. So while makeup fads come and go, we're predicting that cloud skin is here to stay.