How To Successfully Buy Foundation Online Without Testing It First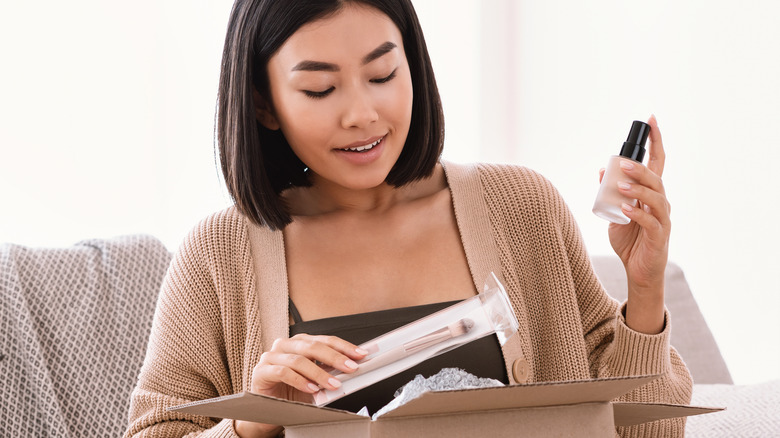 Prostock-studio/Shutterstock
Foundation is not the fountain of youth, but it's a must-have for giving your skin a smooth, Insta-worthy look. "Foundation is covering up flaws, and it's giving you an even tone," says New York-based dermatologist Francesca Fusco (via Vogue). If you have major scars or blemishes, a full-coverage foundation often gives us confidence. It makes facial imperfections less noticeable, evens out our complexion, and serves as a base for the rest of your makeup, like powder, blush, or bronzer. Finding the ideal foundation for your skin tone is extremely important as it sets the tone for your entire makeup look. That's why you usually find yourself (and other cosmetics shoppers) spending the longest time browsing through and testing various shades of foundation.
Advertisement
Foundation isn't one-size-fits-all, and you must correctly identify your skin tone and undertone before you can find the right foundation shade for you, per L'Oréal Paris. That's why there are many things that can go wrong with foundation shopping. You either end up choosing a shade so dark it should better serve as a bronzer or being stuck with a shade too bright it can be used as a highlighter. Mistakes are harder to avoid as you shop online when you can't swatch one or two blobs of foundation on your wrist or your face for testing. That said, there are still some hacks to help you find the right foundation online without testing it first.
You need to know your skin's natural undertones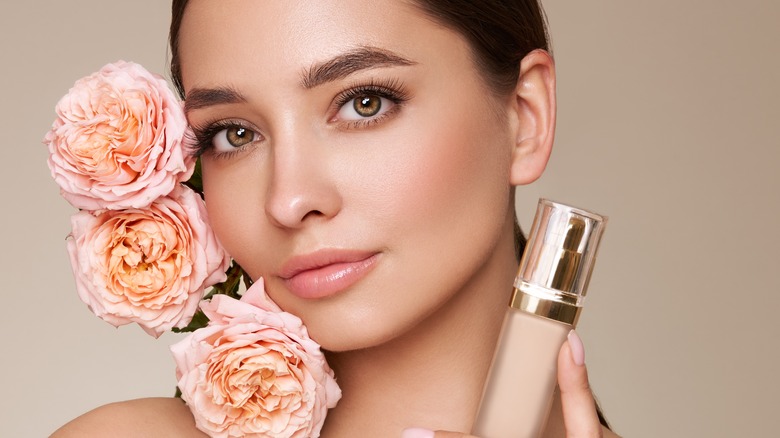 Oleg Gekman/Shutterstock
According to Maybelline, you can do a vein test to find your undertones. For instance, turn over your forearm and take cues from the color of your veins. If your veins have a green shade, chances are your skin has a warm undertone. Meanwhile, bluish, reddish, or pinkish tones under the skin might signify a cool undertone. To be extra sure, you can also try the jewelry selection method. With this method, you're likely to have a cooler undertone if you look better in silver jewelry, and a warmer undertone if you look great in gold. If you can pull off both, chances are your undertone is neutral.
Advertisement
Warmer skin undertones, such as peachy or golden, will be better accentuated in foundation with warmer shades such as orange-based reds, honey, warm beige, or corals. For those with a cool skin undertone, consider choosing a foundation with shades like blue-based reds, pinks, or purples. For a neutral undertone, go for shades that fall in the middle on the cool–warm spectrum like ivory, nude, or praline. In case you're a makeup artist who works on people with different skin undertones, there are options for you too. "I tend to go with neutral and warm shades in my kit because it's easier to match on different skin tones and shades," celebrity makeup artist Daniel Martin tells InStyle.
Find the right foundation for your skin type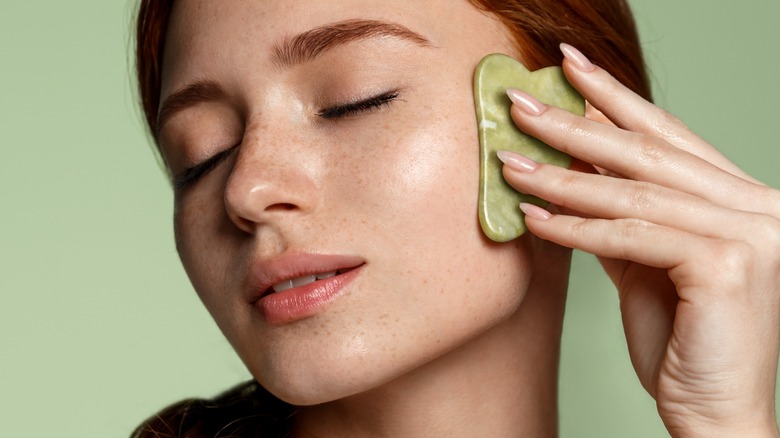 Lyubov Levitskaya/Shutterstock
Selecting the proper finish for your skin type should be another key factor to take into account. Those with dry, textured skin should avoid powder formulas, makeup artist Emily Oliver tells Makeup.com. Instead, opt for a liquid formula or one formulated with skin-hydrating or moisturizing ingredients like ceramides, aloe vera, or jojoba oil. Meanwhile, powder foundation is a better option for oily, acne-prone skin as mattifying agents in powder formulas suck in excess oil and give your makeup a matte, shine-free finish. Also, look out for non-comedogenic foundation formulas with oil-absorbing ingredients like charcoal or colloidal clay because they don't clog your pores, makeup artist Andrea Claire tells Glamour. Foundation formulas that contain active ingredients like salicylic acid and SPF can help unclog pores, give you an even skin tone, and prevent pigmentation.
Advertisement
For a long-wear foundation that doesn't require frequent touch-ups or helps you cover blemishes, a full-coverage foundation won't disappoint you. If a full-coverage foundation feels too heavy for you, pick a more sheer coverage level with light to medium coverage. To give yourself peace of mind while foundation shopping online, invest in a foundation adjuster, which lets you darken or lighten your foundation shade in no time just in case your ordered foundation shade doesn't match your expectation.