The Hack That Will Give You Curtain Bangs Without Actually Cutting Your Hair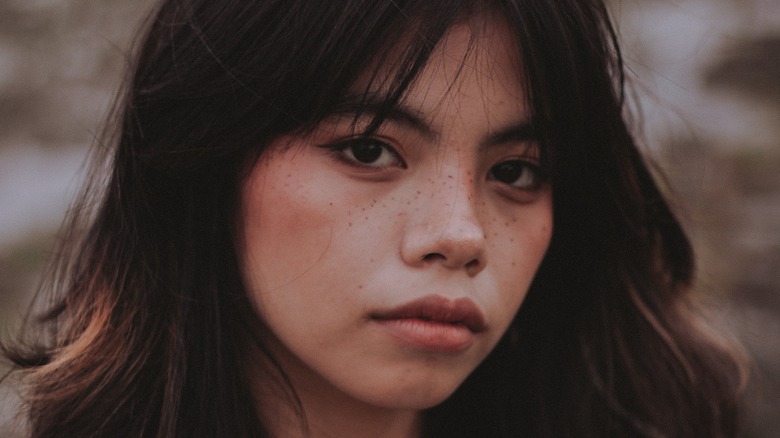 Renthel Cueto/Pexels
Bangs or no bangs? That's the question that many of us ask ourselves every time we think about changing our looks. Bangs can give the face a complete makeover, and that's a risk many people are not willing to take. Once you get bangs, there's no turning back, says hairstylist Susan Williams to Real Simple, at least not until four to six months later if you decide to grow them out. Actually, bangs come with numerous benefits.
Whether it's Korean see-through fringes or blunt bangs, having a section of hair cut straight across your forehead can add some edges and flair to an otherwise simple hairstyle. A switch-up with bangs is also a tried-and-true method for hacking aging visually. For those with thinner hair, curtain bangs, which are about cheekbone length and frame both sides of your face, can add texture and volume to your hair. However, for those with textured hair, bangs can be more difficult to maintain as you'll need to straighten them every day, celebrity hairstylist Kevin Mancuso warns (via Stylecaster). That said, if you're keen to embrace the trend but not sure if it's worth your commitment, here's a hack that will give you faux curtain bangs without any chopping.
Use the flick of a curling iron to fake curtain bangs
In a tutorial video from Bianca Gover • Vanilla Hair Co, Bianca shows us how to create the curtain bangs effect with longer face-framing, chin-length pieces. Part your hair in the center or slightly side-swept, and section out a triangle of hair using your face-framing layers. Keep this section straight down, letting it hang straight down in front of your face. Hairstylist Matt Newman recommends blow-drying the triangle section forward using a round brush to give it extra texture (via Mane Addicts). After that, spritz some texturizing hair spray on your hair to give the strands more volume and keep them in place.
Then, take your curling iron, go close to your head, and wrap one side around the heated barrel. Hold for a couple of seconds, drag it down, and let it sit. Do the same thing on the other side, but make sure you wrap it at the opposite angle. Give your curled hair a few minutes to cool down, and then run your fingers through the locks to flatten them out a little. In the final step, finish with a spritz of strong hold spray to your hair to make your hairstyle hold.
How to fake curtain bangs on textured hair
Faking curtain fringe on curly and coily hair is quite a challenge, but not impossible. L'Oréal recommends starting with clean towel dried hair and working a small amount of anti-frizz and anti-humidity hair gel into your hair roots and lengths to give your tresses extra smoothness and lasting hold. After prepping, separate the front section of hair you'll be using as your bangs from the rest of your hair. After sweeping the section forward, apply a volumizing mousse simply to the roots of your hair section, says hairstylist Amy Abramite (via Glamour). 
Lift the roots with your fingers while using a diffuser and a blow-dryer to bring out the base of your curls and give them an extra oomph, she says. In the final step, pull out a couple of your favorite curls to cover your forehead, do some finessing to make the fringe frame your face on both sides, and pinch the center of your fake bangs together to give your bangs a more blended, natural look. Giving your face a framing effect, curtain bangs are flattering on all hair types and quite easy to fake. All you need is to section off your front hair and use a blow dryer or a curling iron to give your front layers a curtain effect.