The Lipstick Trend That's Perfect For All Your Spooky Season Looks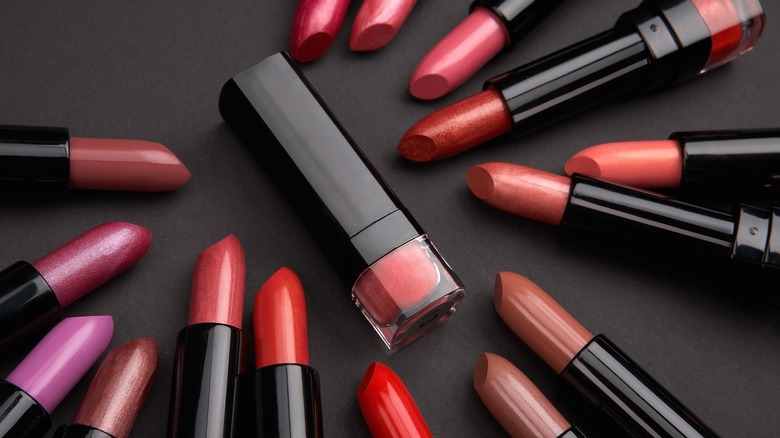 RomarioIen/Shutterstock
Temporary hair dye: check. Black tights: check. Cat ears: check. Your Halloween costume is picked and ready for October 31, but that doesn't mean you can't infuse spooky vibes into your aesthetic in the meantime. Now is the perfect time to swap bright colors for moody burgundy, orange, brown, and purple shades. Kick off those summer sandals, and grab your chunkiest pair of black boots. Plus, you can experiment with costumey beauty trends that work for everyday life, too, like Y2K hair gems and gleaming chrome eye makeup.
Another way to embrace Halloween every day is by taking a cue from goth styles. Witchy fashion and edgy beauty looks were spotted on several Fall 2022 runways, including Givenchy, Junya Watanabe, and Rochas. Celebrities have also gotten in on the trend. Kourtney Kardashian and Megan Fox helped take lace-up black leather and tough spikes to the mainstream. If you're not yet ready to cross over to the dark side from head to toe, focusing on the lips can be the perfect way to ease into the spooky aesthetic, while still making a statement.
The black lipstick trend is on the rise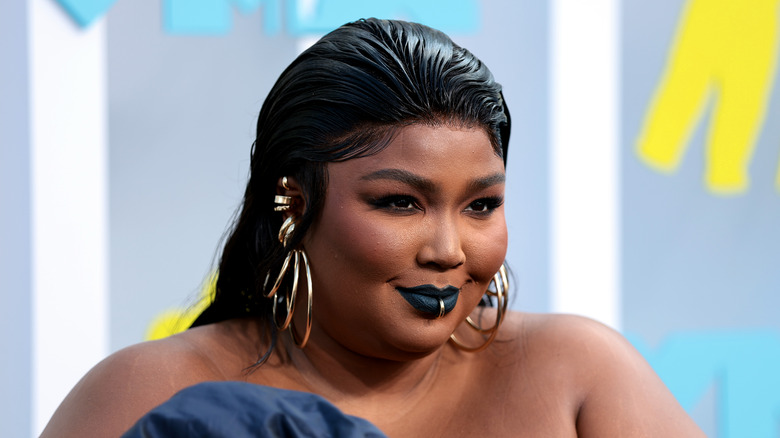 Dimitrios Kambouris/Getty Images
Whether you're dressing up as a cute black cat or a scary vampire this Halloween, you probably stocked up on black lipstick to prepare for the occasion. But you don't have to wait until then to break out an ink-colored lipstick; the black lip look is gearing up to become a major trend this season. A clip of Rihanna went viral on TikTok, where the star sang the praises of a boldly dark lip. "I love black lipstick. I think it's daring, it's bold, but there's a way that it can be really, really beautiful. It's one of those colors that people shy away from a lot," the Fenty Beauty founder explained.
The Rihanna clip predates the current trend, though she was clearly onto something. Her quote inspired the #blacklipstickchallenge on the social media platform, where users apply black lipstick using audio from the Rihanna video. And in August, Lizzo sealed the deal by stunning in an all-black look — complete with eye-catching black lipstick — at the 2022 VMAs (via People).
Now, as we usher in the spooky season and darker days ahead, pitch-black lips don't seem to be going anywhere any time soon.
Here's how to wear the dark lip trend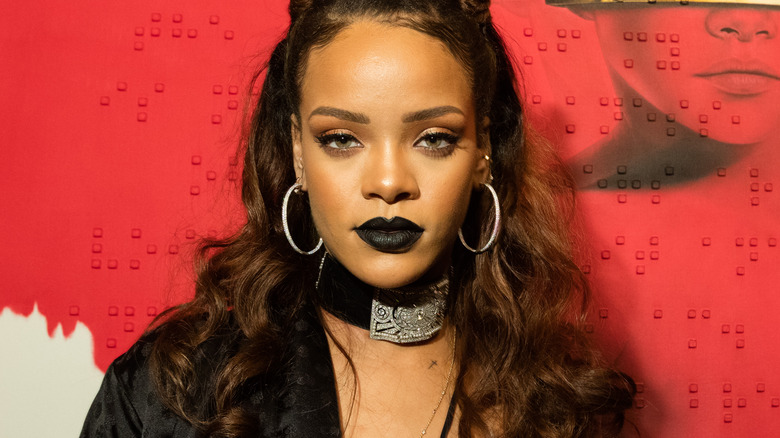 Christopher Polk/Getty Images
For the OG goths, an explainer on how to wear black lipstick isn't necessary — simply swipe it on, perhaps over a primer to lock it in place all day, and you're good to go. But for those who are dipping their toes in this spooky style for the first time, a few pointers can help your bold lips look equal parts gothic and glam.
First, decide what kind of black lip you're going for. A lustrous, high-shine lip can be great for parties and nights out, while a matte finish is fitting for everyday wear, though don't be afraid to experiment and make this trend your own. You can also start with a slightly less daring take on the trend, like wearing a nearly-black brown or combining black and red tints for an ombré effect.
Then, when applying your lipstick, makeup artist Alexandra Anele recommends first lining the lips with a dark plum or black lip liner (or non-creamy eyeliner, if in a pinch), overlining so that the black doesn't make the mouth look smaller. Fill in the lines with the lipstick, touching up with a detailed applicator. To complete your beauty look, L'Oréal Paris suggests a smokey eye for an edgy style, minimal eye and skin makeup so that your lips take center stage, or a complementing cat eye or blush.