The Super Simple Outfit That Will Be Your Fall Uniform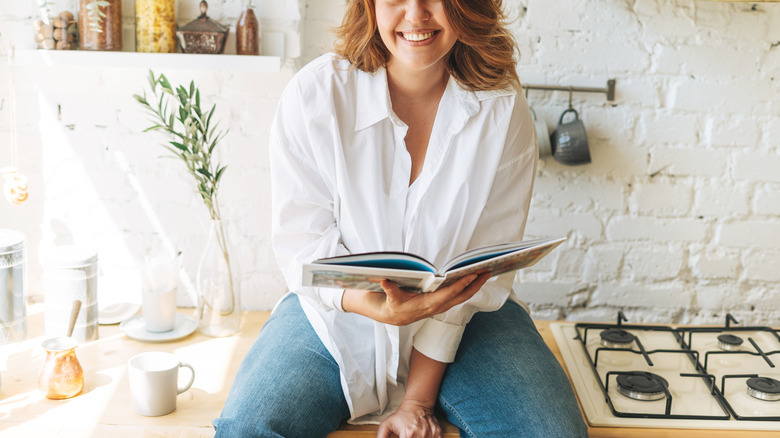 Galina Zhigalova/Shutterstock
Picking out your outfit can be overwhelming if you have too many options. Deciding between colors and prints can be tedious. When you're running late, it can be time-consuming to stand in front of your closet and decide which pieces to style with what. Thankfully, there's one classic fall outfit combination that saves you from having to spend time and energy on making these decisions.
Advertisement
Choosing a classic outfit as your go-to look is not only an excellent time-saving technique, but it also helps to establish your fashion sense. Going back to basic and simple outfit choices helps create a luxurious and simple base to build your style. It also helps that the trend around simple dressing is not going anywhere anytime soon. According to Edited, solid-colored purchases accounted for around 75% of style buys in 2021. On the other hand, prints only accounted for 25%.
So while simple, classic fashion is on the rise, how do you bring it into the fall season? The key is to stick to the basics of any wardrobe.
The white top and blue jeans combo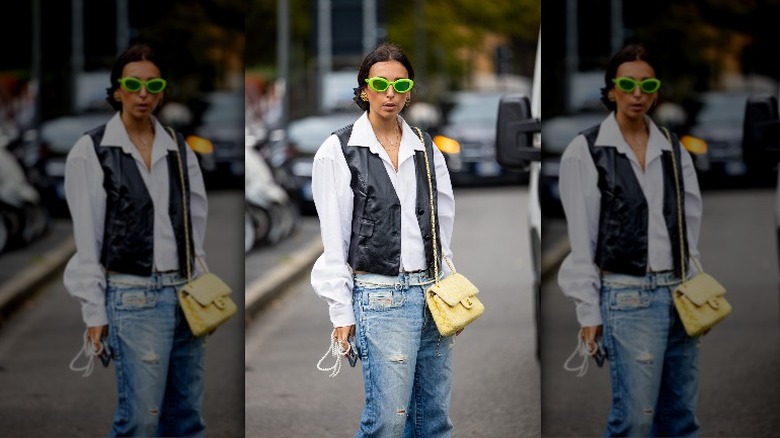 Christian Vierig/Getty Images
If you want to save time, energy, and money this fall season, you'll want to stick with the classic blue jeans and white top.
While some call this outfit combination uninteresting, it's the must-have pairing of the fall season. Whether you leave this outfit alone or layer it with key outerwear pieces, nothing can beat the classiness of a white top and blue jeans. Although many fall fashion trends point to the revival of the '90s and 2000s, some major fashion houses are looking to this classic combination as your new fall outfit. At the Bottega Venetta Fall 2022 Ready-to-Wear show, the brand showcased a white tank top and blue jeans combination as its first centerpiece look.
Advertisement
Like fashion brands, this pairing has long been a favorite among street-style fans. While some may stick to simply neutral accents and others opt for more pops of colors in their accessories, this pairing is optimal for both maximalists and minimalists. Taking a cue from fashion content creator Monroe Steele, who shows off this elegant combo with flashes of neon-colored accessories to showcase how versatile and universal this look can be.
The white top and blue jeans combination may not be the statement piece everyone is looking for this fall, but it is an open canvas to create your version of this fall outfit.
How to style your classic outfit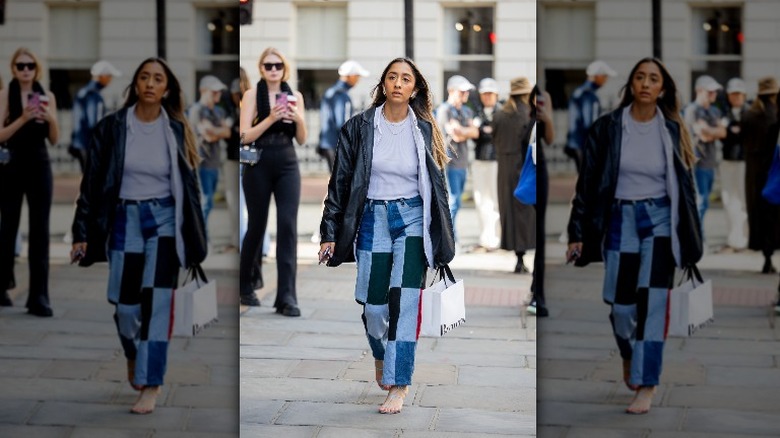 Christian Vierig/Getty Images
If you're concerned about how you can bring this outfit into the fall, there's no need to worry since this ensemble is perfect for all your needs.
Start by pairing it with another classic piece on the outside: a black leather jacket. As seen previously on Bella Hadid, nothing is better for fall than cozy outerwear. In this case, Hadid went for two outerwear pieces by also adding a blue blazer. Whether you want to double layer or just stick with one piece, the combination of a white top and blue jeans is versatile enough to go with either styling.
Advertisement
Another way you can create a chic, elegant look from this pairing is by adding a trench coat. A styling favorite from French fashion, the trench coat is a fall staple you need in your autumn wardrobe. Amy Jackson, the creative behind Fashion Jackson, shows how a simple trench coat can create the vision of a casual European day. Because all of the colors involved are neutrals, there's no need to add stress on whether they go well together or not.
Whether you want to make a statement look or a simple minimalist look out of this pairing is up to you. However, if you want to make your fall easy, you'll want to stock up on your favorite white tops and blue jeans.