Planning A Perfect Courthouse Wedding Is More Approachable Than You Think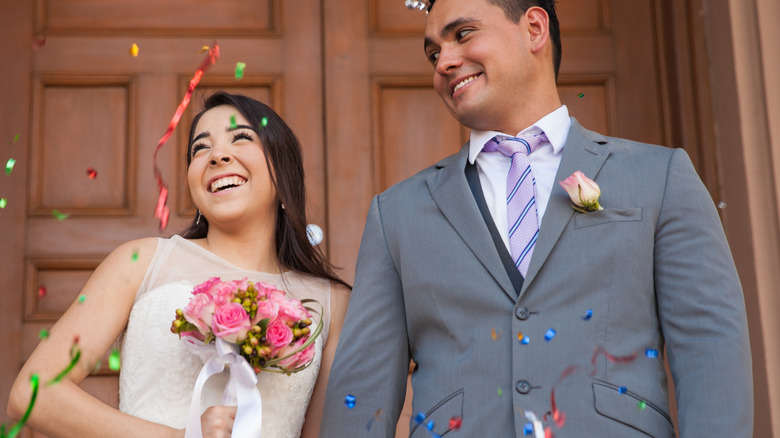 antoniodiaz/Shutterstock
Designed to commemorate the sanctity of marriage, a wedding deserves to be one of the most celebratory occasions in a person's lifetime. That's why many couples don't mind splurging a fortune on decorations and gowns to make their big day unforgettable and create ripples on social media. A typical wedding in the U.S. will cost around $27,000 this year, up from roughly $24,000 before the pandemic, as the founder of The Wedding Report, Shane McMurray, tells CBS MoneyWatch. However, not everyone can afford a painstaking one-day event that requires months of preparation and incurs astronomical costs. There are ways to tie the knot in an official, ceremonious manner without having to worry about keeping your guests happy or footing the bill. And having a courthouse wedding is one of them.
A courthouse wedding, per ImmigrationHelp.org, is a non-religious marriage ceremony that takes place in a courthouse or a city hall and is presided over by a legal commissioner. When you are married in a courthouse in the U.S., you get a marriage certificate that the U.S. government will accept as legitimate when you apply for a green card. While it's true the image of a courthouse doesn't exude any incredibly romantic vibe, you can still say "I do!" in a solemn, meaningful manner. Here's how you can smoothly switch to a courthouse wedding from a time-consuming and expensive traditional wedding.
Apply for a marriage license and book a location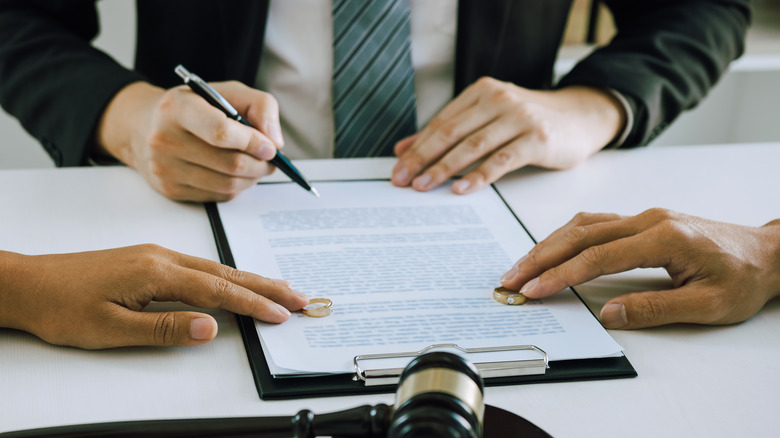 wutzkohphoto/Shutterstock
A marriage license is needed before you may exchange vows in court. You can apply for a license in person or online by contacting your local courthouse or city hall, the Office of the New York City Clerk advises. The official process of verifying the legitimacy of your marriage varies from city to city and county to county. Therefore, you'll need to research your specific city's requirements before gathering essential documents, lawyer-turned-wedding-planner Danielle Jeatran tells Brides. A state-issued ID card or driver's license, certified copies of both birth certificates, and your social security number are typical documents you'll need to present. After that, you'll need to pay a fee, which can range between $25 and $100.
Besides, you don't have to get married in the same town where you live. You can have a wedding in the awe-inspiring San Francisco City Hall, the Santa Barbara Courthouse with striking Spanish-Moorish architecture, or the Philadelphia City Hall — a national landmark. You can even hold a civil ceremony at a Las Vegas wedding chapel. However, requirements may vary from location to location, so do some digging before booking any venue. You can contact the place you'd like to get hitched at to find out which days they perform wedding ceremonies. A witness who is older than 18 is a requirement for a courthouse wedding, though certain places demand two witnesses.
What to expect on your big day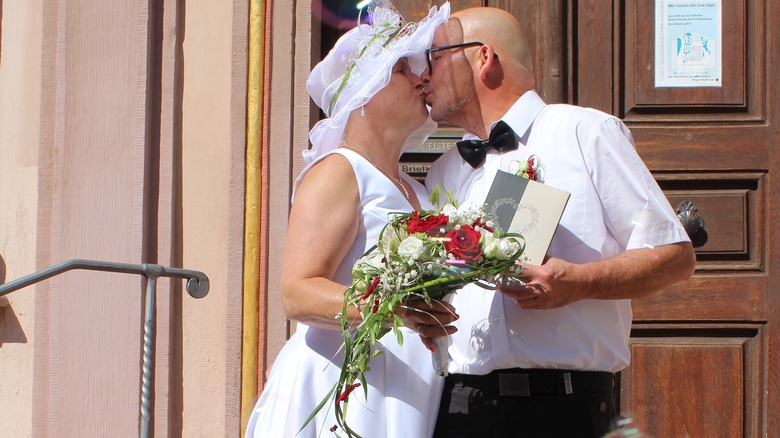 Heiko Krasa/Pexels
The cost of getting married at a courthouse or city hall varies from place to place. Blogger Miranda Schroeder paid $10 for her courthouse wedding. If you factor in other associated costs such as wedding outfits, rings, a post-ceremony reception, and transportation, the expenses will run up. Your wedding officiant will be provided at the venue. On your big day, you'll need to bring all the necessary paperwork when you head to the courthouse, including your marriage license, your IDs, and witnesses. If you want to recite your own vows, bring guests and floral arrangements, or hire your own photographer, you might want to double-check with the court for permission, Boundless advises.
For a muted, personal ceremony like a courthouse wedding, you can wear anything you want as long as you feel comfortable and delightful in it. A chic, smart-casual white dress will not hinder your mobility too much while adding a hint of formality to the event. A courthouse marital ceremony typically lasts from 15 to 20 minutes, and you are not the only couple getting married that day. To avoid raining on other couples' parades, be concise and don't overstay your welcome.
Ultimately, a courthouse wedding is an excellent alternative to a conventional lavish wedding. If you don't see the point in blowing a big chunk of your savings on a one-day event of love on display, choose a courthouse wedding.