Five Below's Reputation For Cheap And Unique Goods Keeps Its Foot Traffic Strong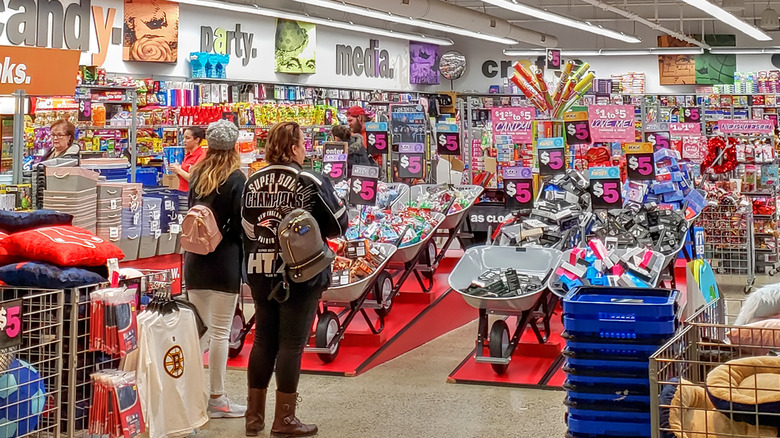 QualityHD/Shutterstock
Five Below is like a gold mine for people looking for fun items at low prices, and by low, we mean $5 or less, of course. After all, Five Below sells beauty items, arts and crafts, pet products, games, and clothing, so the famously affordable retailer offers something for everyone. Although it would seem impossible for a company that doesn't make more than five dollars per sale to succeed — or even make a profit — the retailer somehow manages to thrive while others struggle.
It's no secret that with the rise of online shopping becoming so prominent and the excitement of post-vaccine life wearing off, many stores aren't doing so well in pulling in customers. For instance, Target's foot traffic is hitting pandemic lows yet again, and high-end home decor stores are seeing sharp declines in foot traffic. But while some retailers are struggling, Five Below consistently manages to attract a lot of customers. According to data collected by SafeGraph, Five Below received 59,175 visits in the U.S. on a single day at the beginning of January 2018, then significantly more customers on one summer day in July 2018 with a foot traffic score of 109,669. Jumping to one day in mid-September of 2019, Five Below received even more customers with 143,447 visitors — and the retailer's success didn't stop there.
People generally like low prices, especially in a troubled economy
Of course, Five Below suffered low foot traffic scores during COVID-19-induced lockdowns, pulling in only 20,068 in-store shoppers at the end of March 2020. But that didn't stop the retailer from rebounding quickly. One day in mid-September 2021, Five Below brought in 175,606 customers — an even higher foot traffic score than in pre-pandemic times. Fast-forward to mid-September 2022  and the retailer received 150,813 visits, proving that the company is doing just as well as ever. So, how is Five Below pulling in so many people?
The answer isn't complicated: people like good deals, and who can think of a better deal than only having to pay $5 or less? We all know that there's a lot of darkness and unexpected events happening in the world, such as inflation, the COVID-19 pandemic, and Roe v. Wade being overturned. With everything happening, paying high prices for luxury goods isn't going to be a priority for most people. So, it only makes sense that people enjoy shopping at retailers with more affordable prices, like Five Below. For instance, a Five Below in New York, where people typically don't hold back their criticism or feedback, has mainly four and five-star reviews on Yelp. One happy reviewer wrote, "I love love 5 below. It has everything from phone chargers to make up to candy to work out essentials." With testimonials like this, it's likely that the company will continue to flourish, especially if the U.S. economy doesn't experience an upswing soon.