Here's Why High-End Home Decor Stores Have Seen A Sharp Decline In Foot Traffic Recently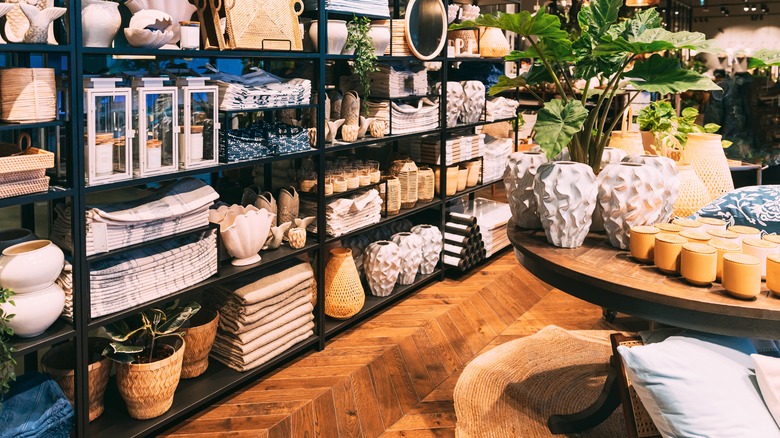 Grisha Bruev/Shutterstock
Naturally, like nearly everyone, we at Glam love shopping for stylish decorations that help add a little extra pizazz to our homes. One store that sells plenty of lovely home decor options is Crate & Barrel. The retailer offers a plethora of home items, including beautiful furniture, unique vases, and various rugs for all tastes and styles. And with 2.5 million followers and consistent posts on Instagram, Crate & Barrel seems successful on social media. Another high-end, decor-focused retailer is Pottery Barn, where you can buy many products for your home, including high-quality pillows, alluring wall art, and elaborate chandeliers. And Pottery Barn has an even more impressive Instagram following than Crate & Barrel, with the former having 3.5 million followers — one million more than the latter. 
Moreover, West Elm sells countless home-focused items ranging from chic outdoor sofas to cozy comforters for your bed to many mirrors for any room in your home. And like Crate and Barrel and Pottery Barn, West Elm has an impressive follower count with more than two million followers on Instagram. Between their wide variety of intriguing items and millions of Instagram followers, it would make sense to assume that these retailers would have no problem pulling in plenty of customers. But, believe it or not, that's not the case: Crate & Barrel, Pottery Barn, and West Elm haven't done so well with their in-store foot traffic recently.
Inflation and rising rent prices are making shopping stressful
According to data collected by SafeGraph, Crate & Barrel, Pottery Barn, and West Elm all had high foot traffic scores in December 2021. On a single day in mid-December 2021, Crate & Barrel, Pottery Barn, and West Elm pulled in 6,317, 11,617, and 3,778 customers, respectively. But when we jump to April 2022, we notice a significant decline in foot traffic in the U.S. for all three stores. On a single day in early April 2022, Crate & Barrel pulled in 3,911 shoppers, Pottery Barn received 6,958 customers, and West Elm had 3,582 shoppers. Then, several months later on one day in August 2022, the numbers were even lower at 2,254 for Crate & Barrel, 4,317 for Pottery Barn, and 2,680 for West Elm.
Although these stores offer excellent products, inflation prevents people from shopping for these items. Inflation has been affecting nearly everyone, including both everyday people and large companies. For instance, inflation is driving down Kohl's in-store foot traffic much lower than last year, causing less sales for the home goods and fashion retailer. Due to the rising prices of needs like food and gas, many people have less money to spend on wants. Plus, rent prices have generally been mega-expensive in 2022. For example, one can expect to pay around $5,000 per month for an apartment in Manhattan (via The Atlantic). So, as people struggle to pay such high rents, purchasing decor isn't a priority. A bare-bones place to sleep is better than no place to sleep but owning wall art. Of course, online shopping and ongoing COVID-19 concerns hinder in-person shopping, too. Together, all of these factors are plummeting retailer foot traffic numbers, and it will be interesting to see if they're able to rebound.