Here's What To Do If You And A Friend Have The Same Wedding Date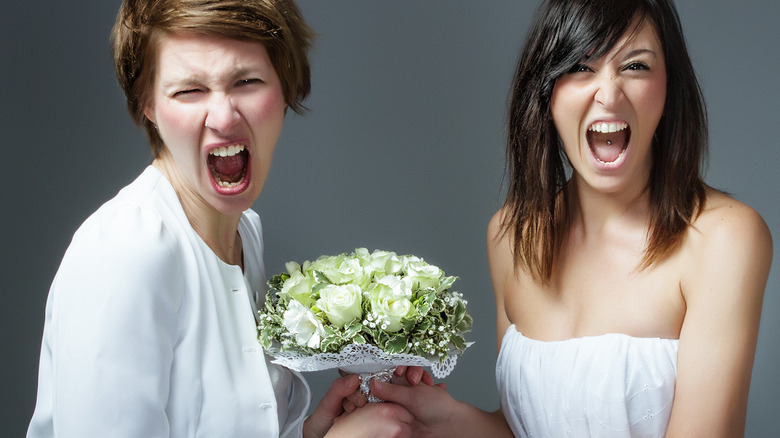 marcogarrincha/Shutterstock
Since you were little kids, you and your best friend have been planning your future weddings. You picked out your favorite bridal gown brands and wedding venues. Excited as you were about the idea of being dressed in a luxe, couture creation, you didn't forget to pinky swear to become each other's bridesmaid come hell or high water. 
Fast forward to the present day, both of you are engaged and planning to tie the knot with your respective partners. In an interesting twist of fate, a clerical error (or lack of communication) causes a clash in your wedding dates, forcing you both to exchange vows on the same day. So, will you reschedule your wedding for your friend? Or will you allow your lifelong friendship to be a casualty at the expense of your long-anticipated event?
The months between May and October are considered the height of wedding season, according to The Knot. When your wedding scheduling conflicts, many problems follow. Bridal shower clashes, guest double-booking, and sharing each other's thunder are bound to happen when there's a conflict in your wedding scheduling. Having the same wedding date as a friend is a difficult situation, but it is not insurmountable. Here are some pointers for throwing your perfect big day without losing a friend.
Communicate and clear things up with each other
fizkes/Shutterstock
Knowing you and your friend share a wedding date can trigger all sorts of negative emotions. Before reacting to the news or making major decisions, however, take a deep breath and process the information, etiquette expert Tetnika Marie Williamson explains to Brides. Your mind might conjure up a myriad of reasons for this less-than-ideal scenario, but try to see everything in a positive light and not be vindictive about it. Maybe there is an important family-related reason for the date or the couple overlooked the fact that you too wanted to reserve that same day. 
Instead of ignoring everything and letting resentment brew, discuss the issue with your pal with a cool attitude and receptive mind, Zola advises. A heart-to-heart chat gives you the chance to hear the other person out and clear up misunderstandings. Since a wedding date isn't official until the venue is booked, nicely ask your friend if her date is set in stone and if it isn't, whether she can change it. At the same time, check your schedules to see if you can alter your date. If none of you can move your wedding date, at least show some compassion and support by offering your congratulations and a wedding gift. In the grand scheme of things, a wedding is just a one-day event, while your friendship with the person has taken years to build.
Don't keep secrets or make RSVP a race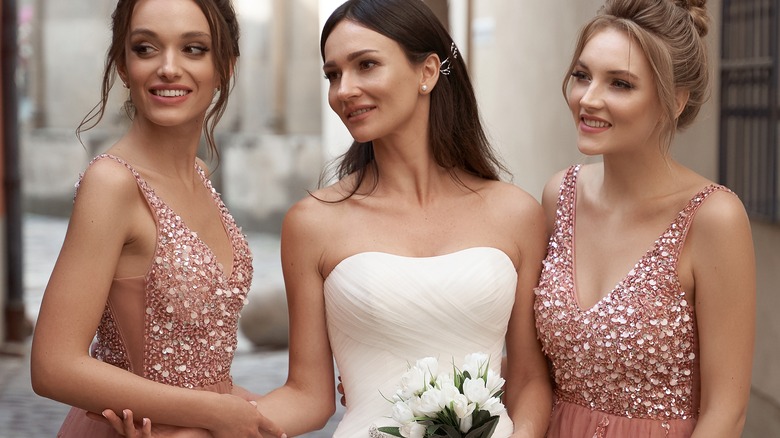 Oleksandr Berezko/Shutterstock
Getting married on the same day doesn't have to make you and your pal contenders for the day's finest brides. To prevent any competitiveness, Wedding Chicks recommends maintaining a close line of communication with your friend by telling her what you plan to wear or the couple's first dance song. You might offer to do some bridal activities with your friend, such as bridal gown shopping or bachelorette party planning, to show her that you still love her regardless of whether or not she will be your bridesmaid.
Another high-on-the-list hurdle to overcome is sending out wedding invites to your group of mutual friends. Typically, invitations go out six to eight weeks before the wedding to give you enough time to finalize your guest list and seating chart, per The Knot. During this time, avoid pressuring your mutual friends into taking sides. If you send out your save-the-dates early and potential guests RSVP to your date first, then that's fine. But if they don't, understand their dilemma and give them the freedom to choose.
When arranging a wedding, you don't want to choose a date that conflicts with your loved ones' significant life events. However, twists of fate happen, but it doesn't have to prevent you from celebrating your special day to the fullest. In this situation, the best thing you can do is enjoy your own special day while remembering to show support for your friend.