What Does Fauci-Ing Mean In The Dating World?
Drew Angerer/Getty Images
One of the most cited journalists in scientific journals, Dr. Anthony Fauci became a household name in the U.S. in recent years due to the global outbreak of Covid-19. In 2020, TIME named Dr. Fauci among the world's 100 most influential people. Throughout his illustrious career that has spanned over five decades, Fauci has been in charge of a vast portfolio of research to prevent and treat infectious diseases such as HIV/AIDS, Ebola, Zika, and Covid-19. He's also the recipient of the 2008 Presidential Medal of Freedom, the highest civilian award in the United States, for his contributions to the AIDS relief program PEPFAR.
Dr. Fauci is no strange name in the American public health sector. But unbeknownst to many, the scientist has also made a name for himself in the dating world. Yup! The College of the Holy Cross isn't the only place that names its science center after its famous alumni Dr. Fauci. Turns out, "Fauci-ing" is a legit dating slang. Per New York Post, "Fauci-ing" is believed to have been coined by the dating app Plenty of Fish, which featured the term on its annual list of dating trends to watch out for in 2021. Although it was born during the pandemic, this trend is not uncommon, at least in parts of the world where rigorous measures are still in place. Here's how to tell if you've been "Fauci'd."
Dr. Anthony Fauci weighed in on Fauci-ing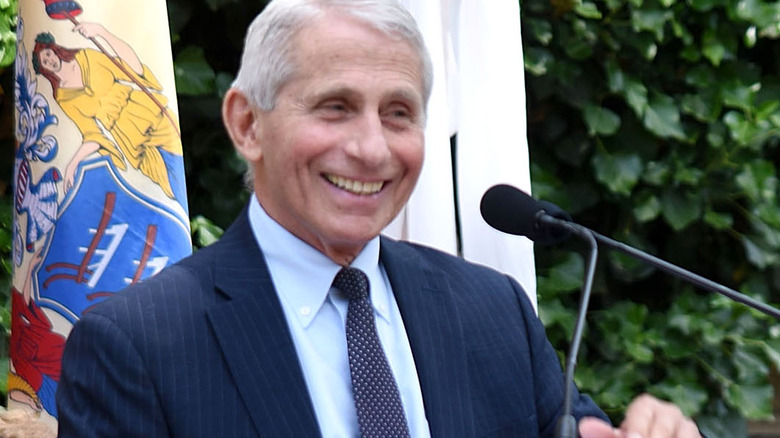 Bobby Bank/Getty Images
According to Dictionary, you "Fauci" someone when you turn them down or end a relationship with them because they don't take the pandemic or safety measures, like social distancing, as seriously as you do. For instance, you can tell your friend, "I Fauci'd that guy," when your dating prospect refuses to wear masks when going out with you. Refusing to get vaccinated can also be grounds for Fauci-ing. When the term was initially released, it was immediately all the rage with netizens. In February 2021, Axios, a U.S. news website, reached out to Dr. Fauci for his opinion on the term "Fauci-ing." He was caught by surprise at first but laughed out loud after hearing the explanation. Perhaps finding it hilarious, President Joe Biden's chief medical advisor even strung a sentence with his newly learned vocabulary, "I'm gonna Fauci you."
He also mentioned in his interview with "Axios on HBO" that he sympathized with couples who had to spend Valentine's Day under the restrictive circumstances brought on by the pandemic. "It would be really frustrating to essentially semi-isolate yourself at a time when you're trying to explore social interactions with people," said Dr. Fauci said, acknowledging that being cooped up at home on such a celebration-worthy day of love could result in stress and even depression.
The pandemic divides many couples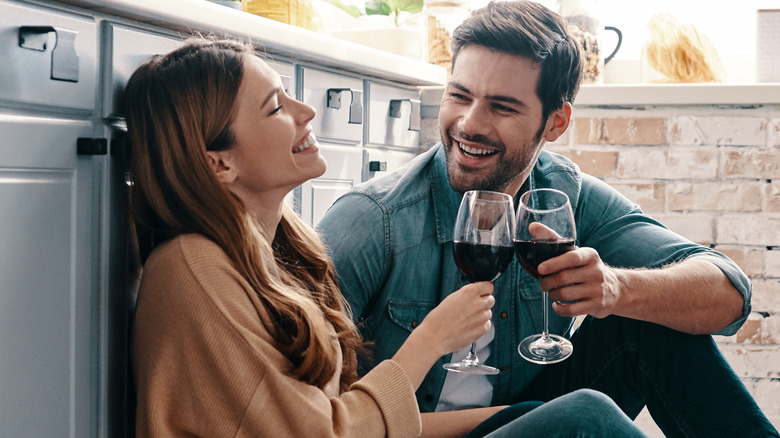 G-Stock Studio/Shutterstock
Dating itself has always been difficult, but the pandemic adds enormously to the challenge. According to a Pew Research Center survey conducted in February of 2022, six out of 10 unmarried adults, or 59% of those surveyed, claimed they are neither more nor less interested in seeking a steady relationship now than they were before the pandemic started. Some admitted that the pandemic has made them more interested in starting a long-term relationship, while others said it has reduced their desire to pursue a committed relationship. Meanwhile, 41% of the interviewees said they wouldn't consider dating someone who wasn't vaccinated.
The profound shock from the pandemic and the restrictive measures surrounding it has also strained many married couples' relationships. According to a Pandemic Parenting Study that polled moms in Indiana, 40% of respondents reported having increased frustrations with their partners — and their problems all revolved around pandemic matters. In certain parts of the U.S. as well as the world, many women are finding themselves fighting not only the pandemic but also their battles at home. Disagreements over preventive measures, vaccination, work-from-home arrangements, and economic downturn have pushed many relationships to breaking points. For this reason, breakups and divorces were on the rise during the pandemic. However, numerous couples acknowledged that the lockdown helped them reconnect with one another, rekindle their romance, and fortify their devotion to their relationships.