Why You Should Skip That Peel-Off Face Mask In Your Beauty Drawer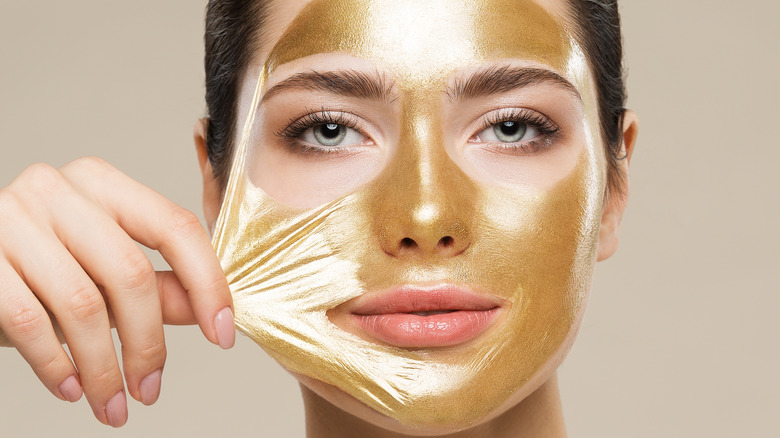 Inara Prusakova/Shutterstock
The world of beauty treatments is forever filled with fads, crazes, and buzzwords. Many trends and hacks come and go, but some stay for the long haul. Among them are peel-off masks, a type of exfoliating facial treatment that's been enjoying popularity for years.
Affordable and easy to use, peel-off masks allow people to enjoy a speedy exfoliation treatment right at home. According to Anthem, they work by clearing dead skin cells and impurities from the outermost layers of your skin to pave the way for a fresh layer of living cells, a more supple skin texture, and a more toned complexion. They are also packed with vitamins, antioxidants, and minerals, giving your skin a soothing and pampering feel.
Now that you know where peel-off masks get their popularity from, it's time to dive into the reasons why you should give them a boot from your daily skincare routine. Comparing the peeling of a mask to waxing the face, dermatologist Dr. Rachel Nazarian told Well+Good that a peel-off mask, for those with delicate or sensitive skin, "can cause more damage than it's worth." Here's why.
Why peel-off masks are not good for you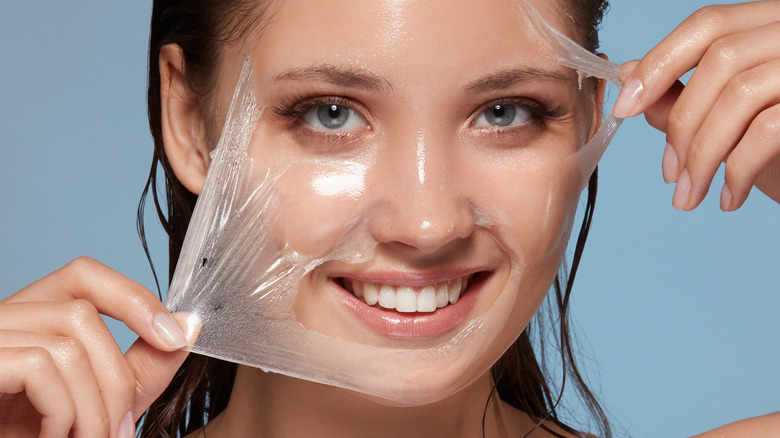 Veles Studio/Shutterstock
Peel-off masks might have gathered a cult following, but their large fan bases rarely include dermatologists. Albeit "fun" and "photo-worthy" to experiment with, the peel-off aspect of these masks is not at all impressive to skincare professionals, esthetician Evie Reyna told Insider. According to Reyna, repeatedly pulling your skin to remove the mask can rob it of its elasticity, resulting in saggy or loose skin. Those with sensitive skin or predisposing conditions such as acne, eczema, and rosacea, might even experience an irritating sensation after using peel-off masks.
Dermatologist Dr. Devika Icecreamwala told The Zoe Report that the peeling motion can "disrupt the skin barrier and lead to a lot of irritation." This barrier, also known as the stratum corneum, is your skin's first line of defense against pollution damage, inflammatory conditions, acne-causing bacteria, and aging. As crucial as it is, the skin barrier is thin enough to be destroyed easily.
Plus, according to dermatologist Dr. Naissan Wesley, ingredients in pull-off masks can barely penetrate the pores like they claim to, so they really offer you no benefit (via The Zoe Report). When it comes to using face masks to slough away dead skin cells and pollutants, it's better to use those that you can wash off.
Masks that are beneficial for your skin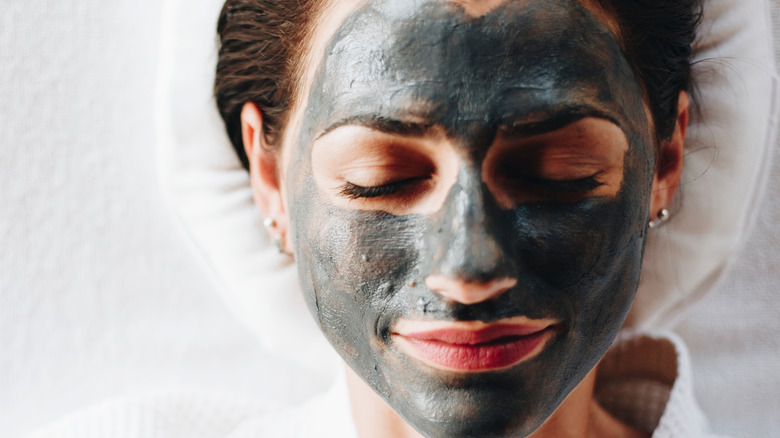 Rawpixel.com/Shutterstock
If you have dry and sensitive skin, you might want to give skin barrier-strengthening hydrating masks a shot. The effectiveness of hydrating masks lies in their ability to "replenish the skin with moisture that was lost through time," esthetician Samantha Mims told Vogue. A sleep mask is also an example of a hydrating mask, which you can leave on throughout the night to let nourishing ingredients get absorbed into your skin. For those with oily, acne-prone skin, charcoal face masks can give you massive benefits. Charcoal masks dry up excess sebum, pull dirt and makeup residue from pores, and reduce inflammation, dermatologist Dr. David Kim told Allure. 
No matter your skin type, as a general guideline when selecting any mask, avoid masks that include irritants such as alcohol, mint, menthol, eucalyptus, camphor, and perfumes (via Paula's Choice Skincare).
Despite the oddly pleasurable, ASMR-like sensation of removing peel-off face masks, they are not your skin's best friend. If you choose to continue to use peel-off masks, make sure to choose those that contain lower concentrations of polyvinyl alcohol, and limit the use of them to once every two weeks to avoid irritating your skin.