The Mistake Everyone Makes When Using Olaplex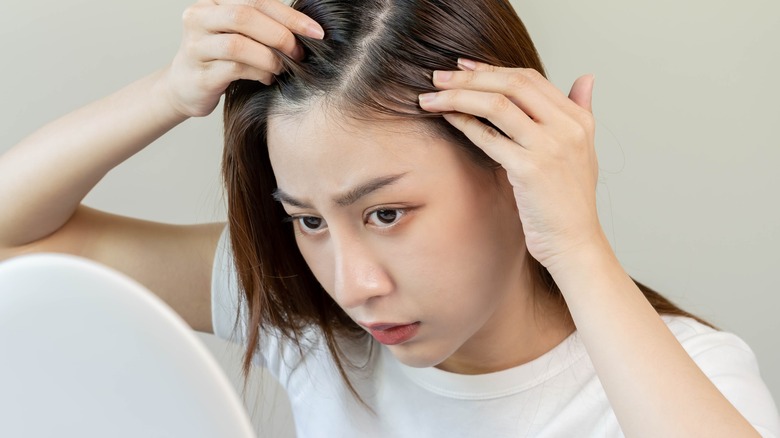 Kmpzzz/Shutterstock
We may receive a commission on purchases made from links.
If you've colored your mane or styled it using chemicals, you've exposed your hair to damage, making it more vulnerable to breakage. Therefore, proper hair care routines are essential for the health of your hair. And when it comes to restoring damaged hair to perfection, the treatment that every hair care fan — from celebrities to hair professionals — can't stop raving about is Olaplex. If you're unfamiliar with Olaplex, it's the treatment that, as celebrity colorist Priscilla Valles tells Glamour, empowers Kylie Jenner to go from having black hair to platinum overnight without losing any hair or the slightest bit of its elasticity despite such a major bleach.
So, what is Olaplex? Fundamentally, Olaplex, per the brand's website, is a bond-building technology that rebuilds broken hair bonds and strengthens your hair from the inside out. The Olaplex system consists of different cruelty-free products for your hair wash and moisturizing routine, from shampoo to conditioner to hair serum. Some formulas are designed to be used in the salon, while others, like Olaplex No.3, are convenient for weekly at-home applications. Traditionally, the cult-favorite "hair perfector" Olaplex No.3 has been strictly recommended to be applied to damp hair before washing. While many product reviewers have praised the benefits of this product, it looks like we could have gotten more from it — if we use it right. Turns out, there's a mistake that we all make when applying Olaplex, and here's how you can avoid it for your next use.
Olaplex works better on cleansed hair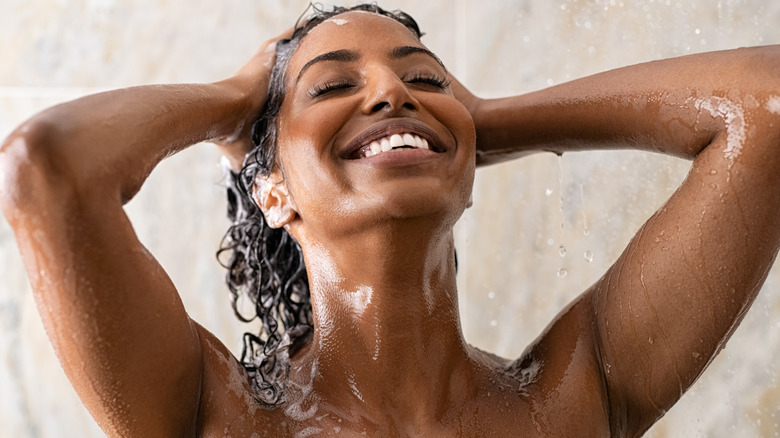 Rido/Shutterstock
Olaplex No.3 has long been known as a pre-wash treatment that contains bis-aminopropyl diglycol dimaleate, a bond multiplier that aids in rebuilding damaged strands. The ph-balanced mixture must be applied to towel-dried hair before shampooing, according to the bottle's directions. However, in 2021, beauty content creator Abbey Yung took to TikTok to disclose the reason why "Olaplex is not working for you." In her video, she explained that Olaplex No.3 can't effectively bore through dirty hair. For Olaplex to work, you need to shampoo and rinse your hair until it's squeaky clean first. Then, work Olaplex into your hair and leave it in for at least 10 minutes before rinsing, shampooing, and conditioning as instructed. Remember that the longer you leave Olaplex No.3 on your hair, the better results you'll see.
Backing up this statement, colorist Lloyd Court, color director of Seanhanna Salons, tells Cosmopolitan that your hair should be free from product build-ups like styling gel or dry shampoo before it should be treated with anything. If your cuticle is loaded with other hair products, it's impossible for any other treatments to penetrate the hair and give it desired outcomes, he says. For those with damaged hair, you can use the product two to three times per week in tandem with other hair moisturizing treatments. Olaplex might be the last word in hair repair treatment, but you won't get extra mileage out of it if it can't penetrate your hair.
Other Olaplex products explained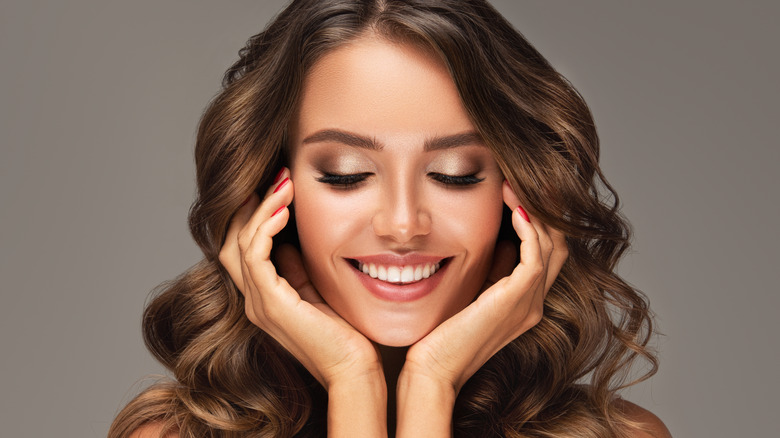 Sofia Zhuravetc/Shutterstock
The Olaplex system has a total of nine products. You can purchase the products separately, or you can buy a kit for better prices. A typical Olaplex package usually comes with four products, including No.3, No.4, No.5, and No.6 for comprehensive at-home hair treatment. A non-drying clarifying shampoo with deep cleansing power, Olaplex No.4 rids your hair of pollutants and hard water and restores vibrancy to it. The Olaplex shampoo has received an average of 3.8 out of five stars from about 1,800 reviews on Sephora's website. Meanwhile, the Olaplex No.5, a frizz-taming hair conditioner, has had an average of 4.1 out of five stars from over one thousand reviews. Olaplex No.6, a leave-in styling treatment, is said to soften your hair, speed up blow-dry time, and have up to 72 hours of frizz control.
Those with chemically colored or compromised hair can definitely benefit from Olaplex No. 8, a hydrating hair mask that adds moisture, texture, and shine to all hair types, per Sally Beauty. Recommended to be used one to two times per week, the Olaplex hair mask also helps to absorb excess oil and preserve your hair color. If you regularly expose your hair to heat styling, add the Olaplex No.9 hair serum to your post-shampoo routine. It shelters your hair from pollutants and guarantees direct heat protection. Depending on your needs, you can use Olaplex products in conjunction for more consistent and faster results.