Channel Your Inner Bratz Doll With This Lipstick Look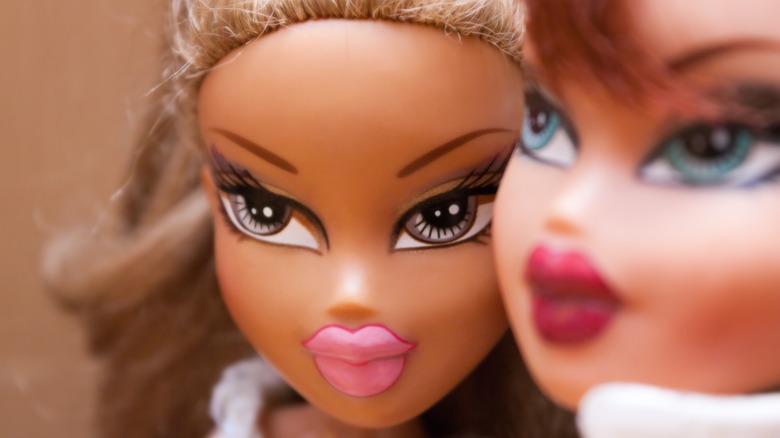 Lena Lir/Shutterstock
As Y2K styles come back, many people are reminiscing on the things they used to love in that era. In comes the revival of the iconic Bratz, who displayed bold makeup and outfits beloved by many. In their recent comeback, they have collaborated with brands like Puma, Cult Gaia, and Dolls Kill. These dolls display a diversity in skin tones, hair colors, hairstyles, and makeup styles. Now, those who grew up loving the dolls and their traits can fully embrace them and try it for themselves. "The fans have grown up and are now doing the things they dreamt of doing through the dolls," Bratz creative director and Cult Gaia founder Jasmin Larian tells WWD. "[Bratz] reinforced imagination and passion for fashion, creativity, going against the grain, being out of the box — almost like renegades. It was the voice of a generation that now can act on who they are and be in the world based on what the Bratz dolls inspired them to be."
If you're a Bratz fan, you have probably dreamt about looking like one as you admired their impeccable fashion and makeup looks. Today, one lipstick trick can help you get one step closer. This lip hack will give you amazing Bratz-style lips, also known as winged lips. The best part is that it can be pretty easy to achieve.
Outline your lips
The trick to achieving a Bratz lipstick look is in the overlining of your lips. In fact, this technique has been around since the '90s and grew in popularity when Kylie Jenner's lips became a hot topic. Using this same technique is key to looking like you have Bratz lips. To try it for yourself, begin by picking your method of outlining your lips. Some users use eyeliners, lip liners, and sometimes eyeshadows. Once you're ready to start outlining, you'll want to begin by focusing on your lips' cupid bow and the corners of your mouth because they play a vital role in this method (via Glamour).
In a TikTok video, beauty influencer Hayley Bui shows her followers how to outline using only eyeshadows to create this look. In it, she takes a flat-tip makeup brush using black eyeshadow and begins by creating a small line in the middle of each of her lip's corners. Do this similarly to how you would do winged eyeliner on your eyes. From there, she proceeds to outline her lips, overlining just a little bit past the edge of her lips, connected to that line in the corners. Curves, especially in your Cupid's bow, are important to emphasize when doing so.
Another beauty influencer, Ava Solorio, shows in a TikTok video how she outlines first with a lip liner that matches her natural lip color. She follows it by using a dark brown eyeshadow for the thicker outline and shading. Her technique, however, creates a more emphasized wing by outlining past the corners of her lips creating a more dramatic pointed corner, or wing, on each side. This style creates a curve similar to that of a smile. When outlining, it's important to create a shaded look to give it dimension separate from how you will be filling the rest of your lips in.
Fill in with color
Once you've created your outline, overlined or not, it's time to decide how you want to fill your lips in. Now that you've got a bold edge and shading on your lips, applying the rest of the color should be easy. In beauty influencer Hayley Bui's TikTok video tutorial, she continues to use eyeshadow for the color fill-in. She picks something different than the color she used for the outline. For example, she outlined her lips with the color black and filled in the rest with a maroon color. This allows the outline and its shading to stand out, contrasting the colors from one another.
When doing this step, you can choose to fill in with eyeshadow, softer lip liners, or lipstick. It's still important, however, that you make sure you are blending it in with the shading you worked on during the outline process. Additionally, it will work better if the outline and the lipstick are two different colors so that there is a distinct color-blocking effect. Finally, for that famous Bratz shine, top it all off with a lip gloss (via Huda Beauty).