Should You Use Vaseline To Curl Your Eyelashes?
Vaseline is, hands down, the original moisturizing cream. Developed in the 1860s by chemist Robert Augustus Chesebrough, the slick and affordable Vaseline quickly gained popularity as a topical treatment that can supply decent moisture to almost any part of the body, per Unilever USA. The main ingredient of Vaseline is petroleum jelly, which Parrafin Wax explains contains microcrystalline wax and minerals that are able to bundle your skin with a water-resistant barrier to prevent water loss. That's why, in many parts of the world, you'll find people of all ages swearing by dabbing Vaseline all over their faces and their feet before snoozing. Vaseline might have been sitting in your medicine cabinet for generations, but are you familiar with all of its benefits?
Advertisement
Turns out, this skincare powerhouse is more than just a first line of treatment for cracked lips or peeling heels. If you've been on TikTok recently, you'll stumble upon many tutorials demonstrating how Vaseline can give you a lash lift in a flash. This trick involves lubricating your eyelash curler with Vaseline before using it to curl your lashes for 10 seconds. The moment you release the curler, you'll notice fuller, longer lashes. Needless to say, this cost-saving hack is all the rage with beauty fans. So, is this beauty hack legit? If it is, is it safe? Here are some insights from experts.
It can truly give your lashes a lifted effect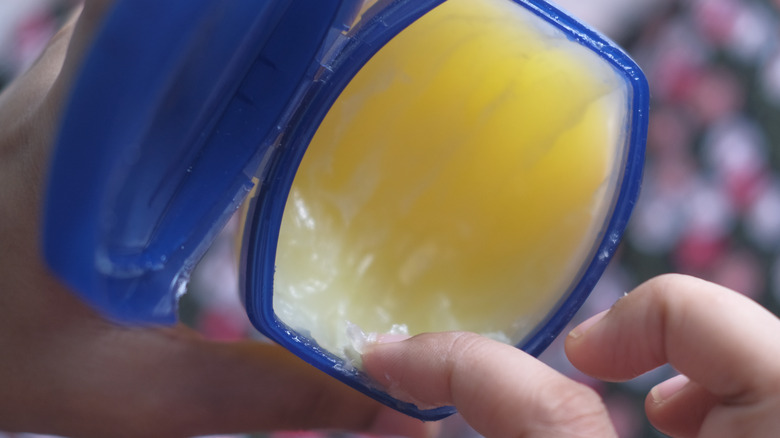 Towfiqu ahamed barbhuiya/Shutterstock
In her TikTok video, dermatologist Dr. Azadeh Shirazia agrees that the curling hack works. Due to its moisture-locking properties, Vaseline is able to keep the curled hair bonds in place and thus offer the lashes a lifted effect. She also notes that the product is safe to use around the eyes and the verdict she gives for the hack is 10 out of 10.
Advertisement
Echoing this sentiment, dermatologist Dr. Michele Green tells BuzzFeed that Vaseline generates a film atop the lashes and locks in moisture. Not only does this help condition the lashes and prevent them from breaking off easily, but it also makes the lashes appear more voluminous and longer for a short period of time. Besides, since Vaseline is non-comedogenic and doesn't block pores, it can be applied sparingly on the eyelids, eyelashes, and other parts of the body, she says. If you use this hack correctly, you won't even need the help of mascara to achieve thick and defining lashes. In case you're a strong believer in the staying power of mascara, you can also use Vaseline as a lash primer.
Advertisement
Potential side effects of the curling trick
While the lash-boosting power of Vaseline has been tested and approved by experts, its safety remains a cause of contention among other dermatologists. "The danger with using Vaseline too close to the eyes is that it can blur the vision if it gets into the eyes and can also cause irritation," ophthalmologist Dr. Ashley Brissette tells Shape. Dermatologist Dr. Robert Finney also advises against coating eyelashes with Vaseline, citing the possible emergence of "styes on their eyelids [which] are caused by blockages in the glands and ducts at the lash line" as a result. Leaving Vaseline on the lashes and eyelids can trap dead skin cells and keratin, resulting in milia, a non-threatening skin disorder characterized by small white cysts around the eyes. Meanwhile, Medical News Today also notes that Vaseline can prevent certain formulas from penetrating the eye or the eyelid. Therefore, people who use prescription eye droplets or eyelid creams should apply those before daubing the eye area with Vaseline. 
Advertisement
Wrapping up, Vaseline is able to keep your lashes curled and voluminous for as long as a coat of regular mascara. Unlike mascara, though, Vaseline is simpler to remove using a cotton pad soaked with makeup remover or warm water. Petroleum jelly is safe when used appropriately, although it does pose certain hazards, as do many skin treatments.