What To Know About The Comeback Of The Arm Cuff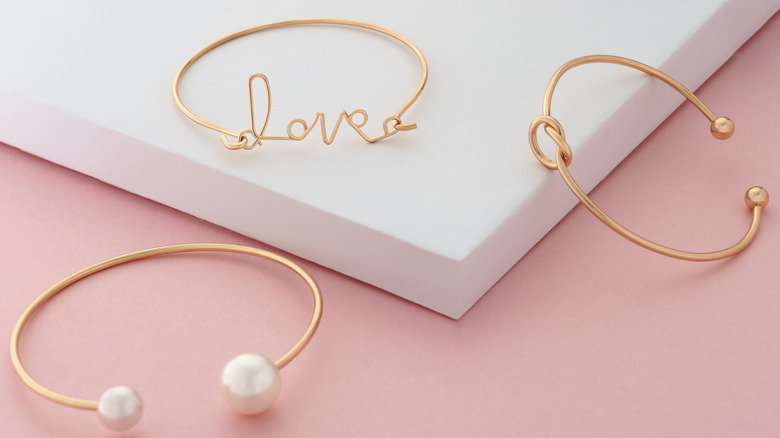 Ayman alakhras/Shutterstock
The comeback of the Y2K style is a trend that keeps on giving. From low-rise jeans to platform heels, Y2K has something for everyone, from head to toe. If you are interested in achieving this look, it doesn't mean you have to do a complete 180 in your closet or your personal style. In fact, there are a variety of garments and accessories that can work with just about anything. Take, for example, the arm cuff. It's a simple single accessory that beautifully decorates your arm, specifically the bicep area. As it grows in popularity, this piece can be styled in so many different ways because it comes in a variety of forms.
Advertisement
The arm cuff, also known as an armlet, actually dates back to ancient history. It was an accessory often seen in Mesopotamian Sumerian civilizations, ancient Greeks and Romans, ancient Egypt, Vikings, Asian cultures, and Indigenous cultures (via Gem Select).
Arm cuff empowerment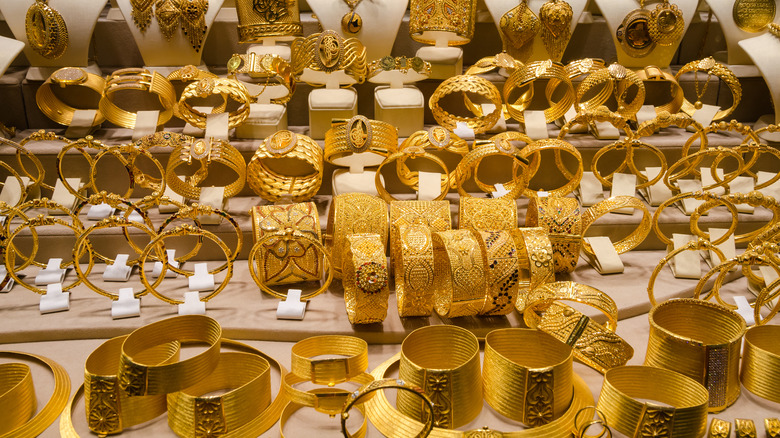 Olena Znak/Shutterstock
Arm cuffs in ancient history were often made from shells, ivory, or bronze. More powerful arm cuffs were made with more luxurious materials such as gold or gemstones (via Gem Select). Like other jewelry in history, the arm cuff was very symbolic for the people wearing it. Its symbolism varied by culture, but it was often a representation of empowerment. For Mayans, the arm cuff was a staple for royal attire as it was used to represent ranking and social class. Arm cuffs also became a part of battle armor for Ancient Greeks and Romans, doubling in style and protection. In China, arm cuffs were used as protection against evil and bad luck (via Luriya).
Advertisement
In particular, arm cuffs quickly became a symbol of women's empowerment, especially as seen in pop culture inspired by its history. "Black Panther" costume designer Ruth E. Carter took inspiration from the Turkana and Maasai cultures of Kenya, incorporating arm cuffs by designer Douriean Fletcher into the costumes. In "Wonder Woman 1984," we also see Wonder Woman harnessing the power of the arm cuff in and outside of her superhero costume (via Town & Country). In Ancient Egypt, Queens Cleopatra and Nefertiti were always known to be wearing thick gold cuffs. "Cuffs are an unapologetic style statement," Nico Landrigan, president of Verdura, tells Town & Country. "I see them as a wink and nod to what has come before. They're the iconography of female power."
Advertisement
Back in style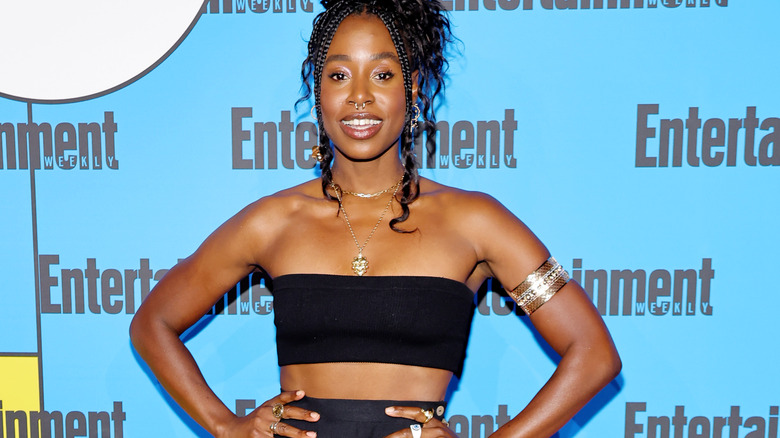 Amy Sussman/Getty Images
According to Luriya, arm cuffs are something that can be dressed up for a more elegant look or dressed down for something more casual. It is a fashion accessory that allows for flexibility in just about any style. You can wear them by stacking multiple cuffs in one look or by opting for a single cuff. It would pair perfectly with just about any outfit in the summer, especially with shorter sleeves that would show off the arm cuff.
Advertisement
Prada, Tory Burch, Fendi, and Raf Simons are just some of the brands that have had a part in bringing this trend back, as seen in their Spring 2022 shows. Their arm cuff designs can be seen in the style of silver spirals, rhinestone swirls, or even in the form of a thick belt buckle armband (via Vogue). The wonderful thing about arm cuffs is that they can come in a wide variety of styles and sizes, so there is something for everyone to try.