The Unexpected Metal That Fall Jewelry Is Revolving Around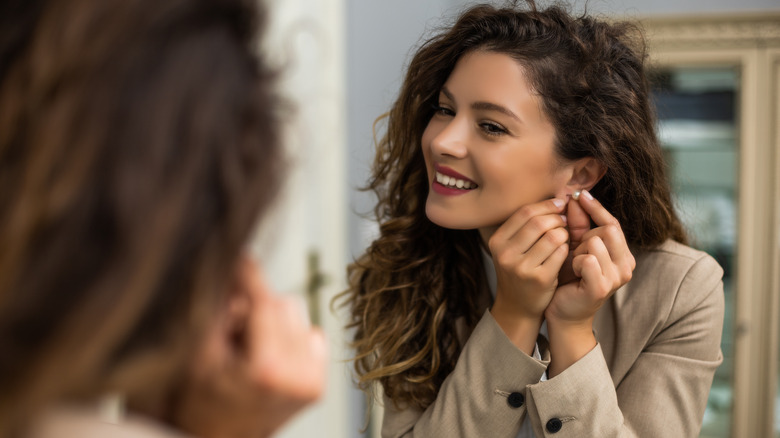 InesBazdar/Shutterstock
Trends from the '90s and early aughts have been back for a couple of years now, and according to Current Boutique, they're right on time. It typically takes a couple of decades for fashion trends to make their way through the first five stages of trending (introduction, increase in trendiness, peak popularity, decline in popularity, and obsolescence) before reaching the sixth stage: reintroduction. If you're 35 or older, the re-emergence of 1990s fashion was probably your first experience with the nostalgic reimagining of trends you took part in during your teenage years.
Good news: the reintroduction phase of '90s and early aughts styles doesn't appear to be going anywhere any time soon. After bringing back much-missed gems like flared jeans (via Startup Fashion), scrunchies, flannels, and slip dresses, this fashion cycle has another gift to give. This time it will be worn around your neck, wrist, or finger. Here's what you need to know about the latest metal to make a reappearance in the world of trendy jewelry.
Hello, silver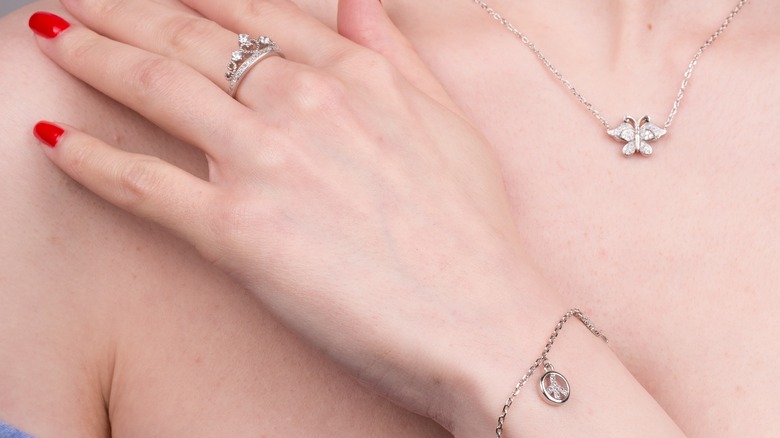 creator999/Shutterstock
Folks with cool-toned skin, rejoice. Silver jewelry is back, with L'Officiel calling it "timeless." Like most reintroduced trends, it's a bit more forgiving this time. There's no need to pack your gold pieces away into storage; you can simply mix them in. The latest iteration of silver jewelry includes the edginess of mixed metals and the uniqueness of mixing together minimalist and maximalist pieces. Keep your eye out for interesting shapes rather than focusing on a particular color or finish. If in doubt, default to iconic classics of the era, like Tiffany's Heart Tag Charm Bracelet.
Handmade sculptural shapes are very much in, which take on an ultra-modern appeal in silver. The desaturated hue of this metal is less likely to clash with the bright colors, bold patterns, and layering that has emerged with the trend of post-pandemic dopamine dressing. According to Self, dressing for the feel-good neurotransmitter humans crave often includes throwing caution to the wind and embracing the colors you've been too afraid to wear for most of your life. Silver jewelry is the perfect accessory to support such a transformation, especially this fall, which itself is a transitory period.
How to pull off silver jewelry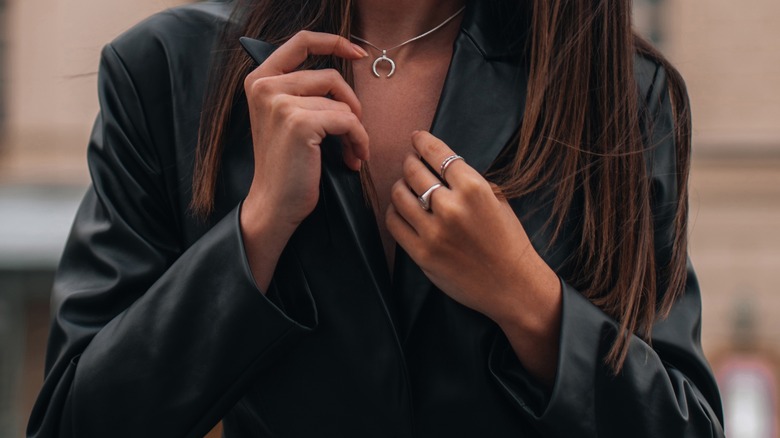 Xeniia X/Shutterstock
Interested in swapping your favorite classic yellow gold jewelry pieces with cool vintage-inspired silver ones? Consider going straight to the source rather than paying top dollar for a whole collection of reimagined old classics. Search for a few foundation pieces at vintage, antique, or thrift stores like Poshmark, ThredUp, or Goodwill. Then, invest in a couple of new statement pieces that feature unique shapes or stone combinations you just can't find anywhere else.
If you're looking for an edgy or chic look, pair your silver jewelry with a monochrome black style (via Roma Designer Jewelry). Pay your respects to the goth looks of the past with a black slip dress and combat boots paired with a mixture of chunky silver chains and charms. Or, rock a sleek black turtle neck or sweater with black leather leggings and thin, delicate minimalist silver or mixed metal chains and hoops to add a bit of refinement. If embracing color is your goal, consider focusing on one killer silver statement piece, like a chunky necklace, and keeping the rest of your jewelry simple and understated. Generally, though, remember that darker colors, like dark blues, are best when working with silver jewelry. Plus, these colors are perfect for fall, too, when dark fashion reigns, so this is a natural match made in heaven.