The Trendy Bag Shape That Solidifies The Y2K Renaissance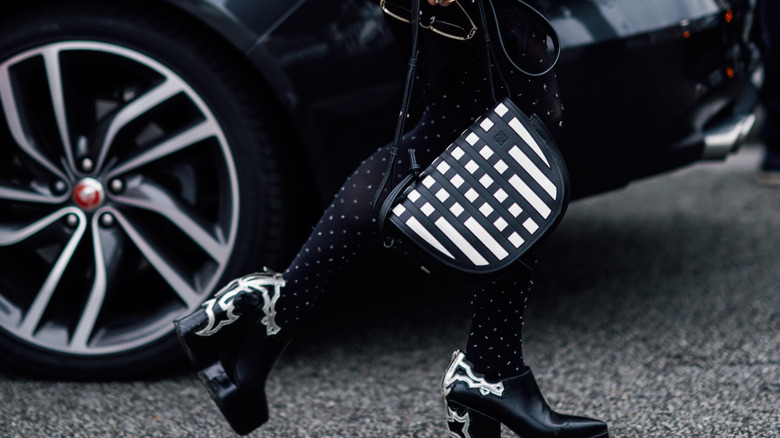 Edward Berthelot/Getty Images
All year we have heard about the multiple ways the Y2K style trend has transcended the fashion industry. From the shoes to the hair accessories, it's safe to say no aspect has been left untouched by the Y2K revival. Included in this list are our handbags. Ever since Fendi's baguette bag became the hottest bag on the internet, it's difficult to see any other type of bag. Part of the reason why Y2K era bags are making a comeback is that they're reworked to fit into a new time. These classic styles have been upgraded in different colors and materials to accommodate the modern woman. One of the ways they are remixed is in new designs and shapes.
Valerie Blaise, the founder of Vavvoune, tells TZR all about the shift toward interesting new shapes and designs, ​​"That's pretty much a forever trend because people love new shapes and silhouettes on anything." Blaise highlights how even though we are reaching for vintage designs, we still want something a little extra from them. Thankfully, there's one vintage design starting to make waves to replace the baguette bag as the "it" bag of the season.
Everything you need to know about the crescent bag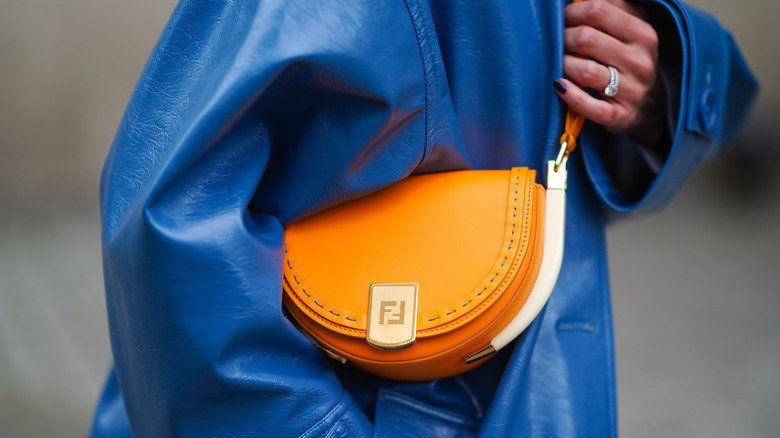 Edward Berthelot/Getty Images
The crescent bag, also known as the crescent moon or moon bag, has all the makings of the newest 'must-have' bag of the season. Not only is the moon bag practical for holding all your stuff, but it's perfect no matter what your style is. Because of the clean lines, it is the best accessory for a minimalist who wants something simple but striking. As well, if you want something a little more statement, different variations mix multiple materials, giving you a head-turner.
Neha Singh, the founder of the brand Cord, tells Vogue India, "Functionality comes wrapped in the spirit of nostalgia with this shape. We launched the crescent-shaped 'Shell Bag' bag at the beginning of the year. Thanks to its timeless shape, this handcrafted leather bag has made its way to the list of customers' [favorites] in no time."
Although the crescent moon bag is a favorite for its polished and clean lines, it doesn't mean you can't have fun with it either. Street style stars like Hailey Bieber have recently shown how a moon bag can be more flexible and reminiscent of a hobo bag if you wanted something more casual and less dressed up.
The must have crescent moon bags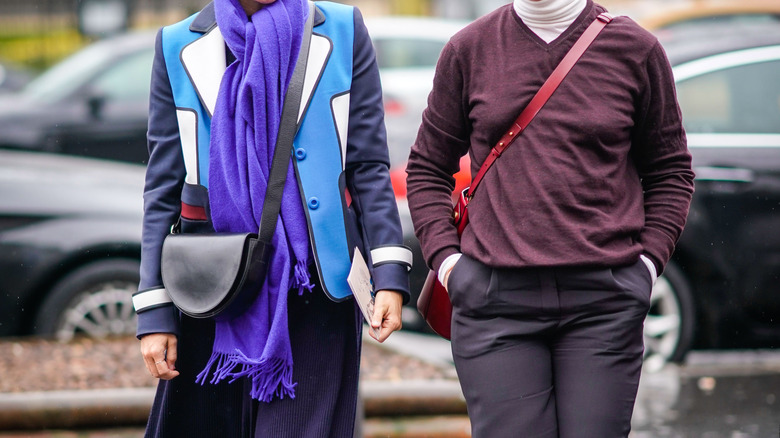 Edward Berthelot/Getty Images
Just like all trends, you need to find the best version that fits you. The good news is that since moon bags are becoming more popular, there are many more options, no matter what style you have. If you want to go for something that is minimal and classic, the STAUD saddle moon bag is largely considered the first mainstream moon bag of its revival. Having been released back in 2019, the STAUD moon bag has become a staple of different celebrities like Sophie Turner, who can be seen wearing it non-stop.
If you're a fanatic of designer revivals, then you would need to take a look at Gucci's Ophidia GG mini bag. This classic revival, released only in 2022, is a new version of the moon bag that takes a luxury brand into modern times. With monograms throughout, the Gucci moon bag is filled with '90s trends that undoubtedly will last you for years to come.