What Exactly Is A Matron Of Honor?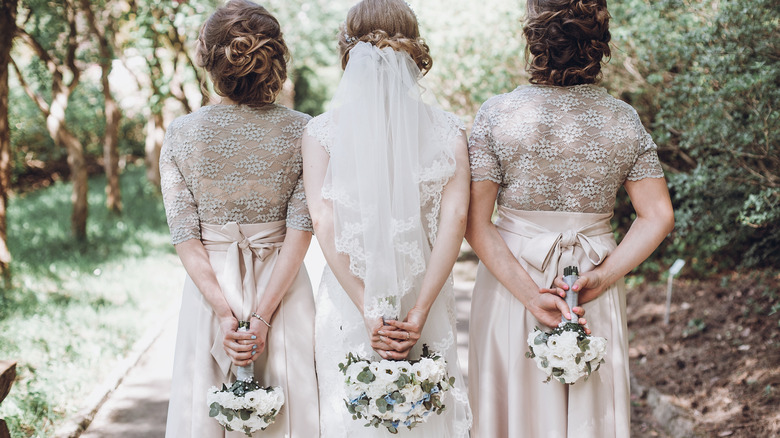 Bogdan Sonjachnyj/Shutterstock
If you are getting married, or watching your close friend plan a wedding, this is probably one of the most exciting moments of your life. It's a fun process planning out your color scheme, theme, venue, photographer, videographer, and more, oh my! While it is a busy time, it should still be a meaningful one. It further becomes a sentimental moment as you start thinking about who exactly will be in the wedding party. These are the people who will be your core support group during this special, and sometimes stressful, time.
It's important to pick out a wedding party you can trust to be this support for you and your partner, per The Knot. Certain roles, like maid of honor, carry more responsibility than others. Luckily, wedding rules these days are becoming less strict, and you can have anyone, or multiple people, fill those important roles. The term "matron of honor" describes someone whose role may function very similarly to that of a maid of honor, but they differ in small ways that can have an impact on your special day.
Maid of honor vs. matron of honor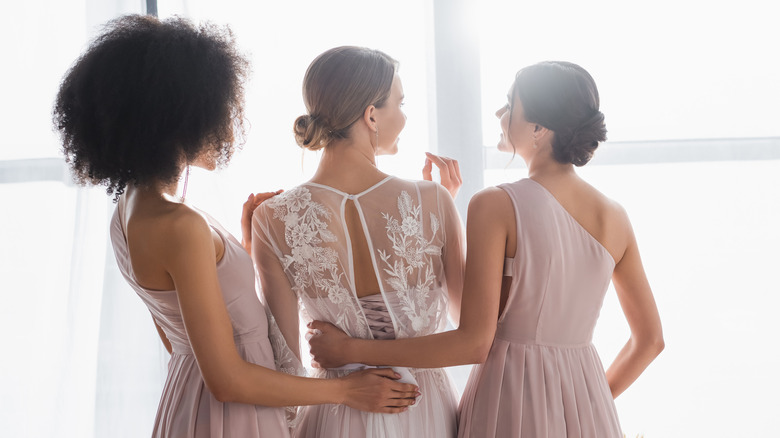 LightField Studios/Shutterstock
A maid of honor's responsibility is to be the right-hand person to the bride. This person often plans the bachelorette party, the bridal shower, and the speeches, helps with any dress issues, and leads the rest of the wedding party on the big day. Essentially, they are extra helping hands to minimize as much stress or chaos as possible. "The most important thing to remember is, as the maid of honor, you are tasked with supporting and loving your friend unconditionally," Rebecca Rose Events co-owner and event director Betsy Krug tells Brides. Additionally, the maid of honor is usually unmarried.
On the other hand, a matron of honor has a similar role to maid of honor, but it is usually someone who has been married and gone through the process themselves too. "The Maid of Honor refers to a bride's honor attendant who is NOT married. The Matron of Honor refers to one who is married," StarDust Celebrations co-founder and wedding planner Marsha Ballard French tells D Weddings. Picking a matron of honor comes down to choosing someone who may hold the closest relationship with the bride. Their relationship with one another, be it a friendship or sisterhood, is usually one of the more significant ones to the bride. French says that many people have opted to choose their mother for this role, and that a more inclusive name for the position can be "honor attendant."
What can a matron of honor offer?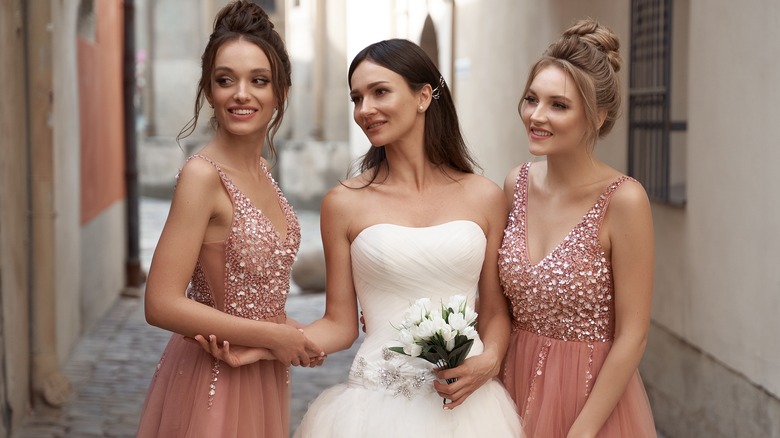 Oleksandr Berezko/Shutterstock
Both the maid and matron of honor will usually work together when it comes to handling their responsibilities in support of the bride. Other times, it may be helpful to divide the tasks between both of them. However, the matron of honor may offer more wisdom in their symbolic role. Because they have already gone through this themselves, they can bring advice based on their personal experience. A matron of honor can not only provide physical support, but also emotional support for the bride by offering advice they learned during their own wedding journey (via Brides).
If you have two friends you can't choose between, incorporating a matron of honor is a great way to include both of them. Bella Bridesmaids explains that you can have both a matron and maid of honor, emphasizing that both roles hold the same value. Neither is more or less important, and having both may even mean less stress for the bridal party as your honor attendants can split their responsibilities. "You do you!" B'burg Events owner and lead planner Phoebe Chen tells Brides. "If you have two people in your life that you want to be MOHs, go for it."
How you choose to approach your big day is up to you, but choosing people you can trust is key. Most of all, it is important for you to have fun and enjoy the whole process along the way.