Can You Fix Dried Out Mascara Instead Of Throwing It Away?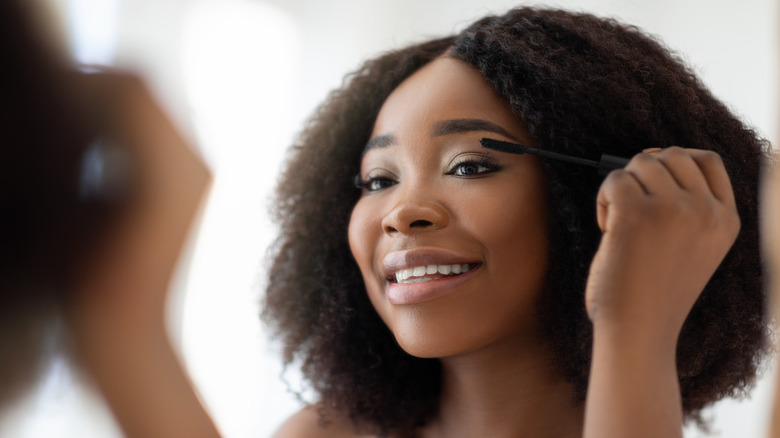 Prostock-studio/Shutterstock
An eyeliner might enhance the shape of your eyes, but mascara is what gives them a big lift by bringing out the lashes. Unfortunately, mascara is one of the products with the shortest shelf life and should be tossed aside after two to three months, makeup artist Stacey Menzer tells Women's Health. Not only has your mascara tube dried out during this time period, but it has also become a breeding ground for germs. If you see clumps and flakes or smell a moldy odor emanating from the spoolie, it's time to replace it.
Advertisement
However, many mascara tubes are past their prime faster than they're supposed to be, primarily because of the mistakes we make when using them. Overpumping mascara, for example — by continuously pushing the wand in and out of the tube you might cause it to dry up faster. When too much air gets into the tube and oxidizes the mascara, the product dries out before its time, per SUGAR. However, just because your mascara is dry shortly after purchase doesn't mean you should toss it aside. The good news is that there are some techniques you can try to bring your mascara back to life.
Give your mascara a warm bath and add other liquids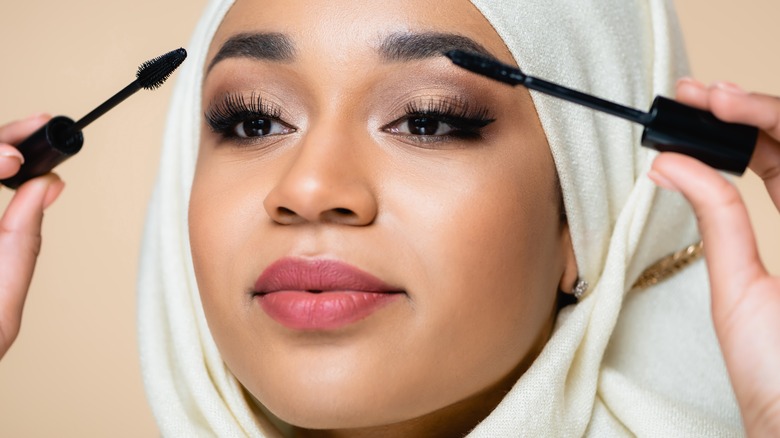 LightField Studios/Shutterstock
One way to fix your dried mascara is to dip the tightly closed tube in a mug of hot water for three to five minutes, dermatologist Dr. Ava Shamban tells Byrdie. Be careful not to submerge the top of the mascara lest the water seeps into it. The heat rapidly melts the dried solution, resulting in a moist, smooth application. However, the effect is short-lived, and you'll have to put your mascara in warm water with every use. Dr. Shamban also recommends adding a drop or two of a safe medi wash or saline solution to your mascara to moisten the solution and then roll the mascara between your palms for a minute to get it warmed up. Shamban says you can also try brushing "a light layer of coconut oil [...] on the lash line and then brush the wand over it to see if it will soften the product and give a few extra swipes of color."
Advertisement
Squeezing one or two drops of moisturizing eye drops into the mascara tube and shaking it to disperse the solution can also get it going, celebrity makeup artist Molly R. Stern advises (via Makeup). If you have waterproof mascara, putting one to two drops of vitamin E into it will moisten the solution and give you a smooth application again.
Don't over pump your mascara or leave it open for too long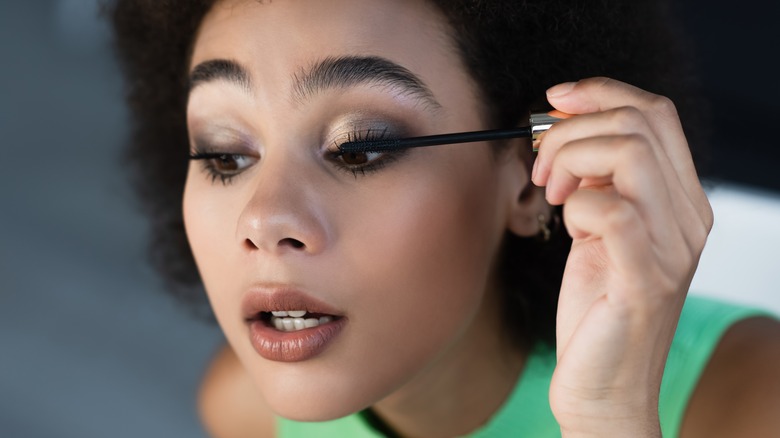 LightField Studios/Shutterstock
Now that you know how to salvage a dying mascara, here's how you can make the most of it and save yourself the predicament of a dried mascara in the first place. After applying mascara to your lashes, remember to put the cap back on immediately and tighten it with a twist because a bit of air can cause it to dry out, per TheMakeup. Another thing to keep in mind when applying mascara is to never over-pump the wand trying to get more solution out. Because in so doing, you are pumping more air into the tube and causing the product to dry out faster, says makeup artist Renée Loiz to Who What Wear. Loiz also suggests experimenting with mascaras with hydrating formulations that contain chemicals like hyaluronic acid, which nourish dry or thin lashes.
Advertisement
After every use, clean your mascara brush to remove any old grime or dried-out product. To help the product stay fresh longer and preserve its shelf life, store it standing upright in a cool and dark place. However, remember that the aforementioned techniques are only quick fixes. If your mascara is continuously drying out, stop pushing the limit and get a new one.