Accentuate Your Blue Eyes With These Eyeshadow Colors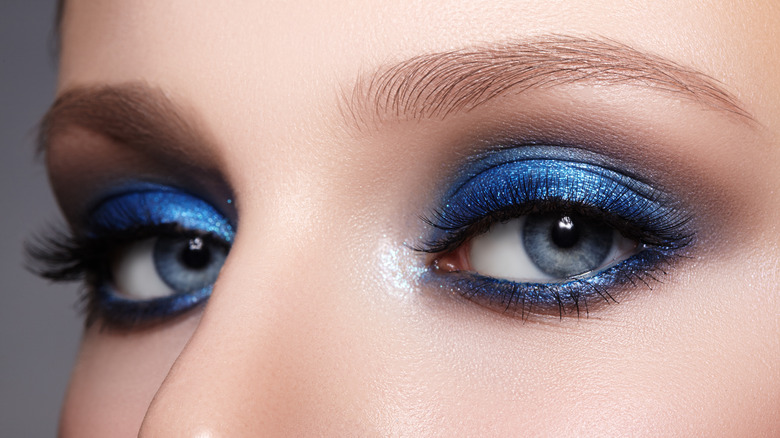 marinafrost/Shutterstock
Blue eyes can be incredibly beautiful, especially paired with the right eyeshadow color. Whether you have pale, icy, or deep blue eyes, there are shadows available that can really make the beauty of the blue stand out. Of course, there is no one shade rule for blue eyes, and you should feel comfortable wearing whatever speaks to you. As makeup artist Eddie Duyos remarks to InStyle, "I like to approach [eye makeup] like a game. It's more of, 'Who do I want to be today? Do I want to feel powerful, or am I feeling more subtle and romantic? What is it that I want the world see today?'"
But on the days that you need that dramatic eye to pop, different colors will give different results — especially since blue eyes can vary in lightness, color, and shine. And when considering what eyeshadow is right for you, don't forget that skin tone and hair color also play a part (via MasterClass). But no matter the look you're seeking for your blue eyes, there is definitely an eyeshadow for you.
Daytime shadow for your blue eyes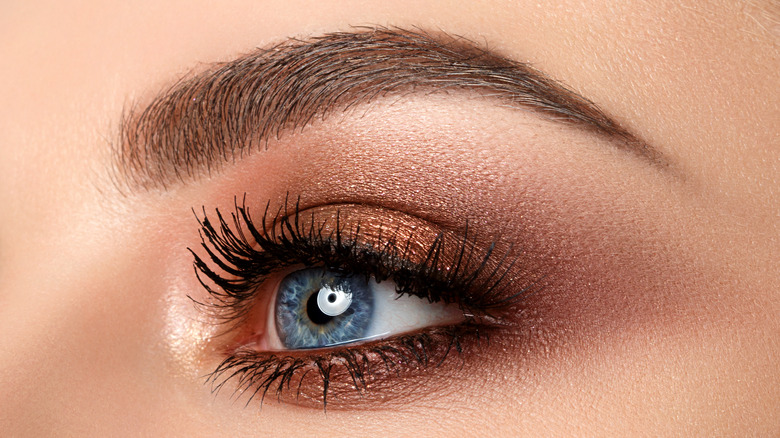 ldutko/Shutterstock
Looking for a bright daytime look for your baby blues? One way to make your eyes pop is to use color theory. Color theory suggests that hues on opposite sides of the color wheel will make the best complementary pair — and Canva even made an automatic tool to find any color's dream match. For blues, you'll find that warm shades like burnt orange, shimmery copper, or peachy yellow-pink will create magic on the eyelid and help your eye color appear more vibrant.
Lighter shades of green also work magic on blue eyes with naturally green undertones (via MasterClass). Consider teal and turquoise rather than emerald so as not to wash out your natural color.
You can also go for a more natural look with soft neutrals. If your skin tone is cooler, opt for a light tan or beige. If your skin's complexion is warm, choose a warmer shade of light brown to complement your blue eyes (via The Trend Spotter). Aim for colors that match your skin tone naturally, and enjoy how your blue eyes shine during the day. To add a little playfulness, you can even use your daytime shadow to create a fun and colorful winged look.
Add drama with smoky shadows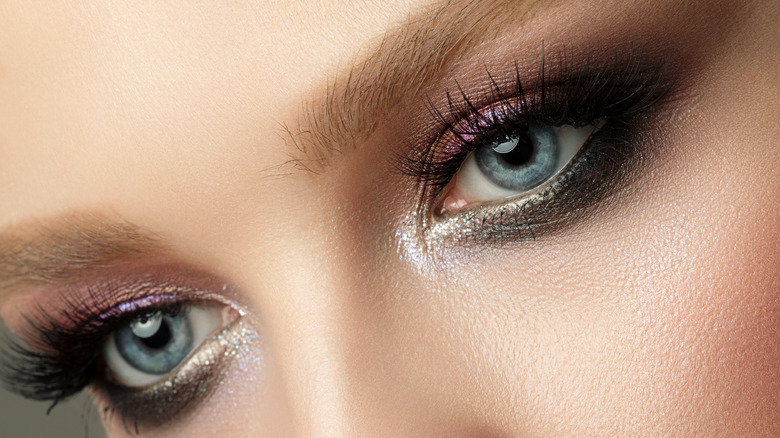 ldutko/Shutterstock
To create a smoky eye look, consider adding plum to your shadow collection. Plum perfectly complements blue eyes when applied above and below the eye. "To ease into a bold variation, I like using plum shades on blue eyes, which can be worn as a smoky plum look or even just a light wash of a plum — it really makes blue eyes pop," celebrity makeup artist Neil Scibelli shares with InStyle. You can also try out rich reds. Harkening back to that color wheel again, these warm berry shades will add a surprising element to your smoky look.
If you have blue eyes with gray flecks, adding a darker blue shadow to your eyelids will help to make your eyes smolder for date night or an evening out with friends. For an earthy twist, a deep espresso shade on your lids gives a dramatic nighttime look (via Ipsy).
Whether you're looking for a charming daytime blue eye or a dramatic evening smoky look, eyeshadow has your back. Blue eyes are beautiful on their own, but adding a splash of color on the lid and on under the eye line can make all the difference in helping your blue eyes stand out.