Here's How To Get The Perfect Blowout On Your Natural Hair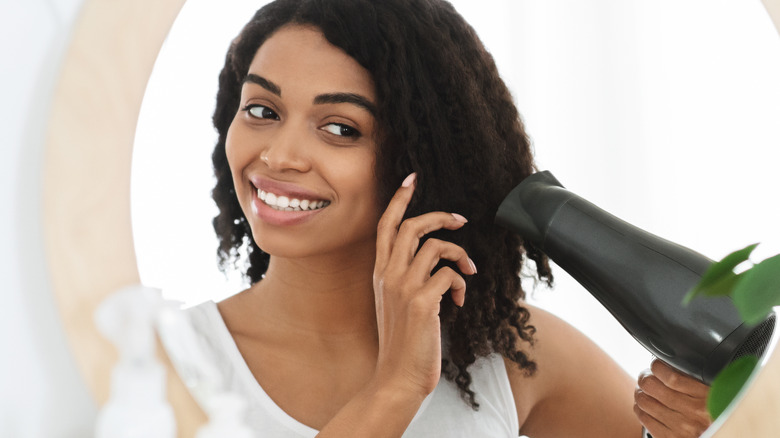 Prostock-studio/Shutterstock
In the world of heat-based hair styling, easy-to-use tools that offer quick and desirable results like hair curlers or flat irons reign the roost. While most of us use separate tools for different hairstyles, some have the extraordinary knack of curling their hair with a straightener and straightening their hair with a curler. However, if you're a fan of hair styling but would rather stick with one versatile styling tool, a blowout is your best bet. Simply put, a blowout is a technique of drying your washed hair into the style of your choice without involving any curling or flat iron, per Salon Ziba.
Be it a glossy, wavy mane like Catherine Middleton's or iconic, poker straight locks sported by Mila Kunis, a blowout can help you create almost any style you want with added volume and smoothness. In other words, a blowout can help you achieve a fresh-from-the-salon vibe without trying too hard. For instance, a blowout can keep your hair packed with volume and smoothness for two to five days, meaning you can shampoo less and save the natural oils in your hair from being stripped off, Parlor points out. While you can get a blowout at any salon or blow dry bar, you can also do it from the comfort of your home. Here's how to get a salon-worthy blowout on your natural hair.
Prep your hair for a blowout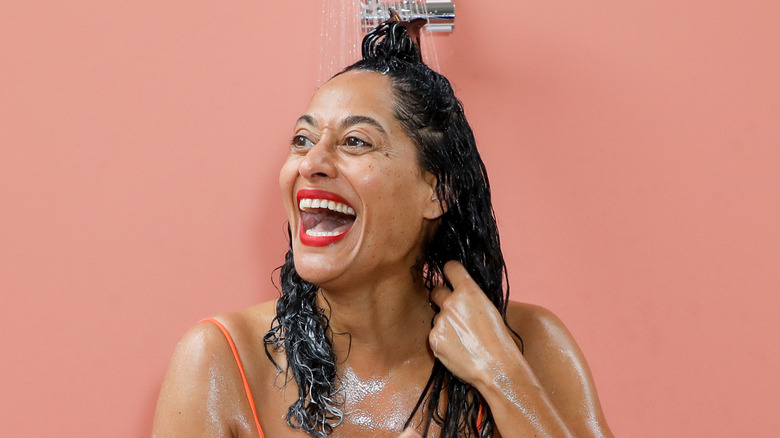 David M. Benett/Getty Images
A great blowout starts "in the shower," says hairstylist Adir Abergel (via Allure). And the right shower means cleansing and smoothing out your hair with shampoo and conditioner designed for your hair type or hair problems, such as breakage, dandruff, frizz, or color-treated mane. Using thermal protective shampoo and conditioner is also a great way to minimize heat damage to your hair. To prime your hair for styling products, rinse it thoroughly with cool water instead of hot water, celebrity hairstylist Florian Hurel tells Vogue. Cold water retains natural oils, seals in moisture, and tames your frizz, giving it a sleeker and shinier appearance. Most hairstylists agree that it is best to use warm water for washing and then cool water for conditioning. Make sure to rinse all the hair conditioner excess out of your hair, because leftover hair product can weigh your mane down and make it uncooperative.
After a shower, detangle your locks with a wide-tooth comb and use a microfiber towel to remove excess water out of your mane. To get optimum results, apply a leave-in conditioner to your damp strands to soften them and a defining gel to keep your baby hairs in place. Never use a dryer on your dripping strands because it will take more time to dry, and prolonged exposure to heat can weaken your hair. The best time to grab a blow-dryer is when your locks are slightly damp, which is about 80% dry.
Now blow your hair out like a pro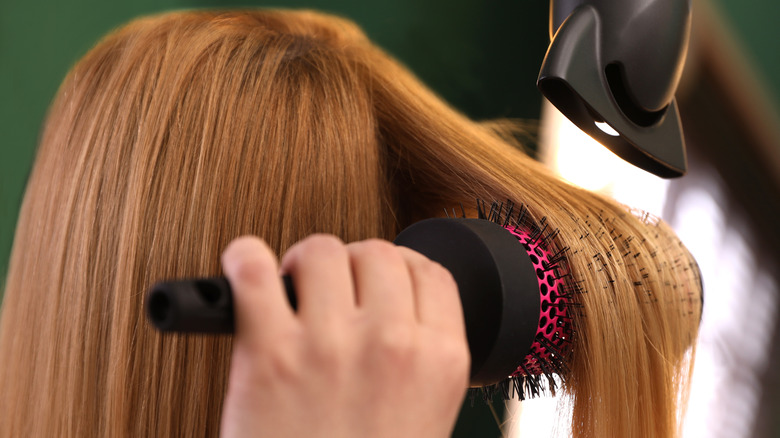 New Africa/Shutterstock
Once you're finished prepping your hair, divide it into four or five sections and fasten them using ponytail holders. To prevent your strands from heat damage, Byrdie recommends spritzing them with a heat protectant. Then, pick up your blow-dryer and a round brush, and start blow-drying in a tip-to-root direction. Remember to set your dryer on low or medium heat to ensure you don't overdry your hair. For extra hair volume, Sam Villa recommends placing the diffuser, which is used to disperse the airstream across a larger area, near your scalp and rotating it. 
As you blow-dry, gently lift your strands at the root with a brush. Follow the brush with the dryer as you blow-dry, and experiment with all the rolling and twisting until your strands pick up your intended look. For instance, if you're going for loose curls, place your brush under your hair and as you brush your hair out, flip it around as you reach the middle section. Repeat the process until your curls turn out satisfactory.
Once you're done, apply a lightweight blow-out spray to your mane to give it a full-bodied volume. To maintain your au naturel blowout, try not to touch it or let it get wet. When your locks get greasy and flat, refresh them with dry shampoo. To prevent your hair from brittleness and breakage, you should only get a blowout on your natural hair once every month.