The Fall Fashion Staple That Will Go With Everything In Your Wardrobe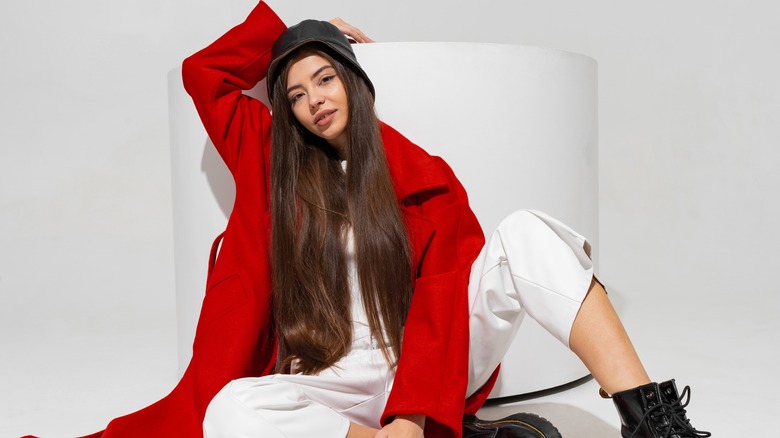 Svitlana Sokolova/Shutterstock
We live in a world where trends are constantly changing. It can be hard to keep up with what's in style, and once we get the hang of one trend, the seasons change and we have to learn the newest style for the next season. This has happened since people started getting creative with fashion. In the '50s, boxy coats with matching bags were all the rage. Then, in the '60s and '70s, some preferred to wear fur coats, hats, and power suits. In addition, the '80s saw a mixture of glam and shoulder pads as major trends (via Fashinnovation). 
Advertisement
Celebrities and aristocrats were who influenced our wardrobe choices in the past, and now trends we follow change based on media like TikTok, Instagram, and TV. However, the newest wardrobe staple making a comeback into our fall rotation works with any outfit and may even be stylish enough to transcend seasons says Metro.Style. It's a perfect nod to the '90s, a gorgeous addition to any existing outfit that needs some spice, and it works for any age and body type. This is a trend you won't want to miss out on.
Duster fashion pairings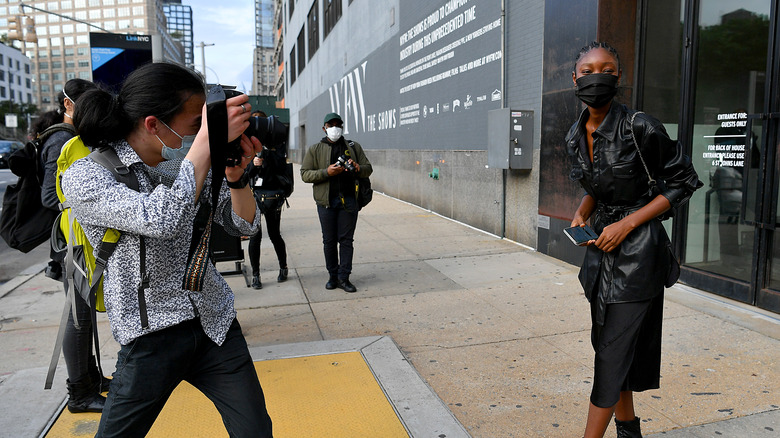 Dia Dipasupil/Getty Images
If you haven't embraced the duster in sweater or jacket form, there has never been a better time than fall 2022. Dusters made their first appearance in the United States in the 1800s. Also called riding coats, cowboys wore them over their clothes to keep dust off of their shirts and pants. The duster jackets covered the riders from shoulders to ankles and even had a slit in the back to make riding easier (via the Orlando Sentinel). Now, dusters keep us warm, freshen up clothing we already have, and act as a wardrobe staple for all ages.
Advertisement
The duster is flattering to all body types and can inspire creative pieces underneath. With clean lines and a form-fitting waist, it's hard to go wrong with this statement piece (via Marie Claire). Many believe dusters to be appropriate for formal outfits, but they are a perfect complement to your favorite casual clothes, too. Wear a tank top, high-rise jeans, and a cute belt under your duster coat for a perfect everyday 'fit, for instance.
Dusters also work to spice up any wardrobe pieces you have that have lost their luster. For a casual look, you can transform a button-down dress into a long, layered piece. Throw it over a neutral outfit, and you've made your own light duster sweater. Dusters also work to amplify your favorite bottoms. Pair yours with black leather pants, flair jeans, or even a pencil skirt. Finally, get creative and take your fashion level up a notch and wear a duster over your favorite jumpsuit (via Lookastic).
Advertisement
Duster fashion is for all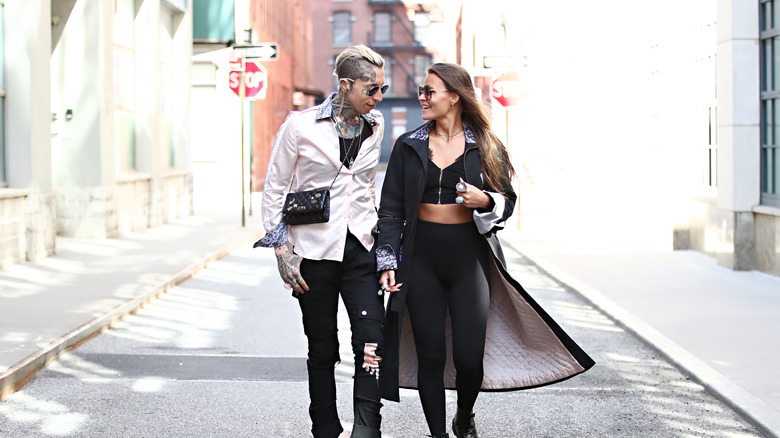 Cindy Ord/Getty Images
Although they are fun, casual pieces of clothing, dusters can really make a formal outfit pop. What's more, the duster's cousins are the kimono, the trench coat, and the silk robe, and as such, amplifying your sleek black dress or white bodycon dress is a good idea. As for footwear, dusters look great with flats during the day but also really work well with wedges or heels, according to FMag. No matter how you dress them up, do not be afraid to embrace color contrasts. Pair your bright-colored or floral-patterned duster with neutral clothing underneath, or flip it and pair your neutral duster with a patterned top (via Fashion Tag). 
Advertisement
Although dusters can be a bit of an investment, they are versatile pieces that can amp up the quality of the clothes that you already have. Not only do dusters transcend season but they also look great on any person regardless of age. There are many types of dusters from which to choose. They come in leather, tuxedo-style, lightweight fabric, and bold patterns. No matter your preference, find your duster and make a statement this fall.