Does Sun In Cause Hair Breakage And Damage?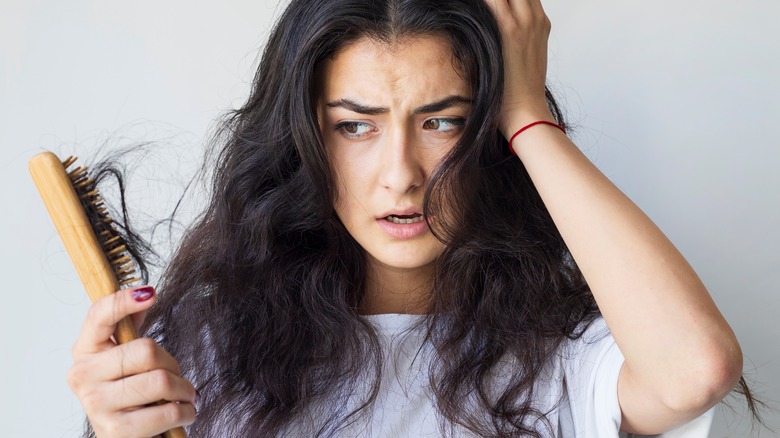 Hazal Ak/Shutterstock
Having a headful of hair strands that are lighter than your natural hair color can modernize your whole look. If you want to add lighter hues to your tresses without committing to a full color, highlights are the way to go. Highlights, per Redken hair artist George Garcia, are random locks of hair that are lighter than your base color. For instance, adding caramel, warm blonde, or chestnut highlights to your brunette hair can give it a fresh summer glow and a youthful appearance. Not only are highlights less damaging to your hair than an all-over hair dye but they also help brighten your complexion.
You can choose any highlight color you want, but a shade that's too light compared to your base color will result in an unnatural look. Ideally, your highlight shade should only be one or two shades lighter than your base color. Traditionally, highlights require bleaching. If you don't want to have your natural hair color stripped away in order to be lightened, though, you can use a hair lightener such as Sun In. A hair lightener product using sunlight-reacting elements, Sun In is marketed as producing a color-lightening effect that mirrors the way the sun naturally lightens your locks but at a faster speed, per Curl Centric. Ideal as it sounds, can Sun In give your hair quick and affordable highlights without causing any hair breakage or damage?
How does Sun In work?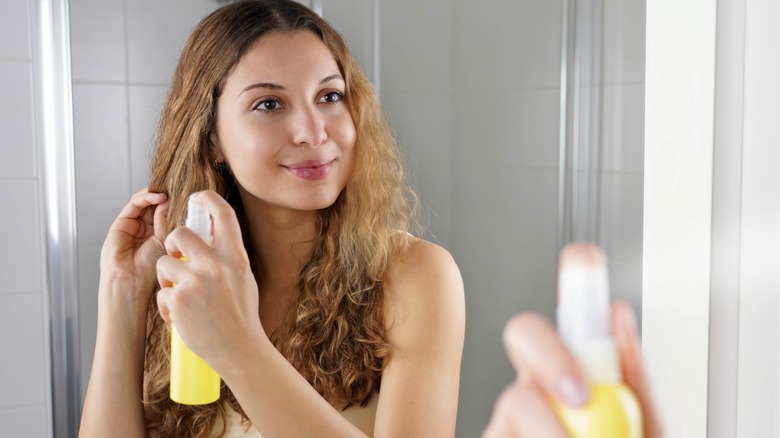 Zigres/Shutterstock
First things first: Sun In features a weak solution of hydrogen peroxide, an oxidizing agent with a lightening and whitening effect that breaks down the melanin pigments in your hair, cosmetic chemist Kelly Dobos tells Allure. Hydrogen peroxide is often found in hair dying and bleaching products as well as stain removers. Lemon juice, a powerful lightening agent that helps boost the highlighting process through sun exposure, is also found in the formula. A Sun In hair lightener spray also includes elements that moisturize and hydrate your scalp, such as chamomile flower extract, aloe vera leaf juice, panthenol, quaternium-80, and glycerin. 
According to Jessoshii, the best time to apply Sun In to your hair is when it's damp, not wet. Then, hold up the strands you'd like to highlight straight, and spritz the formula throughout your strands. Use a comb or fingers to spread the product evenly across your hair. After that, grab a blow dryer and blow dry your hair at a full heat setting until it's completely dry. Or, you can go sit in the sun for at least 30 minutes and leave the highlighting process to mother nature. Last but not least, apply a quick squirt of conditioning hair serum to your hair to seal in moisture and prevent dryness. For more noticeable effects on your hair, continue with another treatment about one or two days later. A hair lightener is gentle on the hair, making it better suited for lighter lightening.
Sun In won't get you similar results as traditional bleaching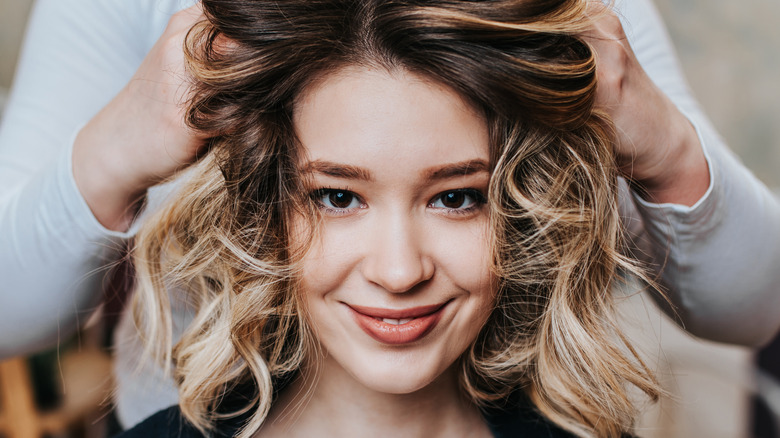 hedgehog94/Shutterstock
A Sun In hair lightener might make your hair strands look slightly lighter, but its formulation is too weak to strip the pigment off of your hair the way that bleach does, Hair.com points out. Sun In, like most hair lighteners, is not formulated with bleach, so it can't produce a similar effect to bleach. If dramatic, face-framing highlights are what you're looking for, you need a visit to a hair salon. Safety-wise, Sun In's ingredients can't be seen as the gold standard. Its main lightening ingredient, hydrogen peroxide, can take a big toll on your hair. When penetrating the cortex and inking out your natural hair color, hydrogen peroxide causes structural damage to your hair cuticles, per a study in the Journal of Fashion Business. Exposure to hydrogen peroxide can leave your hair dry, frizzy, and awash with split ends. The acidity of lemon juice, coupled with prolonged sun exposure, also dries out your hair.
Ultimately, Sun In can be a fantastic option for people who want to add dimensions to their hair without having to pay for a costly color treatment. Individual results, however, vary depending on hair type and hair care practices. For strikingly woven lighter strands à la ombré or balayage, you might need a stronger chemical like bleach or speak to a colorist for specific advice.