How To Rock The Pony-Braid Hairstyle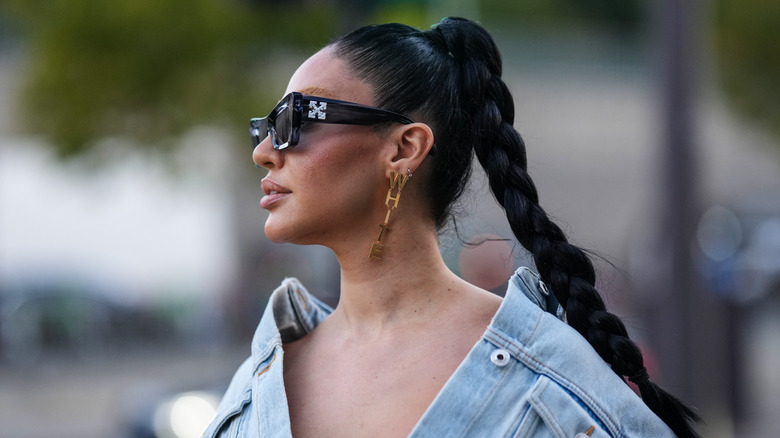 Edward Berthelot/Getty Images
One of this fall's hottest hairstyles isn't new to the game. In fact, you probably were sporting this Y2K hairstyle back in the day. The pony-braid is rising in popularity again due to influencers on Pinterest who love both the ease and versatility of the style, according to hairstylist Justine Marjan (via Allure). With Y2K style seeping into every part of the fashion scene, it is no surprise that it is slowly making its way into the beauty scene as well. Many pony-braids showcased on social media add other elements of Y2K style to the look as well, such as clip-in beads and zig-zag parts.
Advertisement
Pony-braids don't seem to be going anywhere anytime soon, as evidenced by the #ponybraid hashtag raking in over 940,000 views on TikTok. The style is great for keeping the hair off the neck and out of your face and is perfect for windy fall days or when you plan to be taking layers on and off all day. If you are ready to try this fall's most fashion-forward hairstyle, we have you covered!
How to create a pony-braid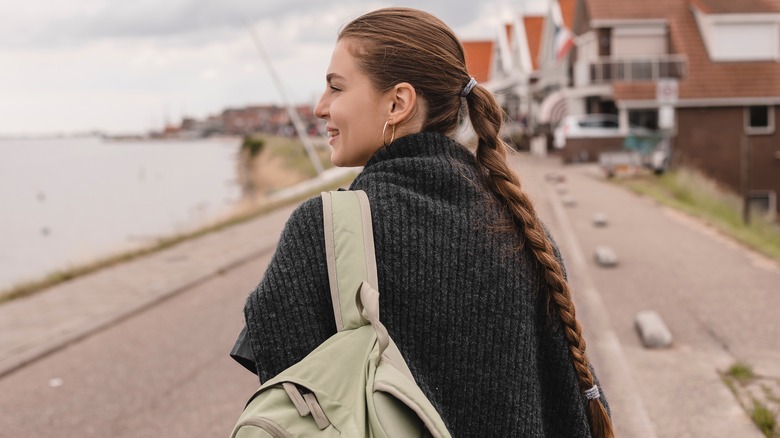 Ekateryna Zubal/Shutterstock
Pony-braids are fairly simple to re-create. The key to a perfect look is to start with an ultra-sleek ponytail. And for that, lots of gel will be necessary, hairstylist Cherin Choi told Allure. "Get a big tub, and don't be shy on the amount," she said. This will ensure your ponytail is as slicked to the head as possible. Then, secure your hair with an elastic and begin braiding.
Advertisement
All things Hair recommends that you separate hair into the traditional three sections and spritz them with hairspray in order to prevent frizz and help the braid last longer. After this, braid your hair as normal, left section over the middle section, then the right section over the middle section, and so on. After making it to the end of your hair, tie it off with another elastic. Voila! You have the perfect pony-braid.
One of the most amazing factors of a pony-braid is its versatility. If you want to add an extra Y2K touch to the look, try embellishing with beads or butterfly clips. Wanting the pony-braid a little longer? Add extensions! Just like with a normal ponytail, there are also other variations of the pony-braid: pony-braid pigtails, half-up/half-down pony-braids, and more. The options truly are endless.
Advertisement
What to wear with a pony-braid
The pony-braid is an essential hairstyle for the Y2K aesthetic, so it is common to see it worn with Y2K style clothing. We're talking low-rise jeans, tight-fitting dresses, tube tops, mini bags — the whole nine yards! Our favorite way to re-create Y2K style with a pony-braid is to pair the hairstyle with a strappy micro-mini dress, heels, and a mini bag, like this on-trend look from Tresses & All (via Instagram).
Advertisement
Athleisure is another clothing style often seen worn with pony-braids. Whether elevated or dialed-down, the comfy look goes well with the pony-braid because it's a great workout hairstyle. Different from a traditional ponytail, pony-braids constrict the hair and keep individual strands from swinging around and possibly getting in your face. A common favorite athleisure/pony-braid look is a sweatsuit with an elevated leather jacket, which influencer Nicky Schmaderer rocks on Instagram.
Finally, many pony-braid lovers are fans of softer aesthetics, full of pastel colors and feminine bows. Wearing fuzzy knits and decked out in pink, their pony-braids are reminiscent of childhood innocence, as Twist Me Pretty shows off on Instagram.
Advertisement