Should You Use SPF On Your Hands Before A Gel Manicure?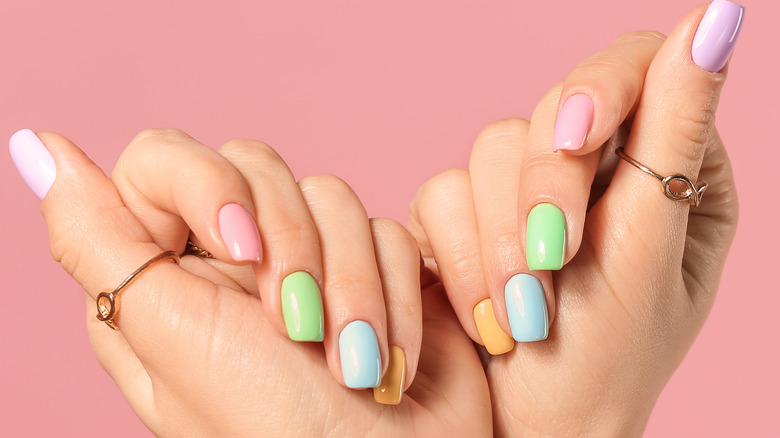 Pixel-Shot/Shutterstock
The best protection under the sun is, hands down, sunscreen, otherwise known as SPF. As per the recommendations of the Centers for Disease Control and Protection on sun safety, the regular use of sunscreen can protect your skin from sun damage and the risks of skin cancer. A higher SPF value usually indicates more ultraviolet B (UVB) protection. For instance, those with fairer skin who are more prone to sun damage should wear sunscreen with an SPF of over 30, per FDA advice. What's more, SPF also plays a vital role in diminishing aging signs, fading sunspots, and protecting your blood vessels from damaging UV rays, Parrish Healthcare points out. In a nutshell, sunscreen keeps you whole when it's hot.
According to skincare website Beautiful with Brains, we should apply sunscreen at least 20 minutes before engaging in outdoor activities, such as going to the beach, playing golf, or even city strolling. But do you know that even an indoor, super sheltered activity like a gel manicure can also benefit from a few squirts of SPF? If that's news to you, the below SPF discovery might make you want to put on sunscreen before heading to your gel manicure appointment.
Why a gel manicure might harm your skin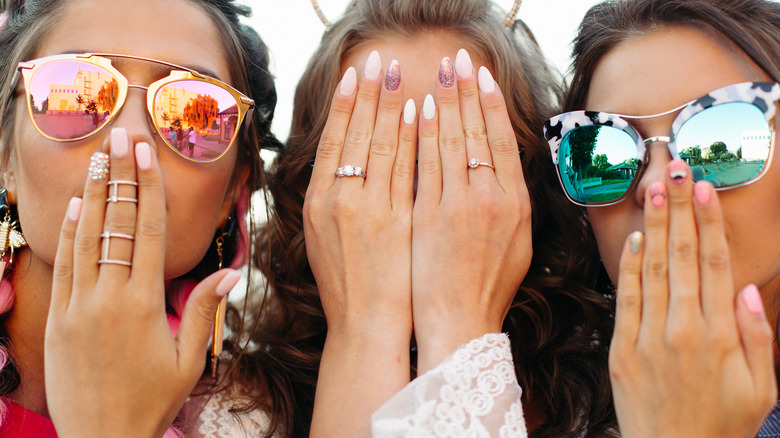 Studio Lucky/Shutterstock
Make no mistake, gel manicures are popular for all the right reasons. Gel polishes can look glossy and dazzling on your nails for two to three weeks without chipping, while standard nails can barely survive longer than one week. However, gel manicures can take a huge toll on your nail health. Using high degrees of UV radiation to lock a special gel into your nails, this manicure technique can leave your nails brittle and prone to peeling and breakage, The American Academy of Dermatology warns. 
Even though the UV radiation poses a cause for concern, dermatologist Dana Stern tells Marie Claire that gel manis are not as damaging as they seem: "A study quantified the skin cancer risk of these devices and determined that even if you were to have a gel manicure every week, your chances of developing skin cancer would not be increased." However, Stern pointed out that more research needs to be done on the consequences of gel manicures. She also notes that there's a difference between hard gels and soft gels. Resistant to acetone, the traditional hard gel-based polish needs "to be filed off" while soft gels can be removed by soaking your fingertips in acetone without "aggressive scraping." While all gel manicures are potentially damaging to your nails, hard gels are harsher on your nails than soft gels.
Therefore, to keep your nails protected from the side effects of high-intensity UV radiation from gel manicures, dermatologists recommend wearing sunscreen before your nail treatment.
Benefits of applying sunscreen before a gel manicure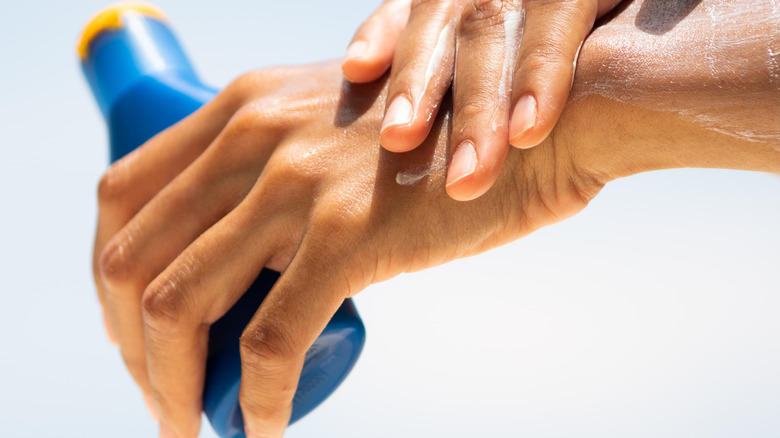 Lesterman/Shutterstock
According to physician assistant Angie Seelal, people going for a gel manicure, which requires exposure to UV light, should "swap the [hand] lotion for sunscreen" for protection before nail polish application (via Byrdie). For instance, a broad-spectrum, water-resistant sunscreen with an SPF of 30 or higher, as recommended by The American Academy of Dermatology, will be a great help in staving off skin cancer and premature skin aging. For an extra layer of protection against free radicals from visible lights and UV lamps in the salon, Seelal also advises her patients to take oral antioxidants, such as Heliocare. Speaking to Shape, Dr. Hadley King also recommends bringing your own sunscreen to the salon and adding an extra layer of protection against radiation exposure by wearing protective clothing, such as a pair of non-transparent gloves with open fingertips.
While the hazards of gel manicures can be reduced by using SPF, there's no harm in taking care to safeguard your nails' general health. Skip nail polish for at least two weeks to allow your nails to breathe and recuperate. Before your manicure appointment, take care to bring sunscreen with you and apply it to your hands before any treatment. Always keep your nails dry and tidy by trimming them on a regular basis and wearing gloves when working with harsh chemicals. Moisturize your nails and cuticles in between polishes to keep them hydrated and prevent brittleness.