How To Fix A Chipped Manicure Without Redoing Every Nail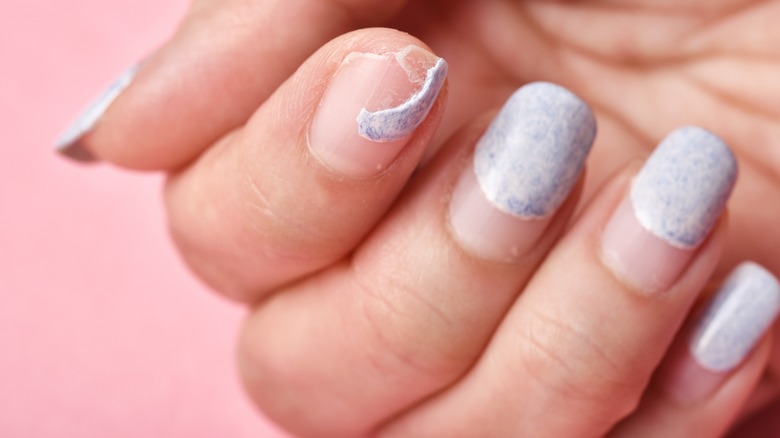 ARTFULLY PHOTOGRAPHER/Shutterstock
It goes without saying that getting your nails done is one of the most zen and delightful ways to reward oneself after a busy week. Getting a manicure is more than just painting your nails. Not only does a manicure make your hands look more feminine and polished but it also boosts nail health and prevents infections, Glo Skin & Medspa points out. No matter how impeccable a manicure is, though, it takes only one chip to ruin the entire work of art.
Manicure chips do happen, unfortunately. Your nails may chip when you nick the freshly applied paint or use low-quality gel polishes. Even when only one nail chips or peels, it affects the entire look of your manicure. Luckily, there are ways to fix a chipped manicure without having to start a new one. "Fixing a chip depends on the size and severity," celebrity manicurist Skyy Hadley explains to Byrdie, emphasizing that a small chip on the fingertip is "an easy fix." That said, fixing a bigger chip might be a more daunting task that requires more elbow grease and precision. But fear not! We've got you covered with some tips on fixing a chipped manicure without redoing every nail.
Paint a new layer over it or go French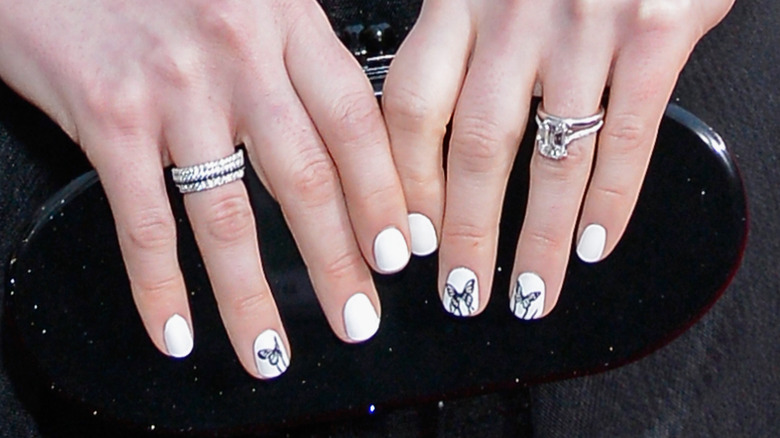 Kevork Djansezian/Getty Images
When your nail is chipped, an acetone-based remover is your knight in shining armor, per Self. A polish remover without acetone might be better for the health of your nail, but it's too diluted for this mending method. Instead of using a cotton ball or swab, dab a small amount of acetone-based remover straight onto your fingertip. Then, using a gentle tapping motion, tap the solution over the chip in your polish to smooth out the chip's edges and flatten the surface. After waiting for about 10 minutes, you can apply another coat of lacquer over your completely dry nail without it appearing lumpy. 
You can also hide the chips by doing a reverse French manicure, which involves using a darker shade for the majority of the nail and a lighter color at the nail bed rather than the fingernail tip, manicurist Madeline Poole advises (via Allure). To achieve a color-blocked design on your nail, use polish in the same color family as the one you're wearing and cover the top half of each nail.
Add some glitter to your chipped manicure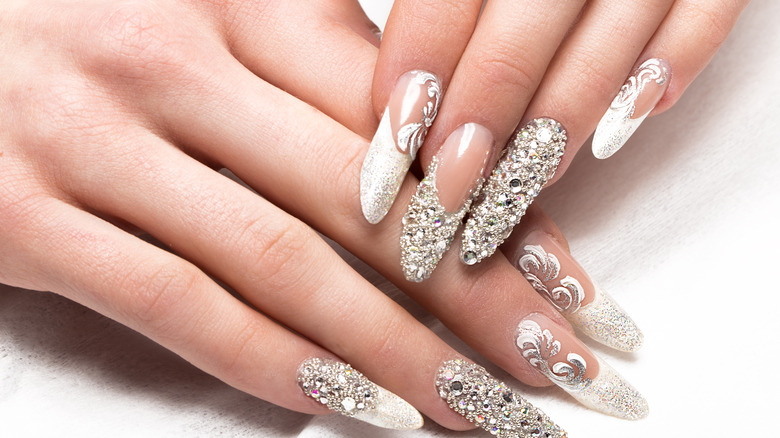 KOBRIN PHOTO/Shutterstock
Another way to take the focus off your chipped nail is to apply glitter to it, Revlon nail expert Leeanne Colley tells Elle Canada. You can paint a subtle line of glitter polish along the chipped tips, pat it down with a brush, then gently tap the excess glitter off. Or, you can paint the entire nail a contrasting color, making it look deliberate, Mammamia advises. If you know your way around nail arts and have all the tools you need, don't hesitate to pop some rhinestones on your nail, put it under a curing lamp for 90 seconds, and rock the shimmery look.
While there are several techniques to conceal a damaged manicure, it is preferable if you can prevent your nail from chipping in the first place. Because dry or brittle nails are more prone to chipping, keep them nourished by regularly hydrating your cuticles and nails with cuticle oils or olive oils. Cuticle oils, which include a variety of nutritious substances, can strengthen and moisturize your nails. Most importantly, choose enamels that include nourishing components to make your manicure glossy and long-lasting.